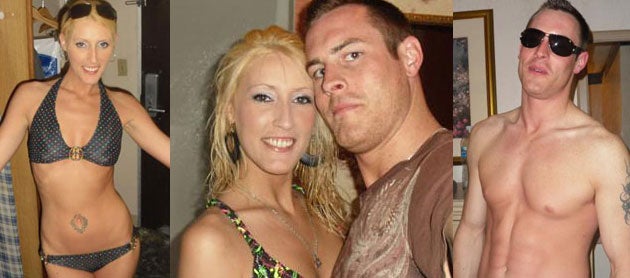 Amanda Logue and Jason Andrews (PICTURES): Porn Stars Charged with First-Degree Murder

NEW PORT RICHEY, Fla. (CBS/AP) Amanda Logue was a married, bleach-blond Georgia woman who dabbled in prostitution and starred in several X-rated videos under the name "Sunny Dae." Jason Andrews was a bisexual Chicago DJ with a British accent, whose chiseled jaw and good looks landed him roles in countless gay porn videos.
PICTURES: Amanda Logue and Jason Andrews
Together, according to Florida detectives, they stabbed and bludgeoned 41-year-old tattoo shop owner Dennis "Scooter" Abrahamsen to death with a sledgehammer.
Nearly two months after Abrahamsen was found dead in his Tampa-area home, Logue and Andrews were indicted by a grand jury on first-degree murder charges. Logue is being held without bail at a Florida jail and Andrews was arrested Thursday in Tennessee.
Andrews was arrested by U.S. Marshals and the Chattanooga Police Department after working for several weeks as a manager at the Chattanooga Billiard Club, an upscale pool hall and cigar lounge. He is jailed in Tennessee until he can be extradited to Florida.
Police in Florida say the pair killed Abrahamsen in the early morning of May 15 and swiped $6,000 cash, his credit cards and a video camera. Abrahamsen had hired Logue to work at a sex party at his house, and police said that's when Logue and Andrews set him up. They traded dozens of text messages about their homicidal plan, police said.
According to an affidavit, Logue would later deny that she had anything to do with the killing and claim Andrews was the one who bludgeoned Abrahamsen.
"Logue told (police) that Andrews grabbed the back of her hair then twisted her arm behind her back. Andrews forced her to view Abrahamsen's crushed skull and told her that's what would happen to her if she told anyone."
Logue and Andrews met on the set of a porn video late last year and fell in love - even though Logue was married to a man in Georgia, authorities and friends said.
The 27-year-old Andrews was known in Chicago as DJ Veritas, and his Facebook and MySpace pages feature several video clips of him playing techno music in large clubs.
The 28-year-old Logue seemed like a decent person, said Kristen Cameron, a Florida-based model who met her last year. According to several profiles on modeling websites, Logue did bikini and fetish modeling.
Thanks for reading CBS NEWS.
Create your free account or log in
for more features.