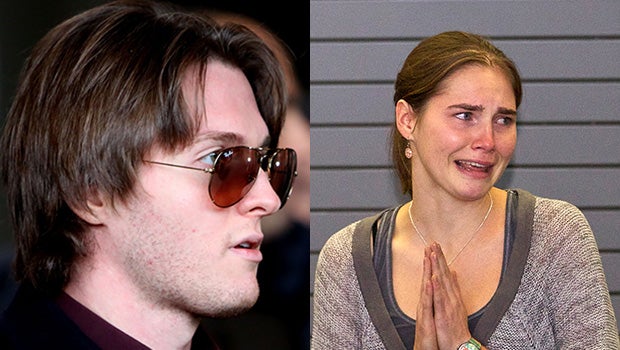 Amanda Knox found guilty anew of murdering Meredith Kercher
FLORENCE, Italy - An appeals court in Florence convicted Amanda Knox and her former boyfriend Thursday of murder for the second time in the 2007 death of Knox's British roommate in the Italian university town of Perugia.


Knox was sentenced to 28 years and six months in prison. Raffaele Sollecito was sentenced to 25 years.


Lawyers for both Knox and Sollecito vowed to appeal to Italy's highest court, a process that will take at least another year. It is not expected that Italy would seek Knox's extradition until the appeals process is over and the verdict is finalized.


This was Knox and Raffaele Sollecito's third trial for the murder of Meredith Kercher and it spanned four months. Deliberations lasted more than 11 hours.


WATCH: 48 Hours: Amanda Knox's Untold Story


Sollecito, 29, was in the court earlier with his father and other relatives, but was not present when the verdict was read.


Knox, 26, learned of the verdict half a world away in Seattle, where she returned after spending four years in an Italian prison and then being acquitted of the murder on appeal in 2011. In Italy, defendants are not required to appear at their trials.
Knox said in a statement that she was "frightened and saddened" by the guilty verdict.

"This has gotten out of hand," she said. "Having been found innocent before, I expected better from the Italian justice system."

After the verdict was announced, a person believed to be Knox emerged from her mother's house. That person, surrounded by others and covered by a coat, got into a vehicle and was driven away.

When asked how Knox was doing, her mother, Edda Mellas, said: "She's upset. How would you be?"

Later, in an interview with ABC News, Mellas said the family would keep fighting to clear Knox's name.


"Amanda's upset, we were all shocked and upset, but we're all ready to fight too," Mellas told ABC. "Everyone in the family, everyone in the extended family are all ready to continue to fight for truth and fight for her freedom and it's not going to stop."

Kercher's sister Stephanie and brother Lyle were in the courtroom for the verdict.

"It's hard to feel anything at the moment because we know it will go to a further appeal," Lyle Kercher said. "No matter what the verdict was, it never was going to be a case of celebrating anything."

Knox and Sollecito have both maintained they had nothing to do with Kercher's death. The 21-year-old British student shared a home with Knox, a University of Washington student spending her junior year abroad, and two Italian women in Perugia.

Kercher's half-naked body was found Nov. 2, 2007, in her bedroom. Her throat had been slit and she had been sexually assaulted.


Prosecutors in the original trial said Knox and Sollecito, along with a man named Rudy Hermann Guede, had killed Kercher during a drug-fueled sex game in which the British student was an unwilling participant.

Guede, a small-time drug dealer originally from Ivory Coast who had been convicted previously of break-ins, was tried separately and is serving a 16-year sentence for the murder of Kercher. DNA evidence found in Kercher's room linked Guede to the crime, prosecutors said.

Knox's father said Thursday night that there was never any evidence putting his daughter in Kercher's room.


"If you look at common sense, you look at evidence, you look at the fact that Amanda is nowhere in that room, then no, I wasn't expecting this, absolutely not," Curt Knox told ABC News. "They got it right in the first appeals trial where they found her innocent and allowed us to bring her home. And this is totally wrong."

Italy's highest court ordered a third trial for Knox and Sollecito in a scathing dismissal of the appeals court acquittal, ordering the examination of evidence and testimony it said had been improperly omitted by the Perugia appeals court, as well as instructing the court to redress what it defined as lapses in logic.


The first trial court found Knox and Sollecito guilty of murder and sexual assault based on DNA evidence, confused alibis and Knox's false accusation against a Congolese bar owner, which resulted in a slander verdict that has been upheld on final appeal. A Perugia appeals court dismantled the guilty verdict two years later, criticizing the "building blocks" of the conviction, including DNA evidence deemed unreliable by new experts, and the lack of motive.

In the Florence retrial, prosecutor Alessandro Crini contended that the motive was rooted in arguments between roommates Knox and Kercher about cleanliness and was triggered by a toilet left unflushed by Guede, the only person now in jail for the murder.

If Italy's supreme court now finds errors in the Florence trial, the case could go to trial for a fourth time.

Thanks for reading CBS NEWS.
Create your free account or log in
for more features.