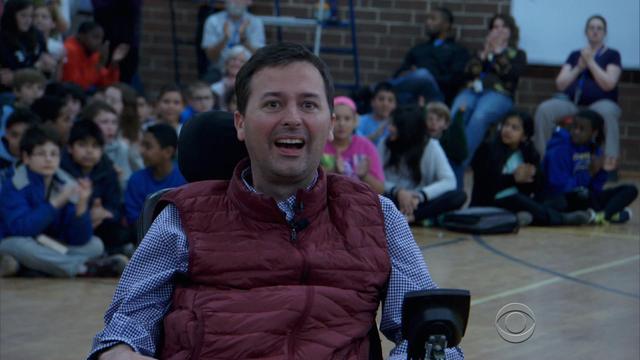 ALS advocate seeks a cure by 2021
Chris Rosati is campaigning to cure a disease to save lives -- even after it takes his own. Rosati was diagnosed with ALS in November of 2010.
On average, ALS patients live only two to five years after being diagnosed with the neurodegenerative disease.
"So, the question is how do you simulate that pressure, that fear? How do you inject that audacity into the fight?" Rosati said. "You set a deadline. Then tell the world you're going to do it."
Emulating John F. Kennedy's bold call to reach the moon within the decade, Rosati is reaching for the stars to achieve this remarkable feat. He is challenging the ALS Association to publicly state that they'll work to find a cure by 2021.
"The ALS Association was the primary beneficiary of the Ice Bucket Challenge," Rosati said, explaining why he addressed his message to Barbara Newhouse, President and CEO of the ALS Association. "This declaration would be the best possible response to that generosity."
Last summer's Ice Bucket Challenge took social media by storm, raising more than $100 million for the ALS Association.
"We are making some great strides in seeking drug treatment for ALS," Newhouse said. "But it's going to take more than just the ALS Association to do that."
The ALS Association united 18 leading ALS-related organizations to collaborate on a cure in April. Newhouse would not commit to the 2021 challenge, but said she would take the idea of a potential deadline to leaders in the newly-formed alliance.
"Is 2021 the right year? I think that would be difficult," Newhouse said.
Steve Hartman has followed Rosati's acts of goodwill on the "CBS Evening News" since January 2014. From dishing out free donuts across Durham, N.C. to establishing his own nonprofit, Inspire MEdia Network, Rosati is now launching his latest campaign: "By 2021".
ALS has already taken his voice, but Rosati wants a say in eliminating the terminal illness for future generations. Rosati introduced his initiative last month at a fundraiser for the North Carolina state chapter of the ALS Association.
He hopes the organization will accept his ambitious challenge. But in the meantime, Rosati is moving forward to reach his goal.
The first step in his plan is gathering doctors, patients, caregivers and creative thinkers to form, what he's calling, the "Believe Team." Rosati thinks this range of perspectives will generate unique solutions to the issue. But Rosati says he also needs the public's support.
"This will only work if people make it a story," Rosati said. "Most importantly by believing that we can still be amazing."
Rosati invites everyone to learn more at by2021.org and to join the conversation using the hashtag #by2021.
Rosati's wife, Anna, said their family is thrilled to support his mission.
"It feels good to have something to fight about -- to feel like you have some control," Anna said. "I'm excited for him because I don't know if this has ever been done before."
Thanks for reading CBS NEWS.
Create your free account or log in
for more features.