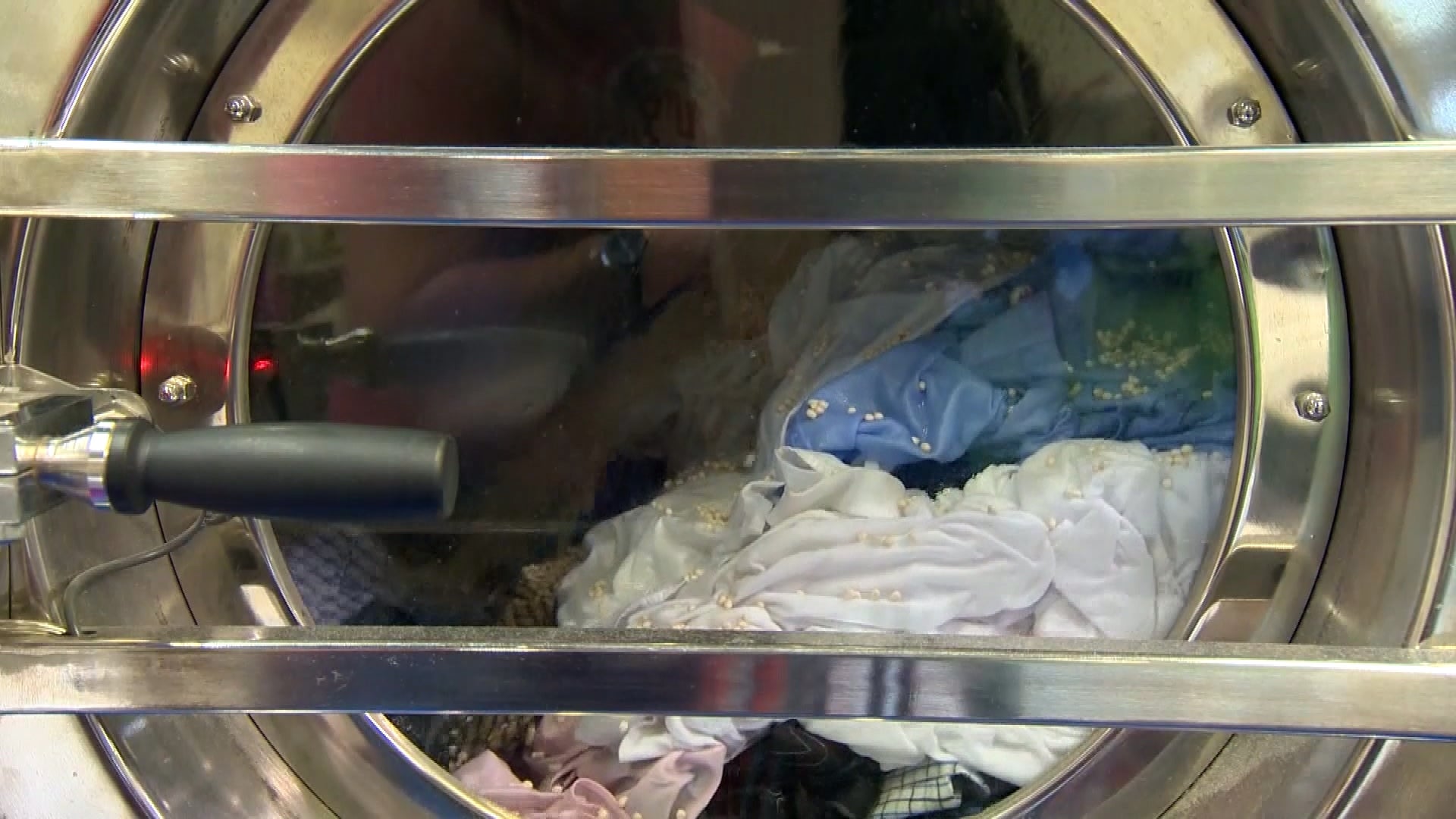 Almost waterless washing could come to American homes
Ejaz Osmani's family-run laundry service in London has been using soap and water to clean shirts for more than 40 years. But in 2014, Osmani tried using less water, and added nylon beads to the mix.
"I'm always looking to upgrade my service to deliver the best," Osmani says over the sounds of spinning washing machine tubs, commercial-sized irons steaming and whirring electrical clothing racks snaking through his White Rose Laundries main production house.
The upgrade came in the form of about 1.5 million small, white nylon beads churning in each of two specially-made commercial washers at White Rose. Xeros Ltd, manufacturers of the machines, says the beads gently rub against the clothes in up to 70% less water - just enough moisture for the water to dissolve the stains on clothing and temporarily alter the molecular structure of the polymer beads.
"The stains are just charged molecules that you want to get rid of, and this polymer [bead] has the ability to attract stains, then absorb them and lock them away," says Dr. Steve Jenkins, Xeros' Chief Technology Officer.
Jenkins says you can't see the absorption take place with the naked eye - and that the spheres don't swell up like a sponge. The polymer physicist say the bead technology needs about half the amount of detergent to work - and uses up to 50% less energy - than a conventional commercial washing machine.
"We can clean as effectively as a hot cycle, in cold," Jenkins says.
White Rose Laundries isn't the only business adopting the technology. In the United States, laundromats, athletic clubs and some properties of hotel chains Hyatt and Choice say they've given the beads a spin, and like the results. "Xeros machines are providing us with a wash quality that is unparalleled. The linens that we have are fresher, they smell better, they are cleaner, they're softer," said Comfort Inn North Shore, Massachusetts regional vice president Chad Hanson, in Xeros promotional materials.
The commercial cleaning company says typical use of their machines saves about 350,807 gallons of water per year, compared to regular washing machines - not just saving money, but also giving businesses "green creditability."
"It is really important to them to differentiate their businesses by telling their customers or their hotel guests about the environmentally-friendly process they are using in their laundry," says Xeros CEO Bill Westwater.
Now Xeros researchers out of Sheffield, England are working on a home version of the machine, targeted to American preferences for side-by-side washer/dryer combos. Pending additional investment, Xeros says by the time it hopes to market a domestic washer-dryer by 2016, the beads will be able to handle dark colors and whites in the same load.
Xeros says concerns about the beads finding their way out of the machines and potentially doing harm to the environment are unfounded. Chief Technology Officer Jenkins says after the beads tumble through the wash load, they are rinsed through drain holes into a container at the bottom of the washer, then pumped back into the drum during the next wash.
"It is a sealed system," Jenkins says. "The filtration system is well constructed...beads don't get out."
Researchers say the beads can absorb dirt and orders for at least 500 washes, before they must be replaced. Xeros says it sells used beads to a third party company to be recycled into plastic automobile dashboards.
At White Rose Laundries, a company that on an average day processes at least 1,500 shirts, a few of the tiny spheres were trapped shirt pockets and creases. Not a big deal, says Ejaz Osmani who handles laundry contracts for large-scale uniformed and linen services, like hotels and restaurants. Xeros says they are refining the process. "You've got to get the beads to interact with the clothes to wash, but at the end of the process, you've got to get them to leave. It is a tricky balance to achieve, but we're doing it well," Jenkins says.
Thanks for reading CBS NEWS.
Create your free account or log in
for more features.