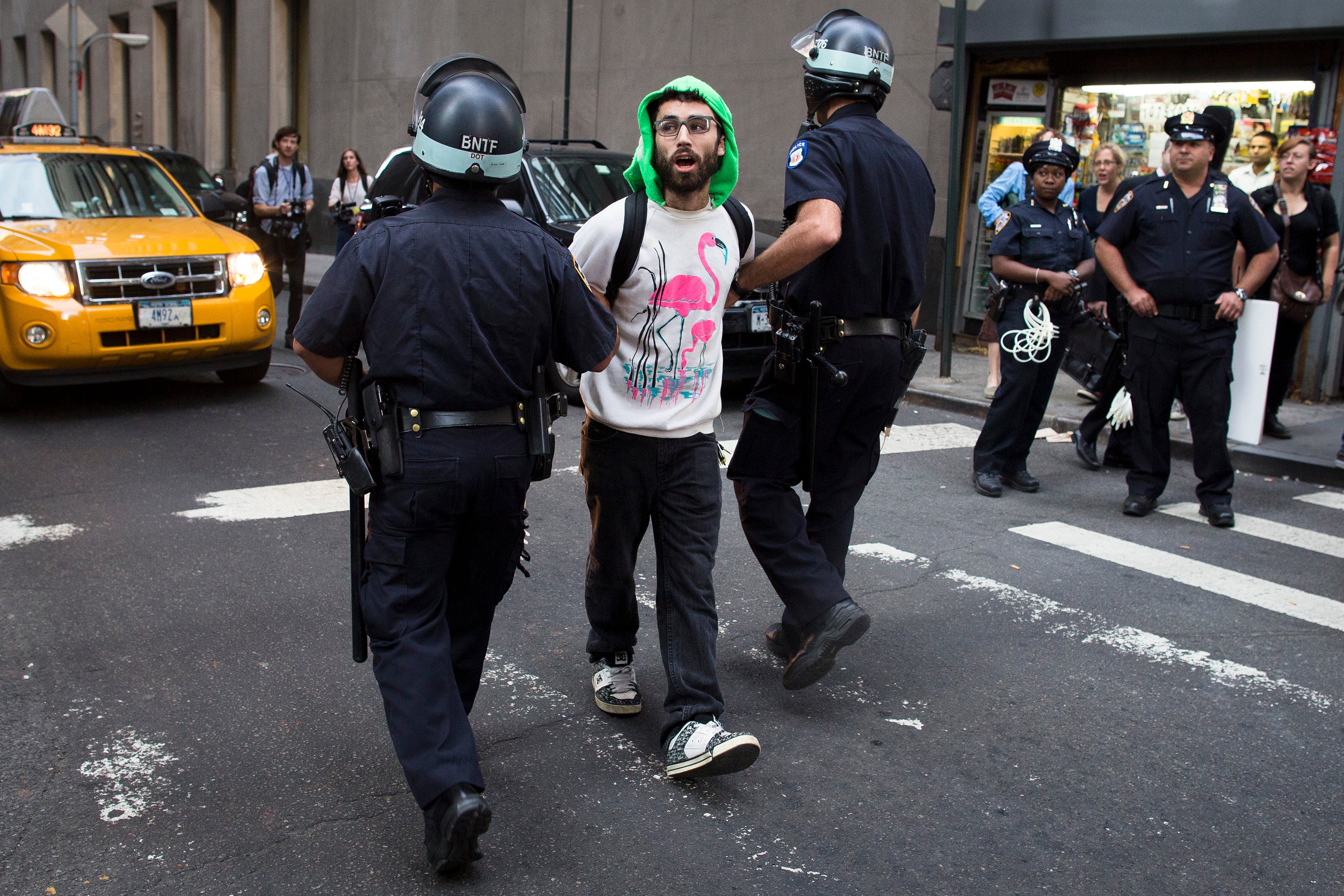 Almost 200 arrests in NYC as Occupy Wall Street marks first anniversary
(CBS/AP) NEW YORK — Occupy Wall Street protesters celebrated the movement's anniversary Monday by clogging intersections in the city's financial district, marching to the beat of drums that were a familiar refrain last year.
Protesters roamed around the lower Manhattan financial district all morning in groups of a few dozen each, from one intersection to another and back again, chanting loudly about the ills of Wall Street.
In total, there were a few hundred protesters scattered throughout the city. More than 180 of them were arrested by early Monday evening, mostly on disorderly conduct charges.
The day's events lacked the heft of Occupy protests last year, when protesters gathered by the thousands. But Occupiers were upbeat as they spread out in their old stomping grounds, giddy at the prospect of being together again. They brushed off any suggestions that the movement had petered out.
"This is a movement. It's only been a year," said protester Justin Stone Diaz, of Brooklyn. "It's going to take many years for it to develop and figure out exactly who we are."
But the movement is now a shadow of its mighty infancy, when a group of young people harnessed the power of a disillusioned nation and took to the streets chanting about corporate greed and inequality.
A familiar Statue of Liberty puppet was back, bobbing in the crowd above protesters' heads. Protesters in wheelchairs blocked a road and chanted "All day, all week, occupy Wall Street!" before they were steered off the road by police.
Zuccotti Park, the former home of the encampment, was encircled by metal police barricades lined with police officers standing watch.
Hamza Sinanaj, a 30-year-old airplane mechanic who works in upstate New York as a security guard, said he was among the first Occupy protesters last September.
"I felt that protest was long overdue, and I'm back today," he said, holding up a sign that read, "America Rise Up."
He was staying at his sister's home in the Bronx but wasn't sure he'd be there Monday night because he was "ready to be arrested, to sit on the street and be arrested."
Events were planned in more than 30 cities worldwide.
Supporters of the Occupy Wall Street movement in San Francisco celebrated their first year with peaceful demonstrations that hadn't resulted in any arrests Monday night.
Police kept watch as crowds that reached about 250 people protested outside banks and the Federal Reserve and briefly blocked an intersection and stalled streetcars during a march through the city's Financial District.
The anniversary events culminated with an evening rally honoring "foreclosure fighters" outside the Bank of America building, reports CBS station KPIX in San Francisco.
Last year, hundreds of protesters camped out for weeks across from the city's Ferry Building, a popular tourist attraction.
In Oakland, a metal fence now surrounds the City Hall lawn that was the hub of several violent clashes between demonstrators and police during fall Occupy-inspired protests that attracted international attention.
Demonstrators in downtown Seattle marked the anniversary by marching with dollar bills taped over their mouths. The Seattle Times reports that the Monday evening marchers wound slowly through streets surrounding Westlake Park. A giant banner at the head of the march read "Get money out of politics."
And about 100 demonstrators marched in Portland, Ore., to mark the anniversary.
Thanks for reading CBS NEWS.
Create your free account or log in
for more features.