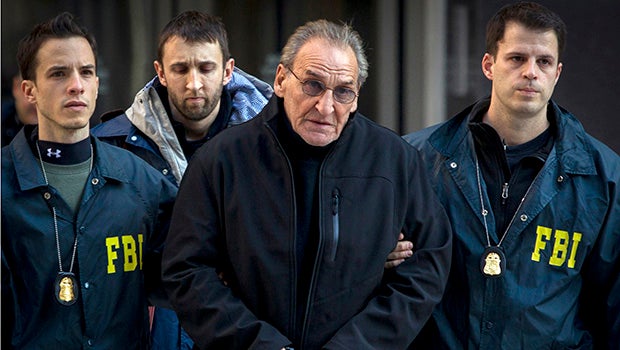 Reputed mobster pleads not guilty in 1978 Lufthansa heist that netted $5.8M
NEW YORK - More than 30 years after hooded gunmen pulled a $6 million airport heist dramatized in the hit Martin Scorsese movie "Goodfellas," an elderly reputed mobster was arrested at his New York City home on Thursday and charged in the robbery and a 1969 murder.

Vincent Asaro, 78, was named along with his son, Jerome, and three other defendants in wide-ranging indictment alleging murder, robbery, extortion, arson and other crimes from the late 1960s through last year. The Asaros, both identified as captains in the Bonanno organized crime family, pleaded not guilty through their attorneys and were ordered held without bail at a brief appearance in federal court in Brooklyn.

The elder Asaro's attorney, Gerald McMahon, told reporters outside court that his client was framed by shady turncoat gangsters, including former Bonanno boss Joseph Massino - the highest-ranking member of the city's five organized crime families to break the mob's vow of silence.

Massino "is one of the worst witnesses I've ever seen," McMahon said. He added that Asaro had given him "marching orders" that "there will be no plea and he will walk out the door a free man."

A lawyer for Jerome Asaro declined comment.


The indictment accuses Asaro of helping to direct the 1978 Lufthansa Airlines heist at Kennedy airport - one of the largest cash thefts in American history.

In addition to the heist, the elder Asaro is charged in the 1969 murder of Paul Katz. Prosecutors say Katz once owned a warehouse where mobsters stored stolen goods.

All of the men arrested are alleged members of the Bonanno organized crime family.


CBS News senior investigative producer Pat Milton reports that, in surprise predawn raids, dozens of FBI agents descended on four houses in Queens and Long Island simultaneously. The men arrested were allowed to get dressed and then were taken to 26 Federal Plaza in New York for fingerprinting and processing.

The fifth suspect was at work and turned himself in at FBI headquarters.
Milton reports that Asaro is suspected of being the lookout for the heist, according to the source. He is also believed to have helped the crew get away, the source said.
Authorities also say Asaro strangled Katz, who was suspected of cooperating with law enforcement.
Katz's remains were found last year during an FBI dig at a house once occupied by James "Jimmy the Gent" Burke, the suspected mastermind of the Lufthansa heist, who died in 1996.
Vincent Asaro indictment (pdf)
Also charged Thursday were Asaro's son, Jermone Asaro; Jack Bonventure; Thomas Di Fiore; and John Ragano.
In 1978 thieves took $5 million in cash and nearly a million dollars' worth of jewels from the vaults of Lufthansa at JFK, one of the largest thefts in U.S. history. The cash and jewelry were never recovered.

Only one man was ever prosecuted in connection with the robbery: Louis Werner, an airport employee and inside informant.
According to court papers, an unidentified cooperating witness told investigators that he participated in the robbery at the direction of Asaro.
Each robber was supposed to be paid $750,000, but the cooperating witness said "most did not receive their share, either because they were killed first or it was never given to them," according to the court papers.
The papers say the cooperator wore a wire and recorded a conversation he had with Asaro in 2011 in which the pair discussed the Lufthansa heist.
"We never got our right money, what we were supposed to get," Asaro said, according to the court papers. "Jimmy Burke kept everything."
Asaro and his son Jerome, both alleged captains in the Bonanno organized crime family, also were charged in a 1984 robbery of $1.25 million worth of gold salts from a Federal Express employee.

One of those involved in the Lufthansa heist was Henry Hill, a mob member who entered the witness protection program and became the inspiration of the 1990 film, "GoodFellas." Hill died last June in Los Angeles.

Lufthansa did not make an official statement in response to today's arrests, but Nils Haupt, director of corporate communications for the airline, told Milton, "The heist was part a famous movie with Robert De Niro, of course, and it got some fame at that time. But 36 years is a long time. Two generations of Lufthansa people have changed since then. There is nobody in the building who recalls it. It is pure history."



Thanks for reading CBS NEWS.
Create your free account or log in
for more features.