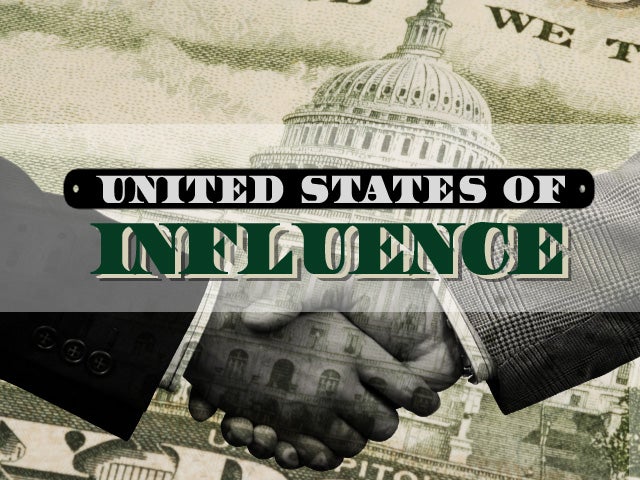 Alienated nation: Americans complain of government disconnect
Americans see their leaders in Washington as overpaid agents of wealthy individuals and corporations who are largely disconnected from the concerns of average Americans.
Don't take my word for it: For our series "United States of Influence," which debuts today, CBS News asked Americans why they are so constantly frustrated with the men and women charged with representing them. (Read more about the series)

Their responses were striking, though their frustration is not new. Seven in ten said people like them have little say in what their government does; eight in ten said most members of Congress are primarily interested in serving special interests, not the people they ostensibly represent. (Read the full poll)

Two in three - including nearly half of Republicans - say the rich benefit most from the federal government's policies. More than seven in ten say special interest groups and large corporations have too much influence on American life. Nearly the same percentage says the salaries and benefits of most members of Congress are too high.
It adds up to the fact that most Americans feel alienated from their political leaders and dissatisfied or angry with Washington.
CBS News polls over the last two decades suggest that the American people have long been frustrated with their leaders, though their sense of alienation has ticked up in recent years. And the consistency of their outlook arguably only makes the situation more dispiriting. Instead of a spike in frustration grounded from a specific event - Watergate, the Keating Five scandal, Bill Clinton's Oval Office indiscretions - Americans have settled into a sustained aversion to their own government.
Let's look at the numbers. The poll found that just 13 percent of Americans feel representatives in Congress are primarily interested in serving the people they represent, while 80 percent believe members are primarily interested in serving special interest groups. While that perception is longstanding, it has worsened since 1990, when 20 percent said members seek to serve their constituents and 71 percent said they seek to serve special interests.
Similarly, Americans have long felt they have little say in government. But the trends are troubling: While 58 percent said they have little say in what government does in 1990, that figure has risen to 69 percent today. In the new survey, 85 percent say that people like them had too little influence on American life.
Whose voice do Americans believe is being heard in Washington? That of large corporations and special interest groups. Seventy-five percent said the former has too much influence, and seventy-one percent said the latter did. By contrast, just 36 percent said labor unions had too much influence, while 30 percent said unions have too little influence.
Asked specifically about two organizations - the National Rifle Association and Planned Parenthood - Americans were split. Twenty-eight percent said the NRA has too much influence, while 17 percent said it has too little. Planned Parenthood is seen as underrepresented in Washington, with 22 percent saying it has too much influence and 30 percent saying it has too little.
Perhaps the most striking poll finding is that a wide swath of Americans sees the rich - not the middle class or poor - as benefiting most from federal government policies. Sixty-six percent said the rich benefit most, and it wasn't just Democrats: 67 percent of independents, 44 percent of Republicans and 43 percent of Tea Partiers said as much.
By contrast, just 12 percent said the poor benefit most - including just 30 percent of Republicans and 26 percent of Tea Partiers. And only four percent said the middle class gets the most from the federal government.
The explanation for Americans' alienation from their elected leaders is not simple. But these findings suggest that much of their frustration is driven in large part by the role that money plays in the political process. The United States of Influence series is designed to help people better understand that role.
In addition to this story, there will be two installments in the series this week: The first, on Wednesday, will look at the career of New York Democratic Sen. Charles Schumer, who has maintained a reputation as a liberal lion even as he has been a strong ally of Wall Street. And the second, on Thursday, will examine why members of Congress are so much wealthier than the average American. The series will then continue in regular installments throughout the year.
Below, Brian Montopoli and CBS News' manager of surveys Jennifer De Pinto discuss the results of the poll:
CBS News Poll analysis by Sarah Dutton, Jennifer De Pinto, Fred Backus and Anthony Salvanto. This poll was conducted by telephone from May 20-23, 2011, among 1,020 adults nationwide. The margin of error on the entire sample could be plus or minus three percentage points. The error for subgroups is higher.
Thanks for reading CBS NEWS.
Create your free account or log in
for more features.