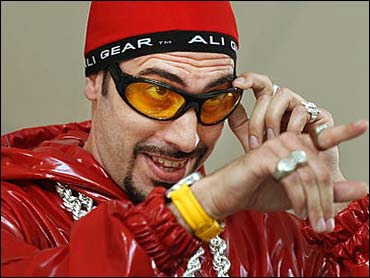 'Ali G' Comedian Riles Rodeo Crowd
British funnyman Sacha Baron Cohen, posing as a character on his cable TV show, talked organizers of a rodeo in Roanoke, Va., into letting him sing the national anthem.
Cohen went into an act that so angered a crowd of about 4,000 people that he was hustled out of the arena to prevent any violence.
The story, as reported by the Roanoke Times, unfolded this way:
Cohen first persuaded rodeo officials that he was a strong supporter of the U.S. war on terror who wanted to show his gratitude by singing the "Star Spangled Banner."
A film crew that accompanied Cohen apparently did not arouse the suspicions of the organizers. His comedy show, "Da Ali G Show," appears on HBO. A principal Cohen character is Borat Sagdiyev, a TV reporter from Kazakhstan.
The comedian, wearing an American flag shirt and a black cowboy hat, was introduced to the crowd as none other than Borat Sagdiyev from Kazakhstan.
Cohen first mocked the U.S. war effort in Iraq and then delivered a mutilated version of the national anthem.
"I hope you kill every man, woman and child in Iraq, down to the lizards," Cohen told the crowd in broken English. "And may George W. Bush drink the blood of every man, woman and child in Iraq."
The crowd began booing, but Cohen pressed on. Instead of telling the audience to stand, he urged everyone to be seated and then belted out a version of the anthem that ended with the words, "Your home in the grave."
Rodeo officials, realizing the hoax and fearing serious violence from the crowd, had Cohen and his entourage hustled from the arena before things got out of hand. The rodeo took place last Friday.
"Had we not gotten them out of there, there would have been a riot," rodeo producer Bobby Rowe told the newspaper.

Thanks for reading CBS NEWS.
Create your free account or log in
for more features.