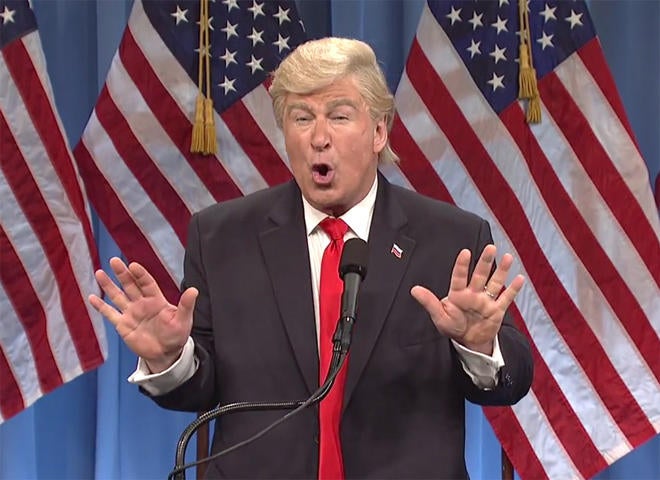 Alec Baldwin stunned by popularity of his Donald Trump impression
Alec Baldwin admits that he is stunned by the popularity of his Donald Trump impression for "Saturday Night Live."
In a lengthy excerpt in Vanity Fair from his forthcoming memoir, Baldwin ruminated on his acting inspirations, his time on "30 Rock" and his most recent turn lampooning the new president.
"When Lorne called me and asked, 'Do you want to do this?,' I said, 'No, I don't want to be Trump on TV.' Because anytime you do any kind of mimicry, it's of somebody that you appreciate. I didn't hate Trump. I just didn't want to play him. But Tina and Lorne pushed me, so I finally said yes."
Baldwin also admitted that he didn't initially put much thought into his Trump impression, which began in the last two months of the presidential campaign.
"When the stage manager took me to my mark for the first dress rehearsal, I had no idea what I was going to do. I mean, literally, the moment I walked out, I just said to myself, 'Eyebrow up,' and I tried to stick my face and my mouth out," he explained. "I didn't think about it -- I just did it. Now I should probably tell people, 'I worked on it for months.'"
One thing is for sure: The response has been resounding for Baldwin.
"The 'SNL' Trump sketches prompted people to approach me, thank me and beseech me to 'keep going' more than any other portrayal or piece I have performed."
So maybe we'll see him don the Trump wig a few more times?
Thanks for reading CBS NEWS.
Create your free account or log in
for more features.