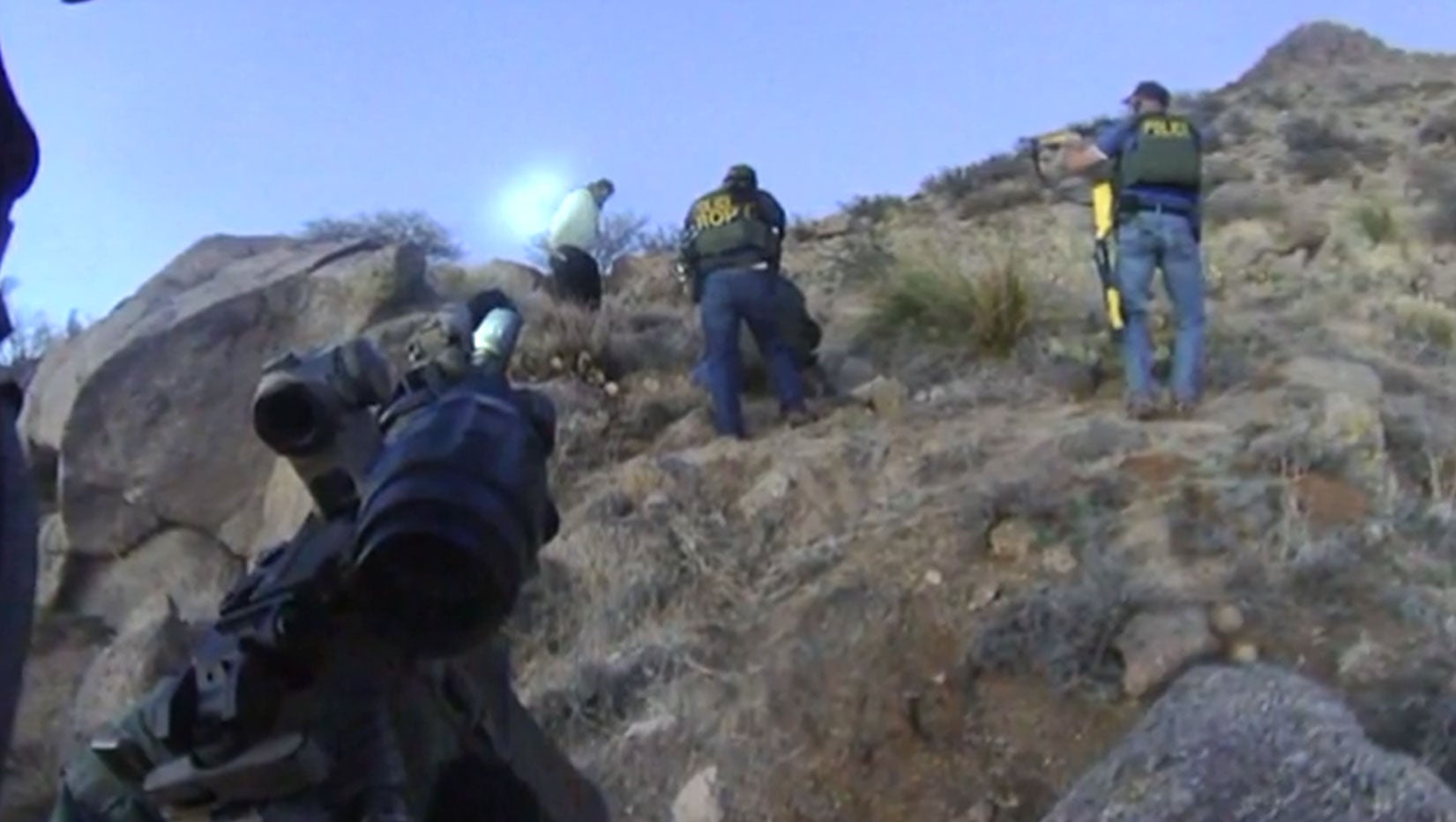 Albuquerque PD under fire for deadly police shootings
A graphic video that shows a police shooting of a homeless man in the Albuquerque foothills is raising a firestorm of controversy, and it's not the first time police there have faced backlash over citizen shootings.
Hundreds have posted outraged comments online and a public protest of the Albuquerque Police Department is planned for Tuesday evening after police last week released the helmet-cam video, which shows officers shooting at a homeless man March 16 who they said was illegally camping, reports CBS affiliate KRQE.

In the video, the man, James Boyd, 38, appears to turn away before he is shot by police. Boyd later died. He was struck by at least one live round, but the medical investigator's office hasn't determined what killed him, reports the Albuquerque Journal.
According to an Albuquerque police spokeswoman, Boyd was carrying knives and threatening to kill the officers. But critics say the incident raises alarming questions about how Albuquerque police use deadly force.
"We've reviewed the video, and like many people who have seen it, we found it to be fairly disturbing," Steve Allen, public policy director for the ACLU of New Mexico, told CBS News' Crimesider. "It certainly does raise questions about why this tragedy couldn't have been avoided."

For critics, the police shooting is an all-too-common occurrence in Albuquerque. Boyd's death marks the 22nd deadly police-involved shooting since early 2010, said Andrew Lipman, who chaired the city council's Police Oversight Task Force.

Lipman's 11-member task force released recommendations in January calling for the creation of a totally new and independent body to act as a citizen oversight group for police.

The task force also called Tuesday for an independent review of Boyd's shooting.

"They're viewing this man as kind of the enemy, in a combat situation, and that's not really what they're there to do -- they're there to ensure public safety," Lipman said. "...This man lost his life because he was illegally camping."

The Albuquerque Police Department (APD) has come under fire for the string of deadly incidents, and in November of 2012, the U.S. Department of Justice launched a civil rights investigation into "allegations that APD officers engage in use of excessive force, including use of unreasonable deadly force, in their encounters with civilians."


As the video receives widespread media attention, police have defended the shooting. Albuquerque Police Chief Gorden Eden initially told reporters in a press conference the shooting was "justified." He later said his comments were premature, however, after Albuquerque mayor Richard Berry said they were "a mistake," reports KRQE.

"What I know is information I have been told by the investigators, and that's one of the things we need to go out and verify and verify and verify," Eden told the station.

A "multi-agency" investigation of the incident is ongoing, Officer Tasia Martinez, an Albuquerque Police spokeswoman, wrote in an e-mail to Crimesider. Police are also in discussions with other law enforcement agencies including the U.S. DOJ, which has been asked to review the case, Martinez said.


Officers approached Boyd Sunday, March 16 to ask him about illegally camping in open space, reports KRQE. When an officer attempted to frisk Boyd, the man could be heard refusing to comply and saying he was a government agent, reports the station.

Police found that Boyd had a criminal history that included incidents of violence against officers, reports KRQE, along with a history of mental health issues.

According to Martinez, responding officers were "immediately threatened by the suspect with knives."

The officers called for additional resources, and "many attempts were made over several hours to de-escalate the situation," Martinez wrote.

Those efforts included calling in a crisis intervention certified officer to establish communications with Boyd, along with requesting additional state police officers after Boyd asked to speak with them, according to Martinez.

"Mr. Boyd's response fluctuated between a calm demeanor to an often violent and threatening response to the officers," Martinez wrote. "He specifically threatened to kill the officers. Mr. Boyd was armed with knives throughout the interaction."

According to KRQE, Eden said that officers tried less lethal tactics like the flash bang, a taser shotgun and the K-9 unit, but in the end, officers had no choice but to shoot the man.

"It was when the canine officer was down directing the canine dog that the suspect pulled out the two knives and directed a threat to the canine officer who had no weapons drawn," Eden said, reports the station.

The two officers who fired shots remain on leave, reports KRQE.

As anger grows over the incident, the ACLU of New Mexico is calling for the shooting to be included into the DOJ's ongoing investigation of the APD's use of force. A meeting between advocates and the family members of citizens shot and killed by the APD and federal investigators is set for Wednesday, KRQE reports.

For many advocates, how APD officers are trained to use deadly force has remained a key question. In 2011, a state district judge awarded a judgment to the family of a man shot and killed by an APD officer in 2009, blasting the department's training techniques as "designed to result in the unreasonable use of deadly force," reported the Albuquerque Journal.

The man, 19-year-old Andrew Lopez, was reportedly shot by officers who suspected he had been involved in a previous shooting. He was shot non-fatally after fleeing from officers on foot, and was wounded, unarmed and lying on the ground when an officer fired another shot that killed him, reports the paper.

The officer reportedly testified during a civil wrongful death lawsuit that he thought Lopez was armed, but the APD later said the gun turned out to be a large car ashtray in his vehicle.

In a 2011 incident, 22-year-old Alan Gomez was reportedly walking away from police and holding a spoon when he was fatally shot, reports the paper.

"The APD seems to have an ongoing problem regarding their use of force, and it's losing the trust of its citizens because of that," said the ACLU's Allen.

APD spokeswoman Martinez didn't give Crimesider a detailed response as to how APD officers are trained on when to use deadly force or whether any changes have been made to training tactics since the backlash. But Eugene O'Donnell, a former New York City police officer and John Jay College of Criminal Justice professor, said that proper training of officers is key - especially when dealing with the mentally ill.

In many cases, he said, a failure of mental health care infrastructure can mean super-charged interactions between law enforcement and the mentally ill - a "bad mix" which can sometimes turn deadly.

"When it becomes a law enforcement matter, it's fast tracked to a bad ending - and in some parts of the country, it's fast-tracked even faster because there's less training about preserving human life," O'Donnell said.

While some departments have restraint "drilled into the mind" of officers, other departments are "way too cavalier, way too willing to create in the minds of cops that everybody is a danger."

In Boyd's case, he said, the video doesn't provide enough context to say for sure whether police felt threatened to the point where they would be justified in the shooting. But, he said, preserving human life should be a top priority for any agency when it comes to officer training.

"Police departments need to see cases like this a failure - this is not a success," O'Donnell said. "If someone ended up dead, it's a failure."



Thanks for reading CBS NEWS.
Create your free account or log in
for more features.