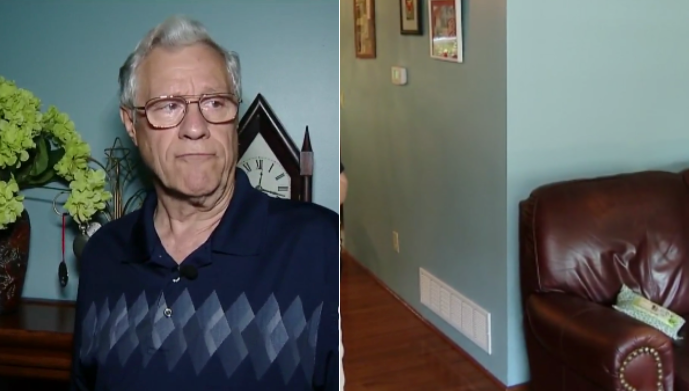 Alarm clock stuck inside living room wall goes off every single day for 13 years
Guests inside Jerry Lynn's Pittsburgh-area home may think their ears are ringing if they stick around long enough.
At exactly the same time every evening, the ringing begins -- well, beeping, actually.
The noise often startles people as they relax on the couches in their living room. But it's something Jerry Lynn and his wife, Sylvia, have grown accustomed to over the years.
Thirteen years ago, Lynn was doing some home repairs when he got the idea to dangle an alarm clock, which was attached to a string, through an air vent on the second floor. He set the timer for 10 minutes, hoping the sound would give him a clue as to where to drill a hole in the living room wall to pass a wire through for a TV cable.
"I thought it was convenient at the time," Lynn told CBS Pittsburgh.
Little did he know, the plan was about to unravel.
As Lynn lowered the clock down, the string snapped. The clock crashed to the ground.
"As I was laying it down, all of a sudden I hear it go 'thunk!' as it came loose," Lynn said. "I thought, well, that's not a real problem. You know it's still going to go off. And it did."
Lynn couldn't pull the clock back up, but he figured maybe three or fourth months down the road it would run out of battery.
That was in September 2004.
"It is still going off every day," Lynn said. "And during daylight savings time it goes off at ten minutes 'til eight. And during standard time it goes off at ten minutes to seven at night."
The Lynns say they can live with the noise, although some guests are startled and confused by it.
"It starts with a soft 'beep, beep, beep, beep' and it gets louder and closer together, and people are like, 'What is that?'"
Maybe someday the clock's battery will die, but for now, the homeowners have come to terms with the daily alarm.
Thanks for reading CBS NEWS.
Create your free account or log in
for more features.