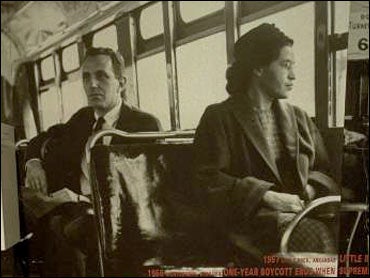 Alabama Closer To Rosa Parks Pardon
The Alabama Legislature gave final approval to a bill that sets up a process to pardon civil rights icon Rosa Parks and hundreds of others arrested for violating segregation-era laws.
The sponsor of the bill, Rep. Thad McClammy said the bill could lead to pardons for Parks, civil rights leader the Rev. Dr. Martin Luther King and hundreds of others convicted of violating laws aimed at keeping the races separate. McClammy said the arrests date back as far as the early 1900s.
The bill, named "The Rosa Parks Act" was amended in the Senate to allow museums such as The Rosa Parks Library and Museum in Montgomery to continue to display records of the arrests.
Parks was arrested 50 years ago for refusing to give up her seat on a Montgomery city bus, an event that sparked the historic Montgomery bus boycott.
During the anniversary, some civil rights leaders suggested a pardon would be appropriate for Parks and others like her who were convicted of acts that are not now considered to have been crimes.
Others, who applaud Parks' actions just as strongly, object to the idea of a pardon – because it carries with it the presumption of guilt needing to be excused.
Monday, McClammy said the bill approved by the Alabama legislature would "grant pardons on request to anyone convicted under the Jim Crow laws [the laws requiring blacks to stay separate from whites]."
The Alabama House voted 91-0 to approve Senate changes and pass the bill late Monday, about two hours before the 2006 regular session of the Legislature was scheduled to end. The legislation now goes to Gov. Bob Riley, who has not said if he plans to sign it.
Thanks for reading CBS NEWS.
Create your free account or log in
for more features.