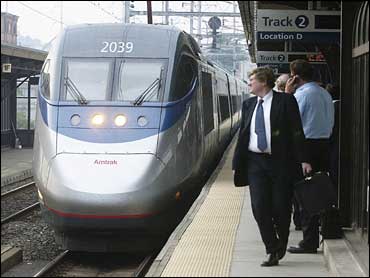 Air Marshals Expand Beyond Planes
Federal air marshals are expanding their work beyond airplanes, launching counterterror surveillance at train stations and other mass transit facilities in a three-day test program.
As of Wednesday, the Transportation Security Administration said, teams of undercover air marshals and uniformed law enforcement officers were descending on bus stations, ferries and transit systems across the country to protect them from potential terrorists.
"We just want to develop the capability to enhance security outside of aviation," said air marshal spokesman David Adams.
Air marshals stepped outside of their usual role of flying undercover on airliners after Hurricane Katrina struck New Orleans. They were sent to keep order at Louis Armstrong International Airport, where thousands of evacuees converged after the levees were breached.
The so-called "Visible Intermodal Protection and Response" teams, or VIPER teams, will patrol Amtrak's Northeast Corridor and Los Angeles rail lines; ferries in Washington state; bus stations in Houston; and mass transit systems in Atlanta, Philadelphia, Washington and Baltimore.
The teams will consist of two air marshals, one TSA bomb-sniffing-canine team, one or two transportation security inspectors and a local law enforcement officer.
Adams said there is no new intelligence indicating that terrorists are interested in targeting transportation modes.
Rather, the TSA is trying to expand the role of air marshals, who have been eager to conduct surveillance activities beyond the aircraft, and tighten security at public transit stations over the holiday.
Some members of the team will be obvious to the traveling public and wear jackets bearing the TSA name on the back. Others will be plainclothes air marshals scanning the crowds for suspicious individuals.
"TSA expects to find new ways to quickly deploy resources, in the event of an actual threat, that adds complexity to security measures outside of the aviation domain," the agency said in a statement.
Thousands of air marshals were rushed into service after the Sept. 11 terrorist attacks. The service has been shunted among different agencies since then, starting out at the Federal Aviation Administration, moving to the TSA, then to Immigration and Custom Enforcement and, recently, back to the TSA.
Though the exact number of air marshals is classified, pilots estimate that they cover only a small percentage of flights. Efforts were made to expand coverage by cross-training other law enforcement officers to perform air marshal duties, but Congress put a stop to it.
Air marshals last week shot and killed a passenger in Miami who they said made a bomb threat.
The Washington Post first reported the deployment of the VIPER teams.

Thanks for reading CBS NEWS.
Create your free account or log in
for more features.