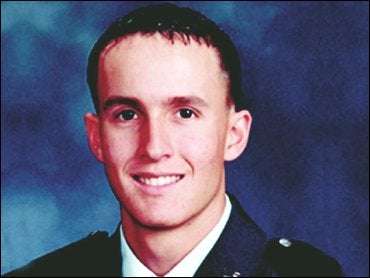 Air Force Cadet Charged With Rape
The military has filed a rape charge against an Air Force Academy cadet, the first such charge since a sex scandal broke at the academy earlier this year.
The charge was filed Tuesday against Douglas Meester, a sophomore accused of raping and sodomizing a female cadet in a dorm room on Oct. 18. He also is charged with indecent assault and providing alcohol.
The academy scheduled a hearing Wednesday to determine whether Meester should face a court-martial.
Capt. Kathleen Reder, Meester's military attorney, said she did not know if he would testify. "We'll make that decision after the government's evidence," she said.
The woman who accused Meester of rape, a freshman from Pennsylvania, reported it immediately and underwent a medical examination, said her lawyer, Steve Werner. He said she was disciplined for fraternizing with older cadets and drinking.
Meester's father, Doug Meester, of Marco Island, Fla., told The Gazette of Colorado Springs in Wednesday's editions that the acts were consensual.
"We have faith the Air Force is going to take a look at this and see it for what it is. It was absolutely consensual sex between two kids," he said.
The academy located outside Colorado Springs has been under scrutiny for months since dozens of female cadets said they were reprimanded or ostracized when they reported being raped. The school's top officers have been reassigned, and the Air Force and Defense Department are conducting investigations.
The sex probe took another twist earlier this month when it was learned that a senior cadet had been accused of organizing a Web site that promoted group sex, sending e-mails to hundreds of people, and organizing and participating in sex sessions involving as many as two dozen men and one woman in nearby Colorado Springs and Denver.
In the past 10 years, two Air Force cadets have been charged with rape. One was acquitted, and another pleaded guilty and was sentenced to seven months in jail. Administrative action was taken in other cases because there was not enough evidence to prosecute, officials said.
Douglas Meester is the first cadet charged with rape but the second to face sex-related charges since the latest scandal erupted.
Cadet Jason Lewis has been charged with sexual assault for allegedly forcing a female cadet to fondle him in his dorm room. Air Force officials held a hearing last week but have not announced whether Lewis will face a court-martial.

Thanks for reading CBS NEWS.
Create your free account or log in
for more features.