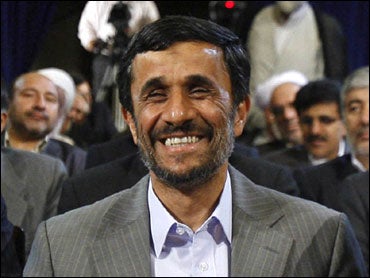 Ahmadinejad Proud of Holocaust Denial
Iranian President Mahmoud Ahmadinejad said Monday he was proud his denial of the Holocaust had enraged the West, as the controversial leader geared up for a United Nations trip to stress what he said would be a message of "peace and friendship."
Ahmadinejad's latest comes as Iran is locked in a bitter dispute with the U.S. and other Western nations over its nuclear program. Even as that fight continues, his remarks were sure to earn the Iranian president an even more frigid reception when he heads to New York on Tuesday to attend the U.N. General Assembly.
"The anger of the world's professional killers is (a source of) pride for us," Ahmadinejad was quoted as saying by the official IRNA news agency.
He was responding to a question about criticism from the European Union following a speech on Friday in which he questioned whether the Holocaust was a "real event." The "killers" reference appeared to be directed primarily at Israel and the U.S.
"It's a sad day for the Iranian people," French Foreign Ministry spokeswoman Christine Fages said in an online briefing Monday in reference to Ahmadinejad's latest Holocaust statements. She said "they unfortunately add to the long list of hateful statements" by Ahmadinejad.
Ahmadinejad has repeatedly raised questions about the Holocaust. He has said it has been used as a pretext for Israel's formation, and that Israel and Jewish groups are actively muzzling any attempt to link shame over the Nazi atrocities with the what many in the Muslim Middle East believe is the West's bias for the Jewish state at their expense.
The comments have done little to bolster sympathy for Iran's conservative government, which the U.S. and others believe is looking to enrich uranium with an eye to nuclear weapons production. Iranian officials deny the charge, saying the program is for purely peaceful purposes.
The Iranian president is slated to address the U.N. on Wednesday, said IRNA.
"The most important message of this year's visit by president to New York is peace and friendship for all nations, fighting suppression and interaction with all nations in the framework of justice and mutual respect," Mohammad Jafar Mohammadzadeh, a spokesman for Ahmadinejad's office told IRNA.
Ahmadinejad's last trips to the U.N. have been marked by sharp protests. In 2007, before a planned speech at New York's Columbia University, he sat through a scathing criticism by the elite university's president.
Mohammadzadeh said Ahmadinejad was planning to meet extensively with the media while in the U.S., and that the "Zionist lobby," despite its efforts, will be unable to "stop the publication of the justice-seeking message of Iranians by their president."
Ahmadinejad is sure to face a drubbing over the nuclear issue and questions about whether Iran will negotiate or face the threat of even deeper sanctions.
The U.S. administration has invited Iran to start a dialogue on its nuclear program and gave a vague September deadline for Tehran to take up the offer. The U.S. and five other world powers accepted an offer from Iran earlier this month to hold "comprehensive, all-encompassing and constructive" talks on a range of security issues, including global nuclear disarmament.
European Union foreign policy chief Javier Solana will meet Iran's nuclear negotiator Saeed Jalili on Oct. 1 for talks on the nuclear issue.
Thanks for reading CBS NEWS.
Create your free account or log in
for more features.