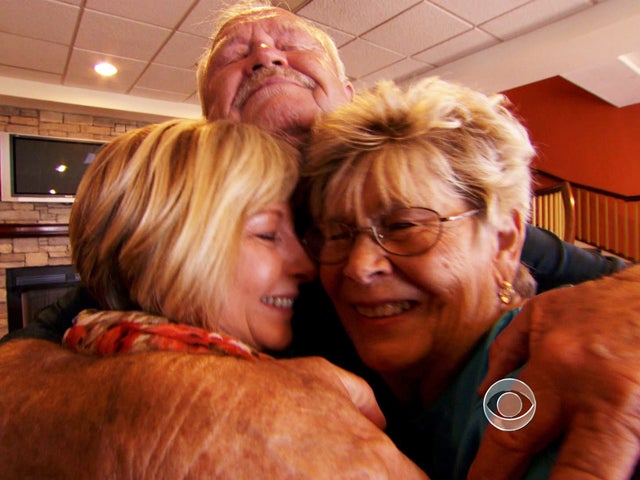 After taking to the streets, S.C. man finds kidney for wife
(CBS News) CHARLESTON, S.C. -- One way or another, it had to end like this. One way or another, Larry Swilling knew his wife Jimmy Sue would eventually be hospitalized with a failing kidney. He knew he'd have tears -- only thing he didn't know was whether they'd be happy or sad.
When we first met Larry a year ago, he was desperately trying to rewrite his wife's final chapter. Since she needed a kidney, and he had no shame on the matter, Larry set out to find an organ donor on his own.
Never mind that most people won't give panhandlers their pocket change, let alone their vital organs. Larry, at the age of 77, started walking all over his hometown of Anderson, South Carolina, basically begging for a kidney.
"I had to do something," he said. "She looks after me, and I look after her."
After 57 years of marriage, their love is so palpable, it practically melts you in your seat. Which is probably why, after our first story aired, thousands of people called to offer their kidneys.
"There's a mighty bunch of good people out there, just wanting to help," Larry said.
More than 100 of that mighty bunch went through the testing to see if they were a match, and would you believe -- one was.
After a full year of searching, this week, Larry Swilling finally met his miracle. She's a 41-year-old retired Navy lieutenant commander named Kelly Weaverling.
"Have you ever just had a feeling that was just a strong gut feeling that you just went with your instinct, because you just knew it was right?" Kelly asked. "That's exactly what happened. I could do something to give this family hope."
The surgery was Wednesday morning, and by Wednesday afternoon, Larry was accosting doctors, giving them all bear hugs.
Everything went perfectly. Now Larry says he has two new missions: to find other donors for other people, and to find a way to properly thank the woman who gave him his wife back.
"There's not enough words," he said, struggling to find a way to thank Kelly.
"Just take care of your wife," Kelly replied. "Just take care of her."
Doubt that'll be a problem.
To contact On the Road, or to send us a story idea, e-mail us.
Thanks for reading CBS NEWS.
Create your free account or log in
for more features.