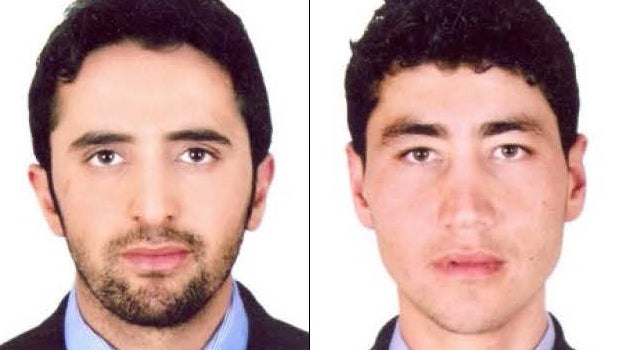 Afghan nationals training under DEA disappear
Two Afghan nationals who were training with the U.S. Drug Enforcement Administration vanished over the weekend while on a visit to Washington, according to federal authorities.
Mohammad Yasin Ataye, 22, and Mohd Naweed Samimi, 24, were part of a group of 31 Afghan police officers who were in the U.S. for a five-week intensive DEA training program to combat drug trafficking in in Quantico, VA. The group was bussed to Georgetown on Saturday for a day of sightseeing, which included an evening boat ride. DEA special agents accompanying the group realized the two men were missing when they failed to show up for the boat's 7 p.m. departure.
"They are among the best and brightest of their country and that's why they were chosen to train at Quantico," said Rusty Payne, a DEA spokesman. "We are very concerned for their safety."
According to the DEA, each candidate is extensively vetted and polygraphed. Ataye and Samimi entered the U.S. in mid-August with special visas and were participating in the DEA's Sensitive Investigative Unit Program (SIU) which offers law enforcement agents from 13 countries training in surveillance, undercover operations and intelligence gathering among other things. Classes are taken on field trips on weekends.
When they disappeared, Ataye and Samimi were not carrying their visas or passports and were not armed, according to Payne. The DEA is working with local and federal law enforcement agencies to locate them.
Federal authorities believe the men may be heading to the Buffalo, N.Y. area where they might try to reunite with a relative, and are being aided by a female operating an unknown rental car.
"These are two individuals who pose no threat or danger. Most likely, they are just seeking a better life in the U.S.," Payne said.
The 29 other SIU participants completed the course and graduated today and are expected to return to Afghanistan tomorrow.
The last time the DEA lost track of its trainees was 10 years ago when a pair of Pakistani officers fled to Houston in search of better conditions. They issued a formal apology and were sent back to their home country.
Thanks for reading CBS NEWS.
Create your free account or log in
for more features.