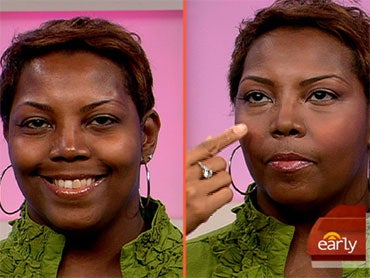 Adjusting Your Makeup As You Age
When you are younger almost anything goes when it comes to make-up, but once a few lines or wrinkles begin to appear it's time to change it up.
Celebrity makeup artist Cynde Watson illustrated on "The Early Show" Friday, a few makeup tips to hide common aging concerns, as women approach their 40s.
Watson told CBS News she believes "the overall makeup tip for women approaching their 40s (is to) discover and embrace your signature look."
But what do most women need to know about makeup and aging?
Watson said, "Women need to understand that 'less is more,' but less doesn't mean no makeup. ... It means the right makeup applied (should be applied) strategically. Women should stay true to their signature style and accent and highlight their basic or signature look with seasonal trends."
Should you use colors differently as you get older?
Watson said as a woman gets older, she should definitely use color differently than she did in her teens and 20s.
"You need wear more color as you age, but in sheer formulas and applied strategically," she said.
Watson added that long-wear and waterproof makeup becomes very important as women age because body temperature fluctuates, due to hormones. Other factors include eye sensitivity, and skin texture and surface changes.
Watson offered these makeup tips to hide common aging concerns as women approach their 40s:
No. 1 Concern: Maturing Skin
- Skin appears dull and matte with visible fine lines and wrinkles, on the skin and around the eye area
- The number one complaint that I hear from my clients is, "How can I keep my makeup from sinking into my fine lines and wrinkles?"
Makeup Solution:
• Moisturizer SPF 15
• Hydrating Primer-hydrates, fills and gives skin a smooth finish
• Tinted Moisturizer/Foundation (only where needed) A corrector shade or concealer/corrector balances the discoloration. It hides dark circles and evens out skin tone
• Sheer powder in strategic areas if needed (for example T- zone. Less powder is better as you get older because it accentuates the lines.
• Bronzer / Self Tanner
Product recommendation: SPF moisturizer, moisturizing primer, tinted moisturizer, moisturizing foundation & concealer, sheer powder, self tanner, bronzer
Products to stay away from: Heavy powders & foundation
Fall trend: Healthy looking skin, matte but not dry, hydrated skin (not dewy)
How can a woman close to 40 or older make this fall's trend for skin work for her?
Fall '09 skin is matte this season, the way a woman close to 40 can wear this trend and look great is to use foundation or tinted moisturizer in spot areas (T-zone, redness around nose and anywhere you find uneven skin. Once the skin is even apply sheer powder sparingly only where skin is extremely oily. This technique will give you healthy flawless real semi-matte skin which translates like the runway matte look, and is appropriate for skin approaching 40.
No. 2 Concern: Maturing Eyes
-Appear smaller, puffy and droopy with visible fine lines (crow's feet).
-Eyebrows appear sparse and faded and eyelashes start to lose vibrancy and thickness
Makeup solution:
• Eye cream (during day and night. Start using it now)
• Shape & Fill in Eyebrows -It's like a mini eye lift, do not wear brows darker than your hair color. Most cases the tail of the brow will start to disappear. If you've had thick bushy brows then they start to thin out and you have to fill them in.
• Line eyes-thicker on the outer corner getting thinner towards the inner corner this gives you the appearance of a more almond shaped eye. Use waterproof products around eyes. The body is changing at this age and you do produce more water and sweat, usually in areas that you don't want.
Eye Lashes-If you see a little gray in lashes and really bothers you then you can have professionally dyed. DO NOT TRY AT HOME. Or just use mascara.
• Apply basic shades (taupe, gray, soft bone, basic brown palette) on the eyes and accent with seasonal trend shades and shimmery textures
• Use a double-pigmented volumizing mascara. Your lashes start to dull and you lose volume and pigment.
Product recommendation: Eye cream
Products to stay away from:
- Frosty, glittery and extra bright eye shadow, colored mascara
Fall trend:
- Deep Smokey Sultry eyes 80's style (black, purple, blue)
- Glittery shadows on the eye lids, matte browns on the eye lids. You take the glittery shades and use it as an accent.
How can a woman close to 40 or older make this fall's trend for eyes work for her?
Fall '09 eyes on the runways were created using deep matte shades and glittery eye shadows. The look is smoky and sultry with an 80s edge. A women close to 40 can wear this trend by applying basic matte shades on the eyes -- dark gray instead of black on the lid, using a black or deep shade long-wear gel or pencil eyeliner then accent with a shimmer (not glitter) eye shadow or eye shadow pencil in the inner corner of the eye, softly washed over basic shadow or trace line over the dark liner that rims the eye.
No. 3 Concern: Maturing Lips
-Start losing volume, definition and pigment. Lip stick and gloss also starts feathering into fine lines around the mouth.
Makeup solution:
• Lip conditioner
• Line lips with a fat pencil, fill in lips, add lighter shade in center of lips to give a plumed up fuller effect
• Use lip primer and a lip liner in a natural shade to avoid feathering
• You don't have to avoid bolder shades just choose sheer formulas (not glossy. You can get a sheer red by using a stain. A color last marker pencil will give you the look. If you have very thin lips, gloss them up. If you have fuller lips, then gloss the bottom center lip. As we age and approach the 40s, we should use less gloss.
Product recommendation:
Products to stay away from:
- Dark matte lip stick and extremely bright shades
Fall trend: Red (matte), Nude (matte), Deep Purples and Fuchsia lip stick. You would use these colors in a more stained color. I want to say stay away from Deep Purples and Fushsia, but it's how you do it.
How can a woman close to 40 or older make this fall's trend for Lips work for her?
Fall '09 lips are matte red, plum and fucia and very nude. Matte formulas can make lips very dry which can make them look smaller and ridged especially if there are visible lines forming around the lips.
Women approaching 40 can wear these trendy lip color shades, however the lipstick formulas should be sheer and semi matte.
For a listing of products featured on the broadcast, go to Page 2.

Makeup products featured on "The Early Show":
Basic Eye, Lip & Cheek Palettes
Color by Cynde Watson-Glam Color Kit -- 5 pan palette 2 eye shadows cream and med brown shade, 2 lip colors pinky peach and deep berry shade, 1 pinky peach blush w/brush. Also dual-ended eye shadow and lip pencil
Price: $14.95
Mark-Flip For It Uber Neutrals
4 lip colors, 2 eye shadows, 1 blush
Price: $20
Shu Uemura-Custom Palettes
4 pressed eye shadows
1 mini compact palette
Price: $92
Shades: Approximately 70
Color by Cynde Watson-Volumizing & Lengthening Mascara
*The volumizing end coats each lash and creates thicker lashes and the mini-comb builds, lengthens and separates lashes
Price: $9.95
Bare Escentuals-bareMinerals Lash Builder
*Conditioning base coat to help mascara last longer
Price: $15.00
Lip Color
Bare Escentuals-BUXOM lip gloss
*Creates more voluptuous lips
*Paraben,sulfate and phthalate free
Price: $18
Shades: Lola (nude),Melonie (sheer fuschia) and Betty (Crimson Red) Comes in approximately 28 shades Bare Esentuals -- BareMinerals 100% Natural Lip color Shade: Black Currant(muted plum) Comes in approximately 24 shades
Bobbi Brown- Lip Color
*semi matte
Shade: Red
Comes in approximately 36 shades
Price: $22
Shu Uemura-Rouge Unlimited
*sheer formula
Shades: BG 942 (nude) WN296(plum)
Price:$23
Color by Cynde Watson-Plum & Brighten Lip Color Pencil
* creamy and long lasting
*dual-ended 2 formulas
Shades: Honey(nude), Toast(deep raisin)
Comes in 6 shades
Bronzing Powder
Shu Uemura-Bronzers
*Gives a sun kissed glow to the face
*Matte
Price:$38
Shades: 3
Bobbi Brown-Shimmer Brick for Body silky powder
*for arms, legs, or anywhere
Price: $75
Skincare
3LAB-Hydra Day w/ Water Based SPF 20
*water-based hydrating cream
Price: $75
3LAB- WW Eye Cream
*smoothes wrinkles
*brightens under eye dark circles
Price: $250
3LAB-PERFECT Sunblock SPF 55
*Anti-aging sun protection cream
*blocks 99 percent all UVB & UVA rays
Price: $55
Shu Uemura-Vitalizing Refining Lotion
*contains Hibiscus Flower Extract
*refines and renews the look of the skin
Price: $40
Thanks for reading CBS NEWS.
Create your free account or log in
for more features.