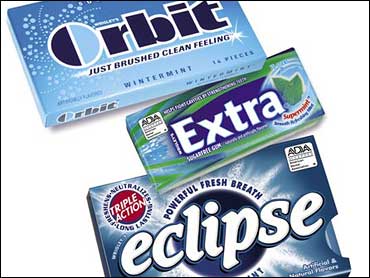 ADA Gives OK To Chewing Gum
The largest U.S. dentist group now says gum can be good for you, as long as it is sugar-free.
The American Dental Association said Tuesday it has awarded its seal of acceptance to Wrigley sugar-free gums Orbit, Extra and Eclipse - based on studies funded at least partially by the maker of Wrigley gums, Chicago-based Wm. Wrigley Jr. Co.
It is the first time the ADA has allowed its seal to appear on gum after clearing it for thousands of other products since 1930.
The ADA said its independent review of the studies confirms those three gums have been shown to help prevent cavities, reduce plaque acid and strengthen teeth.
It said studies submitted by Wrigley showed that chewing those gum products for 20 minutes three times a day after meals increases saliva production. Saliva, the ADA said, helps neutralize and wash away plaque acid and bathes the teeth in minerals such as calcium, phosphate and fluoride, which are known to strengthen tooth enamel and help prevent cavities.
Clifford Whall, director of the ADA seal of acceptance program, said its council on scientific affairs found the studies, which focused solely on Wrigley products, had followed scientific principles.
"The council has looked at the body of data and concluded that there are some health benefits to chewing these products three times a day for 20 minutes," he said.
The ADA also recommends brushing teeth twice a day with a fluoride toothpaste, cleaning between teeth daily with floss or an interdental cleaner, eating a balanced diet and seeing your dentist regularly for "optimal oral health."
Thanks for reading CBS NEWS.
Create your free account or log in
for more features.