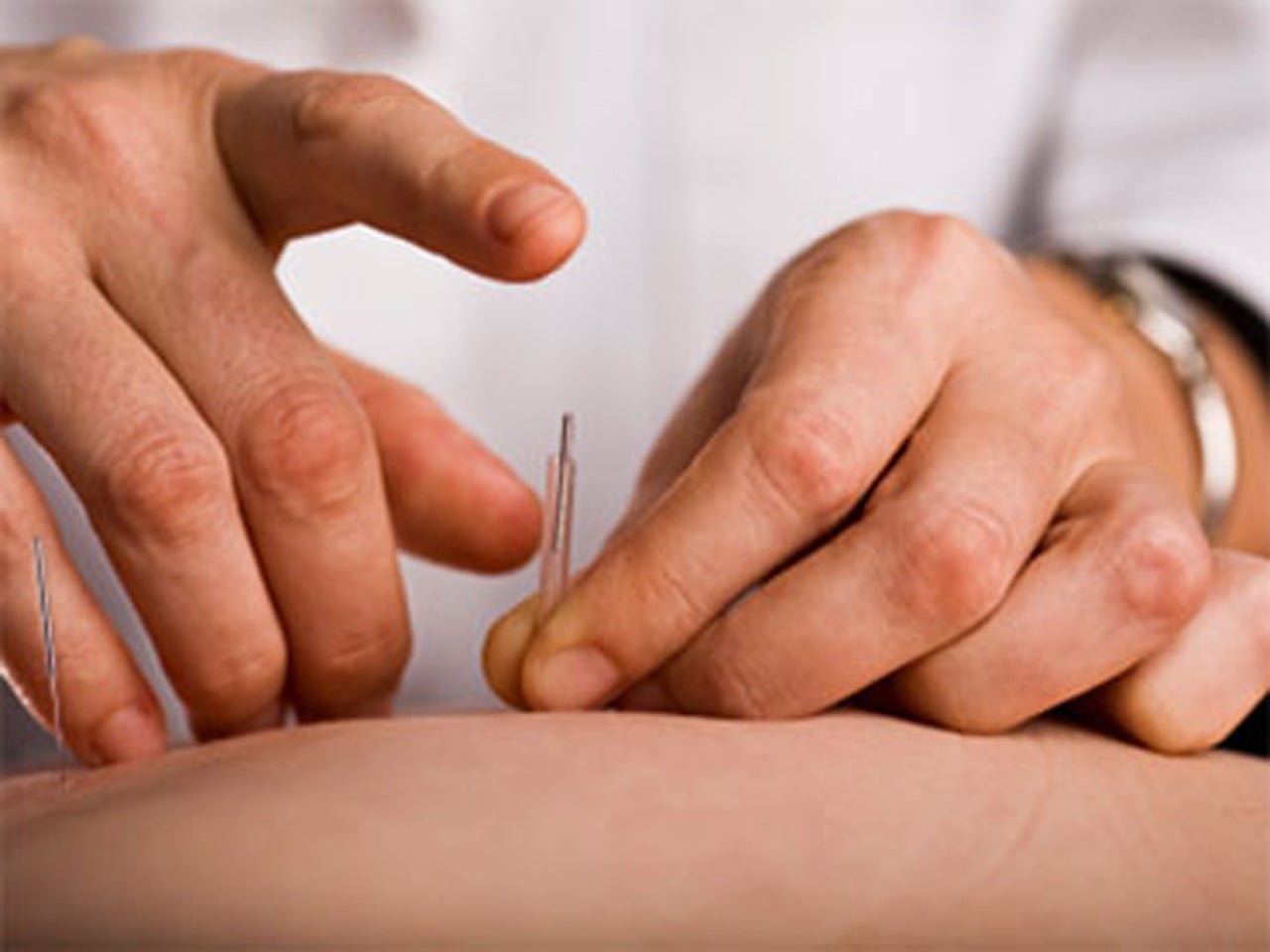 Acupuncture may help relieve seasonal allergies
Got seasonal allergies? If you're one of the many hay fever sufferers out there, a new study suggests acupuncture might help.
Researchers conducted a trial that showed 12 acupuncture treatments could reduce seasonal allergies and the need to take allergy medicine.
In acupuncture, practitioners place thin solid -- often metallic -- needles at certain points of the body that are then manipulated by the hands or electric stimulation. It has been practiced in China and other Asian countries for thousands of years, and is used to treat many conditions including headaches, menstrual cramps and chronic pain.
An estimated 3.1 million U.S. adults and 150,000 children have acupuncture each year, according to the National Center for Complementary and Alternative Medicine.
Researchers randomly assigned 422 patients between 16 and 45 to receive either 12 treatments of acupuncture, 12 treatments of "sham" acupuncture -- where doctors put needles in areas of the skin that were not designated acupuncture points -- or just to receive medication. All groups were allowed to take up to two doses of cetirizine, or Zyrtec, per day and a corticosteroid --a nose spray -- if their symptoms still did not go away.
Patients were followed-up with at 8 and 16 weeks by researchers to see how their allergies were doing. Allergic rhinitis, or hay fever, can cause itchiness, runny nose, sneezing, teary eyes, congestion, sore throat, dark circles or puffiness under the eyes, among other symptoms.
The researchers found patients who received acupuncture had statistically significant improvements in their reported quality of life and in reducing the amount of allergy medicine they took, compared with the other two groups. The effects, however, waned two months later at the 16-week follow-up.

The article was published Feb. 19 in the Annals of Internal Medicine.
Study co-author Dr. Benno Brinkhaus, a researcher and acupuncturist at the Institute for Social Medicine, Epidemiology and Health Economics at Charité University Medical Center in Berlin, told TIME in an email that acupuncture could be a safe alternative treatment for patients tired of taking medicine.
"From my experience...I would recommend trying acupuncture if patients are not satisfied with the conventional anti-allergic medication or treatment or they suffer from more or less serious sides effects of the conventional medication," he said.




Other experts not involved in the research were not convinced.

Dr. William S. Silvers, past chairman of the Complementary and Alternative Medicine Committee of the American Academy of Asthma, Allergy, and Immunology, told Medscape the improvements were minimal and the findings may have been influenced by patients' expectations, concluding acupuncture has no role in seasonal allergy treatment.

"One must always recognize the potential of the 'placebo effect' with any active intervention," he said.


"I don't know how many people will want to wait in an acupuncturist's office, then sit with 16 needles in them for 20 minutes, and do that 12 times, when they could use a nasal spray," added Dr. Harold Nelson, an allergist at National Jewish Health in Denver, in an interview HealthDay.

Thanks for reading CBS NEWS.
Create your free account or log in
for more features.