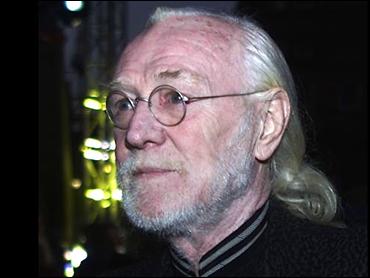 Actor Richard Harris Dies
Irish actor Richard Harris, the roistering star of screen gems such as "A Man Called Horse" and "This Sporting Life," died Friday night at a London hospital, his family said. He was 72.
"With great sadness, Damian, Jarid and Jamie Harris announced the death of their beloved father, Richard Harris," the family said.
"He died peacefully at University College Hospital," where he was been receiving treatment for Hodgkin's Disease after falling ill earlier this year, the family said.
A tall, sturdy figure with a reputation as a hellraiser and a lived-in face, and once described as looking like "five miles of bad country road," Harris was never cut out to join contemporaries as a smooth matinee idol.
The critic Clive Barnes called him one of a new breed of British actors, who are "rougher, tougher, fiercer, angrier and more passionately articulate than their well-groomed predecessors ... roaring boys, sometimes with highly colored private lives and lurid public images."
He caught the eye of critic Kenneth Tynan who once bracketed him with Albert Finney and Peter O'Toole as one of the three best young actors on the British stage.
Inspired by the writings of the Russian director Konstantin Stanislavsky, the young Harris set his heart on directing, but acting soon claimed him and he enjoyed his first stage success with Joan Littlewood's pioneering Theatre Workshop.
He won the Best Actor award at the 1963 Cannes Film Festival for "This Sporting Life." Other major roles include "Major Dundee," "Hawaii," "Camelot," "The Molly Maguires," "A Man Called Horse" and "Cromwell."
Born Oct. 1, 1930, in Limerick, southern Ireland, Harris suffered a bout of tuberculosis in adolescence, which friends say fostered the brooding, introspective quality of his acting. Harris moved to London to study, but when he couldn't find a suitable directing course, he joined an acting course at the London Academy of Music and Dramatic Art, in 1956.
While still a student, he hired the tiny "off-West End" Irving Theatre and directed his own production of Clifford Odets' "Winter Journey (The Country Girl)."
The critics approved, but the production used up all his savings, and he was forced to sleep in a coal cellar for six weeks.
Harris left LAMDA in the summer of 1956 to join the Theatre Workshop, which helped lead the advance toward realism and experiment in British theater. His first professional appearance was on July 24, 1956, as Mickser in the Littlewood production of Brendan Behan's "The Quare Fellow" at the Theatre Royal, Stratford.
It was a small part, but Lee Strasburg, director of the New York Actors Studio, said it had the "sharpest impact" of any performance he had seen by an actor in Britain.
A variety of roles followed: Louis in Arthur Miller's "A View From the Bridge" and Paulino in Pirandello's "Man, Beast and Virtue." Harris also toured Russia and Eastern Europe with a Theatre Workshop production of Shakespeare's "Macbeth."
To earn extra income, Harris turned to television, and his performance in a 1958 television play called "The Iron Harp" led to a contract with Associated British Picture Corp.
His first film part was a cameo in a comedy called "Alive and Kicking," about three elderly women who escape from a home for seniors.
Harris's next commitment took him back to Ireland to shoot "Shake Hands With the Devil," an ambitious production about the Irish Rebellion, in which he played the gun-happy rebel Terence O'Brien.
A role followed as the villainous Higgins in "The Wreck of the Mary Deare," a maritime adventure starring Gary Cooper and Charlton Heston made in Hollywood by MGM.
In 1959, the actor returned to Ireland to make "A Terrible Beauty" about sectarian strife in Northern Ireland, in which he played the roistering bosom-buddy of a disenchanted Irish Republican Army member, played by Robert Mitchum.
Harris' first lead role in London's West End came later that year when he opened as Sebastian Dangerfield in J. P. Donleavy's "The Ginger Man" at the Fortune Theatre, a study of the life of a drunken Dublin student.
After more TV work, both in England and the United States, Harris appeared as the sadistic Corp. Johnstone in "The Long and the Short and the Tall," a film based on the much-admired play by Willis Hall, a study of man's inhumanity to man during World War II.
He received good notices for his "sturdy" performance as a mutinous sailor in Columbia's $18 million remake of "Mutiny on the Bounty" with Marlon Brando, although the film itself drew generally unfavorable reviews.
His role as violent, inarticulate Yorkshire miner Frank Machin in Lindsay Anderson's "This Sporting Life" - his first film lead - took London and New York by storm and established him as an actor of the first rank.
New York Post critic Archer Winsten called it "a great, indelibly memorable performance," and William Peper in the New York World-Telegram wrote that Harris "reminds one fleetingly of Marlon Brando. He also has his own kind of raging power and startling sensitivity."
Typically, Harris turned his back on the plaudits to produce a financially unrewarding but artistically acclaimed presentation of "The Diary of a Madman," which he and Lindsay Anderson adapted from Gogol's short story about a Russian clerk's decline into insanity.
Barnes, the critic, described Harris' performance as the clerk, Aksenti Ivanovitch, as a "tour de force" that "struck me as one of the greatest things I have ever seen in the theater."
But after a series of bombs - "Orca," "The Ravagers," "Game for Vultures," "Your Ticket is No Longer Valid" - Harris' career hit the skids.
"I made a decision that half was made for me by the motion picture business," he recalled. "Around 1980, I decided that was it, that my career was really finished. I was doing a series of movies that I wasn't happy doing. The standard of the movies was very low. Because of what I was offered, I was unhappy."
He decided to quit films entirely. For three years he toured in "Camelot," then from 1986 to 1989, he was content to do nothing. He decided to "finish my career on a high note" and embarked on Pirandellos's difficult "Henry IV," winning plaudits all round.
A role as the thundering Irish peasant Bull McCabe in "The Field" followed, was a full-on performance that drew mixed critical reaction, but also a Golden Globe nomination for best actor in a drama.
Most recently, he has appeared as Professor Albus Dumbledore in "Harry Potter and the Philosopher's Stone" and "Harry Potter and the Chamber of Secrets."
Possessed of a sharp temper, Harris was no stranger to arguments and was known to cancel interviews and miss appearances if he felt indisposed.
After decades of heavy boozing, Harris gave up drinking in 1982 - typically, after drinking two last bottles of expensive wine at one sitting.
He is survived by his three sons from his first marriage to Elizabeth Rees-Williams.
Thanks for reading CBS NEWS.
Create your free account or log in
for more features.