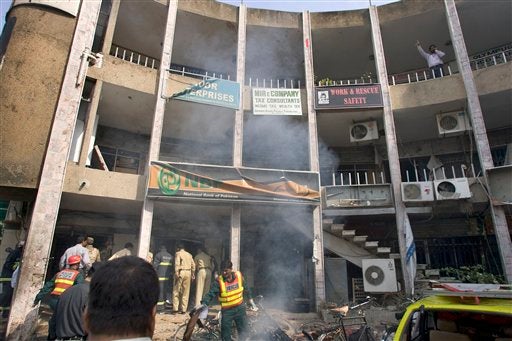 'Acting 'Runs In The Family'
Finding success in Hollywood could be difficult or anyone, but to have a whole family of movie stars is a real achievement.
The Douglas family is one of the few to have several of its members recognized for their work on and off the screen. But, for some reason, members of the clan never worked on a movie project together before.
Oscar recipient and Hollywood legend Kirk Douglas and his two-time Academy Award-winning son, Michael, tried for more than 20 years to find a film project they could work on together.
And, as Michael Douglas explains on The Early Show, they finally found the right time and the right movie, "It Runs In the Family."
"It was the right story because dad agreed to do the movie," Michael Douglas explains. "There's so much pressure sometimes, when you're father and son to do your first movie together. And we kept finding all the reasons not to do it … When 9/11 went down, [I] felt this incredible feeling, this desire to get closer with our families … And I said, 'Dad, the script?' And he said yes."
The film also features Cameron Douglas and Diana Douglas, Michael's son and mother.
"This particular script 'It Runs in the Family,' as it turns out, had a third generation part for a grandson, who is a DJ in New York, and my son Cameron just happens to be a DJ in New York," says Michael Douglas. "And then the part of Kirk's wife who could be played by my mother [was available]. Even though they've been divorced for a little more than 50 years, they've always gotten along well."
"It Runs In the Family" is 86-year-old Kirk Douglas's 86th film. In it, he plays Mitchell Gromberg, retired father of Alex Gromberg (Michael Douglas) who is looking at his own mortality. The family is extremely successful, but they don't communicate well. And Alex Gromberg tries to glue the pieces together as father, son and husband.
Michael Douglas says, like the father/son relationship on screen, being the son of Kirk Douglas was a little overwhelming. And he was not able to see his dad often because of the elder Douglas's grueling work schedule.
"When I went to see him, visit him, there's just a tremendous amount of pressure, guilt about trying to be a father who wasn't there," says Michael. "And at the same time, just working so hard … His stamina. His heart. And the dramatic change that's happened to him since he's had his stroke. He's a different person. And I mean that in a positive way."
Some Facts About Michael Douglas

Born Michael Kirk Douglas in New Brunswick, N.J., Sept. 25, 1944
University of California at Santa Barbara in Santa Barbara, California; majored in drama (BA 1968)
Some of Michael Douglas's family members are: Catherine Zeta-Jones (wife), Diana Douglas (mother), Kirk Douglas (father), actor, producer, writer William Darrid (stepfather), Anne Douglas (stepmother), producer Joel Douglas (brother), producer Peter Douglas (half-brother), actor/comedian Eric Douglas (half-brother), actor Cameron Douglas (son)
In 1960, Douglas was a gofer on the set of "Spartacus", starring Kirk Douglas
In 1962, Douglas worked as assistant film editor on "Lonely Are the Brave", starring his father; worked for a gas station when he flunked out of college; roomed with Danny De Vito when first starting out as an actor in NYC
In 1969, Douglas made his television acting debut in the CBS "The Experiment"; he made his first significant film role as the well-scrubbed hippie lead in "Hail,Hero!"
From 1972-1975, Douglas co-starred with Karl Malden in the successful ABC cop show "The Streets of San Francisco"; also directed some episodes; nominated three times for the Emmy Award
In 1975, Douglas produced "One Flew Over the Cuckoo's Nest," which earned an Oscar for Best Picture
In 1978, Douglas starred in the film "Coma"
In 1979, Douglas scored another big success as producer of "The China Syndrome"; also attracted a little bit of attention as one of its stars, though overshadowed by Jack Lemmon and Jane Fonda, who both received Oscar nominations
In 1984, he was executive producer of John Carpenter's "Starman," starring Jeff Bridges; Produced and starred in "Romancing the Stone", with Kathleen Turner and De Vito
In 1985, Douglas reunited with Turner and De Vito in "Romancing" sequel "The Jewel of the Nile"
In 1987, Douglas starred opposite Glenn Close in Adrian Lyne's "Fatal Attraction"; he earned Best Actor for his ruthless role in "Wall Street"
In 1989, Douglas starred in the third film with Turner and De Vito, "The War of the Roses"
In 1989, he starred as street-worn NYC cop in Ridley Scott's "Black Rain," a personal favorite of the actor's
In 1992, Douglas sas again fatally attracted, this time to Sharon Stone, in Paul Verhoeven's "Basic Instinct"
In 1995, Douglas starred as funny, forthright Chief Executive of the USA opposite Annette Bening in "The American President"
In 1997, The actor put his handprints and footprints at Mann's Chinese Theater, making Kirk and Michael Douglas the first father and son to have their imprints there
In 1998, Douglas starred opposite Gwyneth Paltrow as a May-December couple in "A Perfect Murder"
In 2000, played a writer-professor in Curtis Hanson's "Wonder Boys"; co-starred in "Traffic"
In 2001, Douglas was featured in the ensemble black comedy "One Night at McCool's"
In 2002, the actor made a rare television guest appearance on an episode of NBC's "Will & Grace"
Thanks for reading CBS NEWS.
Create your free account or log in
for more features.