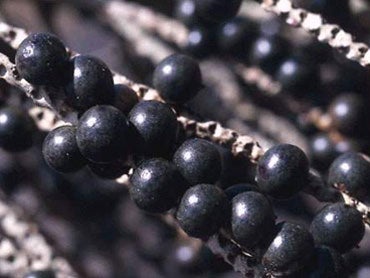 Acai Berries: Really a Super-Food?
Acai berries seem to be everywhere these days.
Ads claim they do everything from helping you lose weight to softening your hair and increasing your sex drive.
They're used in plenty of food products and dietary supplements.
But is acai really a super-fruit?
FOR SEVERAL LO-CAL RECIPES USING ACAI, GO TO PAGE 2.RECIPESSunrise Smoothie Parfait
Ingredients
1/2 cup frozen unsweetened blueberries, preferably wild
2 tablespoons frozen açaí pulp
1/2 tablespoon light agave nectar
1 1/2 tablespoons cold water
1/2 cup cubed peeled ripe mango
1/4 cup ice
1 tablespoon fresh lime juice
1 tablespoon toasted wheat germ
1/2 cup frozen unsweetened pineapple cubes (such as Dole)
1/4 cup coconut water
2 tablespoons flaked unsweetened coconut
Preparation
1. Purée first 4 ingredients in a blender until smooth. Pour into a chilled glass.
2. Rinse blender, and purée mango with ice, lime juice, and wheat germ until smooth. Spoon over the blueberry mixture.
3. Rinse blender again; purée pineapple with remaining ingredients until smooth. Spoon into glass over mango mixture; serve.
Oatmeal Pancakes with Wild Blueberry Sauce
Makes about 12 pancakes
Ingredients
1 1/2 cups rolled oats
1 cup 1% low-fat buttermilk
1 cup all-purpose flour
2 tablespoons açaí powder
1/2 cup whole-wheat flour
1/4 cup sugar
1 teaspoon baking soda
1 teaspoon baking powder
1/2 teaspoon salt
1/2 teaspoon ground cinnamon
2 large eggs
2 large egg whites
1 1/2 cups 1% low-fat milk
Cooking spray
2 cups frozen wild blueberries, thawed
1/4 cup sugar
1/4 tablespoon fresh lemon juice
1/4 teaspoon ground cinnamon
Preparation
1. Soak oats in buttermilk in a small bowl for 15 minutes.
2. Combine all-purpose flour, whole-wheat flour, 1/4 cup sugar, baking soda, baking powder, salt, and 1/2 teaspoon ground cinnamon, and açaí powder in a medium bowl.
3. Whisk eggs together with egg whites in a small bowl, and stir in milk.
4. Add the dry ingredients to the wet ingredients, and stir.
5. Heat a nonstick skillet over medium-high heat, and coat with cooking spray.
6. Pour about 1/2 cup batter per pancake onto hot skillet, and cook 2 minutes or until tops are covered with bubbles and edges look cooked.
7. Flip and cook 2 minutes or until bottoms are lightly browned.
8. Transfer to a plate; keep warm.
9. Cook remaining batter in batches.
10. Meanwhile, combine blueberries, 1/4 cup sugar, and lemon juice in a medium saucepan. Cook over medium heat until berries pop. Stir in 1/4 teaspoon ground cinnamon. Spoon blueberry sauce over pancakes; serve.
Salad Dressing
Ingredients
2 tablespoons fresh lime juice
2 tablespoons acai juice (or juice blend)
1 teaspoon agave nectar or honey (I have some in the office)
3/4 teaspoon salt
1 teaspoon olive oil (can increase if needed)
Instructions
1. Whisk together in a bowl. Drizzle over fresh spinach or your choice of mixed greens.
Thanks for reading CBS NEWS.
Create your free account or log in
for more features.