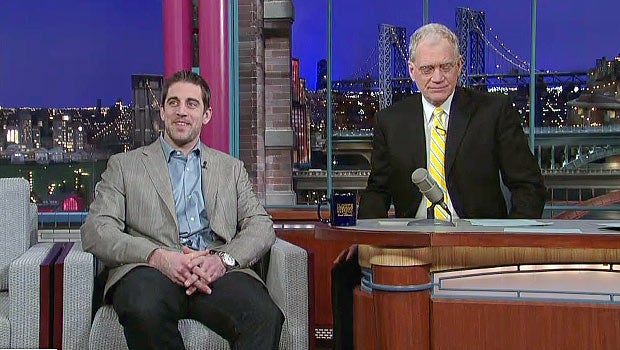 Aaron Rodgers on Letterman: We "Lucked Out" at End of Game
Sometimes it's better to be lucky than good - especially in the final moments of the Super Bowl.
Green Bay Packers quarterback Aaron Rodgers admitted he was holding his breath when the team kicked off late in the fourth quarter and that the team "lucked out" when the Steelers were penalized on the play.
The travel-weary QB, fresh from winning the Super Bowl MVP in Texas and appearing in a ticker-tape parade at Disney World, stopped by CBS's "Late Show with David Letterman" Monday night to talk about the game.
Watch: Aaron Rodgers Talks to David Letterman
He told Letterman that after the Packers were held to a field goal in their final drive, he was nervous.
"I'm a little worried about special teams. Every time we kick off, I kind of hold my breath," he said, citing "too many bad memories" of losing momentum with a long kickoff return by the opposing team.
But he said he breathed a sigh of relief when the Steelers were flagged for a personal foul.
"We lucked out," he said. "One of their guys punched one of our guys, got a 15-yard penalty."
"You hate to see that happen," Letterman joked.
Complete Coverage: Super Bowl XLV
Brett Favre: No Love for Aaron Rodgers?
Rodgers also told the talk show host that the Packers only ran about 40 of the 60 plays they had in their game plan.
"(Coach) Mike (McCarthy) likes to repeat some calls sometimes, especially if they work," Rodgers quipped.
The quarterback had strong praise for veteran Charles Woodson for being the team's leader throughout their championship season.
"It takes multiple leaders to have a locker room that functions properly," he said. "Thankfully a guy like Charles - he comes in with his experience and with the way he plays, he's got instant credibility with the guys so he's taken more of a speaker role this year and I'm more of a leader by example."
Thanks for reading CBS NEWS.
Create your free account or log in
for more features.