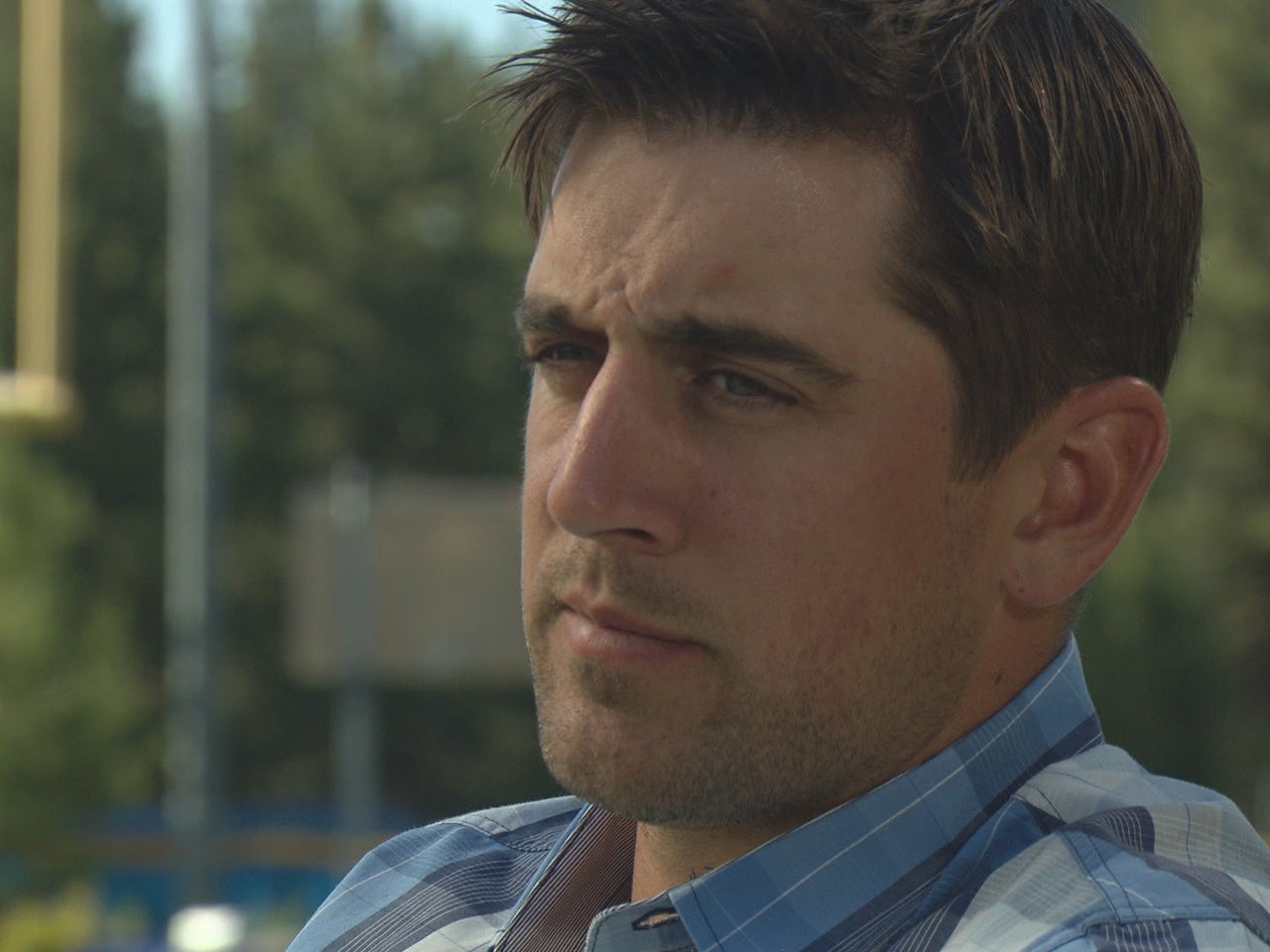 Aaron Rodgers: Leader of the pack
The following script is from "Leader of the Pack" which aired on Nov. 4, 2012. Scott Pelley is the correspondent. Robert Anderson and Nicole Young, producers.
What do you call the smallest city in the NFL? You call it "Title Town." Green Bay Wisconsin's population could sit in Cowboy Stadium. But what it lacks in size it has more than made up for in NFL Championships. Maybe that's why quarterback Aaron Rodgers seems made for Green Bay. Early in his career, Rodgers was considered too small to compete. But he scrambled to a Super Bowl victory and became the NFL's Most Valuable Player. This season Rodgers had a rough start. But, lately, he looks like an MVP again -- the indisputable leader of the pack.
Scott Pelley: First time you walked in here, you thought what?
Aaron Rodgers: Where am I? I was 21, a 21-year-old kid, just been at the NFL draft got picked by the Packers. Probably couldn't pick Wisconsin out on a map without the name on there.
It seems more like destiny than a map that lead Aaron Rodgers to Lambeau Field. Here he's surrounded by legends and reminded of 13 NFL Championships, one of which, is his.
---
Aaron Rodgers, like many athletes, is involved philanthropically and his favorite charity is the Midwest Athletes Against Childhood Cancer Fund, or the MACC Fund. To learn more click below:
http://www.maccfund.org/
---
Scott Pelley: The smallest town in the league has the largest number of championships. It sounds a little like you.
Aaron Rodgers: Well I think that's why Green Bay and I get along pretty well is we've had that underdog story as part of our history.
"Packers" is the oldest name in the oldest town in pro football. The courthouse was new when Curly Lambeau co-founded the team in 1919. Rodgers didn't arrive by train but, if he had, there's no way he could have missed his stop.
On game day, all roads lead to Lambeau. And while every team has fans, the Packers' fans actually own the team. It is the only nonprofit, community-owned, sports franchise in the country.
Scott Pelley: Tell me which one of you is Jerry Jones?
Group: We all are. We've all got a share of stock. At least one anyway.
360,000 fans own shares. The stock can't be resold. It's about pride, not profit. We sat down with a few owners in the Packers' Hall of Fame.
Scott Pelley: Steve, what does your cheese head say?
Steve: NFL owner.
Scott Pelley: Owner's box must be very crowded.
Group: Yes, it's the whole stadium. 72,000 seats big.
Scott Pelley: The shares go for something around $250. That's good money. Why did you put good money on the stock?
Group: The opportunity to own a piece of an NFL franchise that's unique in the world. And we can do that. Nobody else can do that. It's far more than a piece of paper. And that's why I really believe in what Vince Lombardi said, and I have on the top of my wedge, "God, family, Packers."
When Rodgers arrived there was a fourth word on the wedge. God, family, Packers, Favre. Rodgers warmed the bench for Brett Favre for three years. Then, in 2008 a teary "Mr. Green Bay" announced his retirement.
[Brett Favre: And I wish Aaron the best of luck.]
Rodgers would need it when Favre changed his mind. Packer backers went online to "Bring back Brett."
Fan: I've been a packer fan all my life. Right now, my allegiance is 100 percent to Favre.
The Packers didn't bring back Brett. They promoted Rodgers and lot of their owners were furious.
Scott Pelley: Some of the fans hated you. They said some rough stuff to you.
Aaron Rodgers: Yeah, some of 'em weren't very nice.
Scott Pelley: You had little kids using words about you that I can't repeat on this television show, right?
Aaron Rodgers: Yah, their parents probably should have washed their mouths out with soap a little bit maybe.
Scott Pelley: They would say things like, "We want Brett! We want Brett!"
Aaron Rodgers: They might put an expletive in there as well.
It wasn't the first time that Rodgers was wounded by words. He's built his career on the doubts of others. The pattern started coming out of high school in Chico, Calif., at 5-foot-11, 165 pounds.
Scott Pelley: I'm told, Aaron, that you still have some of your football scholarship rejection letters from college.
Aaron Rodgers: I do.
Scott Pelley: Why do you keep 'em?
Aaron Rodgers: I like to remember where I came from and kinda the journey that I've been on.
Scott Pelley: Do you remember what the coach said from Purdue?
Aaron Rodgers: I remember the letter. I still have the letter in a place that I can look at it from time to time.
Scott Pelley: I'm told the quote on that letter from Purdue is, "Good luck with your attempt at a college football career."
Aaron Rodgers: I don't think there's any direct malice in that. But it wasn't a very favorable letter.
No favor from a division one school, or D-2 or D-3. Rodgers told us he thought about quitting football until he met Craig Rigsbee head coach at BC, Butte College, a two-year junior college near Rodger's home.
Craig Rigsbee: I said, "Hey, you know, you've got to give this a chance. You come out to our place and all you need is a chance." I said, "I think you're going to get bigger, stronger, faster. Your grades are there. You're smart. You're intelligent. When you get on a big stage and people will see you for what you have, you, you're going to get a scholarship."
Turned out, coaches at Cal Berkeley were looking for a receiver when they noticed the guy throwing Butte's passes. Rodgers got his scholarship and set records at Cal. Then, in 2005 he went to the NFL draft where many expected him to be a top pick--maybe even first.
Scott Pelley: And you're going to draft so well that they put you in the green room and put a camera on you.
Aaron Rodgers: Bad decision. You're wishing you were anywhere but there.
Four and a half hours went by-- not first, not the first 20.
[ESPN: With the 24th selection in the 2005 NFL draft, the Green Bay Packers select Aaron Rodgers. Quarterback from California.]
Determined to prove his doubters wrong, he now has the highest passer rating in NFL history and the lowest interception percentage. If the ball was small enough, he could thread a needle. And that's how he sewed up the super bowl in 2010.
Three touchdown passes that day made him the MVP and put the Lombardi trophy back in the grip of Green Bay.
Clay Matthews: He's throwing passes that you can't really defend.
Green Bay all pro linebacker Clay Matthews tries to stop his quarterback's completions in practice.
Clay Matthews: When he throws touchdowns, I mean, in practice, I just put my hands up and, "What do you want me to do?" You know he's that good.
Greg Jennings: He has a mindset that he's going to be successful.
Greg Jennings is Rodgers' favorite receiver.
Scott Pelley: In the huddle, what's going on in there? How is he leading the team?
Greg Jennings: He's very collected. He's calm. He's not gonna fail. He's gonna come out on top.
Scott Pelley: And when you're down, you show them what?
Aaron Rodgers: That I'm not worried. Even if I might be a little bit inside. I think, you know, your demeanor and your attitude is so very important if you want to encourage those guys.
Have a look at how well he faked that demeanor, a few weeks before the Super Bowl, after he felt like he'd been hit by a car on Ford Field.
Aaron Rodgers That was a scary situation, looking back, because as I watch the film I don't remember those moments after that concussion.
Scott Pelley: Did you know where you were?
Aaron Rodgers: No, I didn't. But I can see on the film, the instincts I had that that as Gene Steratore came over, the head referee, to ask me how I was, my response was "I'm fine. I'm fine. I'm good." But of course I wasn't. So you know that's a situation where you learn from and you learn that the most important thing is being able to have cognitive brain function post-career than tryin' to be a tough guy.
Scott Pelley: There's something about getting hit in the head that makes you a smarter quarterback?
Aaron Rodgers: Yeah, I think so.
It's harder to be a 'tough guy' these days with defensive linemen bigger and faster than ever. Add to that, the bounty scandal, in which some New Orleans Saints were allegedly paid to inflict injury.
Aaron Rodgers: Every game I feel like they're trying to take me out. Now I don't know about money. I've never felt there's been money on my head. But, that's what happens. The defense is trying to either knock you out of the game or knock you out of your rhythm. It's everything from trash talking to a borderline late hit to a dirty play.
Scott Pelley: You seeing more of it now or less?
Aaron Rodgers: About the same. Again, I can't speak on any of the bounty stuff. Like, I don't know what teams were also using systems like that. But--
Scott Pelley: You think it's more than one?
Aaron Rodgers: Could have been. Could have been. It's not outside the realm of thinking that there could have been other teams that had similar systems.
You may have to be tough to play, but in Green Bay you have to be tough to watch. The fans, the owners, shovel snow to find their seats. Beatrice Froelich told us that she's missed one game since 1957. Her boss needed her that one and only Sunday. Nothing else -- nothing else -- has ever kept her away.
Beatrice Froelich: My husband died on a Saturday and I went to the game on Sunday.
Scott Pelley: You felt that the next Sunday that he would want you to go to the game.
Beatrice Froelich: Well the family that's around you at the seats.
Scott Pelley: You've got a football family.
Beatrice Froelich: Very much.
Group: Very much.
Scott Pelley: Is there a drawback to not having a big powerful owner, not to have a Jerry Jones or a Robert Kraft?
Aaron Rodgers: No, I think it's great. You don't have somebody who got a ton of money but doesn't know a whole lot about football trying to tell you what to do.
With so many fans, we were surprised when we noticed that Rodgers doesn't like being a celebrity all that much. He's a small town guy dating his hometown girl. He didn't love being interviewed. He tends to be shy around strangers. And he can still be touchy about his height.
Scott Pelley: You are 6-foot-2, which most people would consider pretty tall, but you're sensitive about that.
Aaron Rodgers: No. I'm only sensitive when people tell me that I'm a lot smaller in person than they thought I would be.
Scott Pelley: We saw that happen with you and a guy in Milwaukee.
Folks had won a contest to meet Rodgers, you can see how much he's enjoying that, and then a guy just had to say this.
Man: You look a little bit smaller than I thought you'd be.
Aaron Rodgers: I don't appreciate that.
Scott Pelley: But why does that get under your skin? Come on, 6'2" is pretty good.
Aaron Rodgers: You know I-- I just that, that's one of the more ridiculous comments that could be thrown at me is that. Especially coming from somebody who's 5'7".
Jennings: He's sensitive. So you got to be careful what you say around him.
Matthews: Real sensitive.
Jennings: You know, he takes everything to heart.
Scott Pelley: What kind of things are you talking about?
Jennings: Like once he sees this interview, he's going to be sensitive to what, the fact that we're saying he's sensitive.
Matthews: Yeah. So, I'll compliment him on the clothes he wears. Just make him feel good. And consequently he'll go out, feel good, play good, make us feel good. So, we just, you know, give him a pat on the back every once in a while.
Scott Pelley: A little quarterback management?
Both: Absolutely.
If Aaron Rodgers still carries a chip under those shoulder pads, it's something they understand in the smallest city in the NFL. One of the things that you have to master if you're going to play on Lambeau Field is the "Lambeau leap" touchdown celebration. Early on, Rodgers came up short--but what a picture--the kid nobody wanted held aloft by the owners in "Title Town."
Thanks for reading CBS NEWS.
Create your free account or log in
for more features.