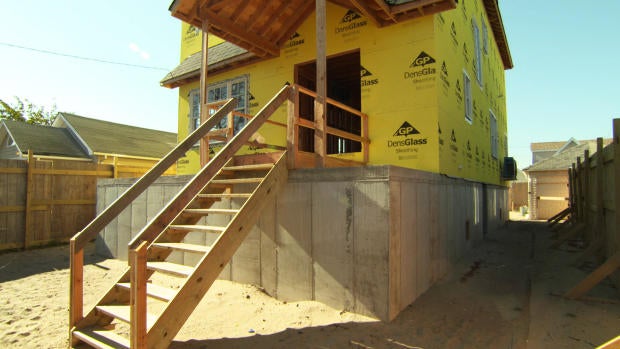 A year after Sandy, architects are building smarter and safer
(CBS News) NEW YORK -- Last Oct. 29, Superstorm Sandy swept Joe Courtney's home off of its foundation. Although he knew it would be expensive to repair, he had no intention of leaving Rockaway Beach.
"We never had a question if we were going to rebuild or not. This is where I grew up, this is where my wife grew up, and you know, this is where our lives are," he said.
His new home with be higher, with a 14-foot concrete foundation. Flood vents will allow high water to pass through.
"All the utilities are going upstairs in the attic, they're up there in that dormer. Hot water heater, boiler, all the necessary utilities to feed the house are going to be upstairs in the attic," Courtney said.
All those fixes arelessons learned from Sandy that architects and city planners are now applying to new construction up and down the East Coast.
"Urban areas have a lot of natural advantages in terms of storms that we really have to take advantage of," said architect Vishaan Chakrabarti, a professor at Columbia University.
He is overseeing the redevelopment of a factory site on Brooklyn's waterfront. A new neighborhood, he believes, will be able to withstand bigger and stronger storms.
In his design, buildings are farther away from the water and taller. Vital mechanical systems like elevators and electricity are above any potential flood areas. Streets are graded downward so water flows back into the river. Parks and green space help absorb any floodwater.
"People want to live on the water, they want to enjoy the water and there are ways to allow people to do that in a way that is still safe," Chakrabarti said.
That safety comes at a price. It will cost more than $500,000 to rebuild Courtney's home. Half of it will be covered by government grants and loans. He'll pay for the rest.
With some homes on his street still in ruins a year after the storm, Courtney considers himself lucky to be rebuilding.
"It will be better," Courtney said. "We're building to be safer and stronger and to be prepared for the next storm."
Thanks for reading CBS NEWS.
Create your free account or log in
for more features.