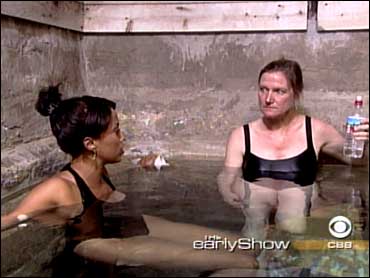 A Visit To Truth Or Consequences
From time to time, The Early Show asks viewers to explain what's so special about where they live. A little while ago we received an e-mail about a town in the desert with a very curious name, so co-anchor Rene Syler decided to take a road trip to Truth or Consequences, N.M.
Jason Sneed sent The Early Show the following letter:
"Truth or Consequences, New Mexico is a place you need to tour. The town retains much of the Main Street USA feel. We have a thriving arts and historic hot springs district which are some of our main attractions. Also located just out of town is Elephant Butte and Kabio Lake. So if you want a neat place to broadcast from, you need to come here.

"Best regards, Jason Sneed"

Syler was intrigued by Jason's invitation as well as the town's unusual name. So she stopped by its local museum looking for answers.

"And people moved here for the baths and then little businesses started cropping up," explains museum curator Ann Wellborn.

Wellborn says people first came to the town to soak in the geothermal mineral water, and that the town used be called Hot Springs.

In 1950 the name was changed as part of a public relations stunt put on by a popular TV and radio show starring Ralph Edwards.

"They came up with the idea of changing the name of a town to Truth or Consequences for one day," says Wellborn. "And then the people just decided to keep the name. So they voted to keep it and that's what we've been ever since."

Though its been more than 50 years, some folks here still prefer the town's former name.

"Truth or Consequences is a great name but to me it's Hot Springs, I mean that's what this place is. The entire town is sitting on a hot springs aquifer," says Kathy Clark, who runs the Charles Motel and Spa, just one of nearly a dozen places you can enjoy the town's great natural asset.

There's a constant stream of water that flows from the earth.

"There's over 2 million gallons a day that perks out of this ground. That's an awful lot of warm, salty water," Clark explains.

And many believe that the water here has therapeutic powers. Legend has it Geronimo and his Braves came here to soak their wounds after battles. And in 1937 a hospital was built here for polo victims who were treated with hot mineral baths.

Clark believes there are curative powers in the water. "I believe that water's magic and mineral water is just the most incredible thing on the planet. It's like the gift from the mother earth to us," she says.

The cost of a mineral bath here ranges from upscale at $25 dollars a soak, to one place that will cost you just $3 to take a dip.

"This is the old style bathhouse and what they've done, because the water's so close to the surface in this town, all you need to do is dig a small hole in the ground and the water starts perking up. And the gravel acts as a filter," Clark explains.

Of course no one has to heat this water — the earth has already done that for you. Some believe that the more than 20 different minerals dissolved in the water, combined with its heat, act to draw toxins out through the skin.

"Its like a sauna at the same time in these waters," says Clark, who says the water temperature is around 104 degrees Fahrenheit.

After a day of soaking in these magical waters, Syler could see why people have been coming here to bathe in these magical waters for so long, and why folks here love this town — and its unusual name.

Most of the residents Syler spoke with like the name Truth or Consequences but usually refer to it as "T or C" for short.

Click here to learn more about Truth or Consequences.

Thanks for reading CBS NEWS.
Create your free account or log in
for more features.