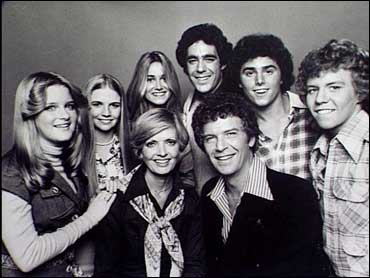 A Very Brady Lesbian Affair?
A new book by Maureen McCormick, who played Marsha on the "Brady Bunch," reportedly drops bombs about the classic sitcom, including a lesbian affair between Marsha and Jan.
According to the New York Post, McCormick is going to reveal that she had an affair with her TV sister, Jan, played by actress Eve Plumb in "Here's the Story." The book is scheduled to come out in 2008.
The book's publisher, HarperCollins imprint William Morrow, denies that McCormick will reveal an affair with Plumb.
"We have to assume it's not true and see what happens when the book comes out," People magazine assistant managing editor and Early Show contributor Jess Cagle told co-anchor Julie Chen. "The amazing thing -- this is giant news -- it's been 33 years since the show went off the air. Still, we're so titillated by any misbehavior of the Brady kids."
The book promises to reveal McCormick's deepest secrets, including a battle with bulimia, cocaine and depression.
The alleged lesbian affair wouldn't be the first Brady scandal. Barry Williams, who played the oldest Brady kid, Greg, confessed that he dated on-screen mom Florence Henderson in his book "Growing up Brady." Henderson later called their romance "an innocent dinner and ended with a kiss on the cheek." Williams also said that he dated McCormick.
The actor who played Peter, Christopher Knight, starred on the VH1 reality show "The Surreal Life," where he met "America's Next Top Model" winner Adrian Curry. The two dated and later did a reality show about their relationship and marriage.
"We were fascinated by that, that something gives a lie to the squeaky clean image of the show, is titillating, the idea of Marsha and Jan even more," Cagle said. "And this show had an impact, the way you almost can't anymore because we don't always watch the same shows now."
McCormick's book will also discuss the tension between Robert Reed, who played dad Mike Brady and the show's creator, Sherwood Schwartz. Fifteen years ago, when Reed died of AIDS, the world learned that he was gay, which came as a huge shock to many people.
But after all, said Cagle, the actors who played the Bradys were human and living up to the show's image would be impossible for most people.
"I think it would be surprising if none of those teenagers spending time together got together," he said. "These kids have always traded on the squeaky clean image and made fun of it."
Thanks for reading CBS NEWS.
Create your free account or log in
for more features.