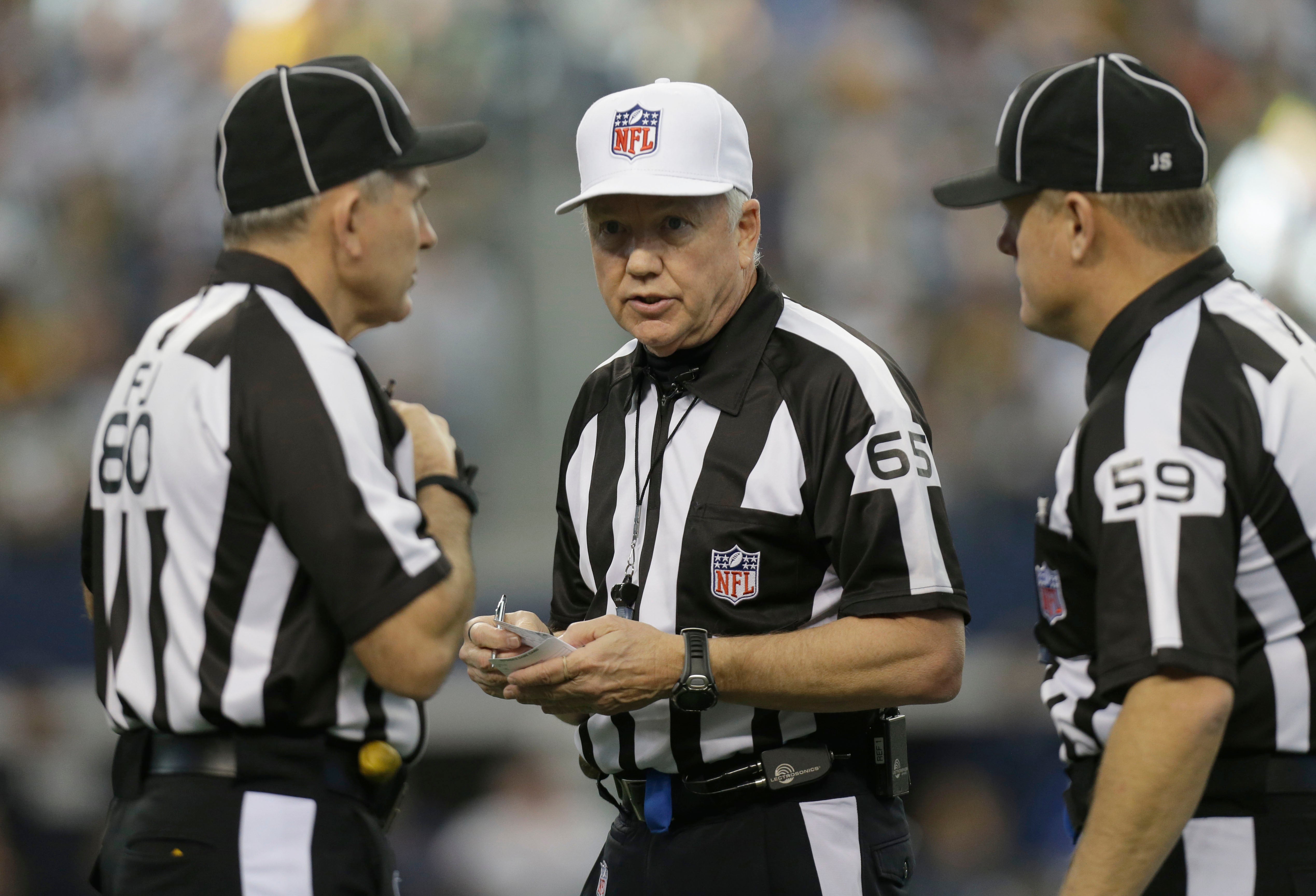 A tougher NFL job to get than becoming a player
Atlanta -- High school and college players watching Thursday Night Football on CBS may dream of playing in the NFL one day -- but only a few of them will make it.
Believe it or not, statistically it's even harder to become one of the officials on the field, reports CBS News correspondent Mark Strassmann.
Most pro football referees have full-time jobs. Though their NFL job is officially part-time, it takes a lot to get there -- and stay there.
Brad Allen is one of 13 rookie officials this season.
As a referee, Allen leads eight officials on the field. Together, they have to control the mosh pit of mayhem that is professional football.
How long has Allen wanted this job?
"From the first time that I worked in '91, I guess it was in the back of my mind at some point," he said.
Allen says he feels a mixture of confidence and jitters when he steps on the field.
"It's a great honor but it's also a great responsibility," he explained.
NFL officials meet only once a year, for what's called "The Clinic." There they learn the new rules, review plays and get their new uniforms.
"The first thing we look for is really presence. Does the official have that commanding presence, do they instill confidence? Most of our officials are former athletes. Some are former players and a lot of them just started working game just to make a little extra money on the side in high school and college," explained NFL Vice President of Officiating Dean Blandino.
Is having a thick skin important?
"Absolutely. You've got to put the last play behind you and you have to focus on the next play. If you're still worried about the last play, you can make a mistake on the next play," Blandino said.
No one knows that better than referee Walt Coleman, the league's most senior official. He's been in the middle of contentious calls on the field for the last 25 years.
"It's kind of like being a judge and you have to know all the laws and all the interpretations of the laws. But you have no book to look at when you're out there," Coleman said.
A judge doesn't have 60,000 people screaming at him when he makes his ruling.
"When you are focusing and concentrating, you can pretty much block that out. I don't even know they're there," Coleman said.
But every official knows he will be Monday morning quarterbacked by the league.
"60 Minutes" cameras were allowed rare access to the Monday morning meetings commissioner Roger Goodell has with the league officiating committee, where they scrutinize the previous weekend's most controversial calls.
Any potential NFL official has to have at least ten years college experience and pass a physical and psychological test. The league scouts officials, just as teams do players, and invites 21 of them into its officiating development program to evaluate.
Two of this year's trainees are women, Maia Chaka and Sarah Thomas. Thomas is a collegiate line judge in Conference USA, now training for her shot at going pro.
"I feel like each opportunity I am here and the training and the meetings, it's helping to prepare myself to get there," Thomas said.
Thomas said she'll hang in no matter how long it takes.
"When you do this, you just want to keep doing it. I love officiating football," she said.
The NFL rule book may be the most complicated in sports, with new rules added each year. Officials have to spot fouls while the game moves at a violent blur.
Just as a great college athlete doesn't necessarily become a great professional athlete, the same is true with the official.
"There is a very small percentage that actually make that jump so, just like players, there is a peak and sometimes they peak at the NCAA level," Blandino said.
Thomas may get her chance to officiate a regular season game this year. Walt Coleman says the physical challenge is the same for a man or a woman.
"It is like a car wreck on every play. That's what it's like out there as far as on that football field with those guys," Coleman explained.
The average age of an NFL official is 51 years old, and they earn between $4,000 and $10,000 a game.
Thanks for reading CBS NEWS.
Create your free account or log in
for more features.