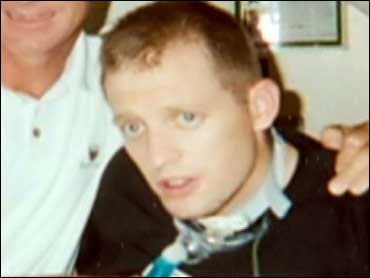 Lt. Brian Brennan is a walking, talking miracle. There are no other words for it. One year ago today, he lost both his legs to a roadside bomb in Afghanistan, and now his mother is watching him learn to run all over again, reports CBS News correspondent David Martin.
The 44 pounds of explosives which tore off his legs and killed three fellow soldiers in the 101st Airborne Division also left Brennan with a brain injury so traumatic there seemed little hope for recovery.
"He didn't wake up," said Joanne, his mother. "That's when the real terror struck us all. Oh my, he may never wake up. They said on scale of 1 to 10, 1 being the worst, he was a 1."
Then one day last June he had a visitor.
"It was a very, very grim situation, very tough one," said General David Petraeus.
Petraeus, who once commanded the 101st Airborne, tried the usual words of encouragement.
"Hang tough, big guy," he said. "Your troopers need you back out there."
But Petraeus' four stars carried no weight.
"There was absolutely no response whatsoever," Petraeus said.
"Did you think there was any hope?" Martin asked.
"Not really," Petraeus said.
"I see his beautiful blue eyes but he's staring straight right through me, and he doesn't know who I am and he doesn't know I'm there," Joanne said.
Petraeus turned to leave, then decided to give it one last try.
"I just decided to shout out 'Currihee.'"
That's right, "Currihee." It's a Cherokee Indian word that the was the motto for the famous "Brand of Brothers" regiment in the 101st.
"We counted 'One, two, three, Currihee,'" Petraeus said.
"That's when he kind of sat up in the bed as best as he could," said Brennan's dad Jim.
"Like saying, 'I'm in here, I'm in here,'" Joanne said.
"All of a sudden, the lieutenant, his stumps are banging up and down on the sheets," Petraeus said. "His head is moving around and very clearly responding to his unit's nickname."
"Everybody in the facility was clapping and crying," Joanne said. "The doctors who had been working on him and giving us all the bad news came running down the hall, 'We heard, we heard.'"
For three weeks, he had not responded to the voices of his family, but that Band of Brothers motto brought him back from the living dead.
"It's just so awesome to be part of that historic unit," Brennan said. "It's just always in the back of my head."
"And then it came to the front," Martin said.
"Yes it did," Brennan said.
"After that, he just every day got a little better, a little better, a little better," Jim said.
Just last week, Petraeus introduced Brennan as the unsung hero of the New Jersey Hall of Fame. That walk across the stage brought the house down, and overwhelmed his father.
"I know how tough he is," Jim said. "If there was anybody in this world who could do it, he was the one."
Less than a year after being comatose and unresponsive, he delivered an acceptance speech to a crowd of 2,000.
And guess what happened next.
"One, two, three, Curihee," shouted the crowd.
Know what Currihee means?
It means "stand alone." How perfect is that?
Thanks for reading CBS NEWS.
Create your free account or log in
for more features.