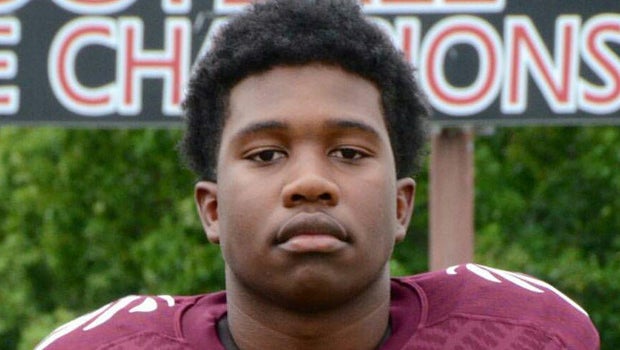 "A protector": Trial opens in death of teen who shielded girls from gunfire
KNOXVILLE, Tenn. -- A prosecutor said Tuesday at the start of the murder trial of three young men that at least 34 shots were fired in an attack that killed a Tennessee high school student who was posthumously lauded for courageously shielding two girls from the gunfire. Christopher Drone Bassett, Kipling Deshawn Colbert and Richard Gregory Williams III all face first-degree murder charges in connection with the Dec. 17, 2015, death of 15-year-old Zaevion Dobson in Knoxville.
Dobson's decision to protect his two friends was later hailed by then-President Barack Obama as an act of bravery.
Knox County Assistant District Attorney Phil Morton said Dobson was killed in an attack during a series of connected gang-related shootings in Knoxville that day. Morton said Dobson and his friends had gathered on a back porch after attending an evening high school basketball game when the shooters approached, firing shots from at least four weapons.
"The girls didn't know what was going on," Morton told the jury. "The guys thought it might be gunfire at first when these things started popping off. The girls weren't sure if it was firecrackers or what have you. Zaevion's instinct kicked in, and as a protector, he shielded these girls from gunfire."
The prosecutor said Dobson bled to death on the porch, while the girls were unhurt. The prosecutor cited witness accounts saying armed youths in hoodies walked up, said nothing and began shooting - but there was no indication Dobson was targeted. He also described Dobson as a "protector" and added neither he nor his friends had any idea why people were shooting.
A promising football player at Knoxville's Fulton High School, Dobson posthumously received the Arthur Ashe Courage Award at the 2016 ESPYs. The award recognizes individuals embodying the spirt of Ashe, who dedicated his life to human rights advocacy.
Each of the defendants has his own lawyer at trial.
Kit Rodgers, the lawyer for Williams, asked the jury to "look at the actual evidence; don't get caught up in the story."
"Sometimes it's not the things you're told," said lawyer T. Scott Jones, representing Bassett. "It's the things you're not told."
Morton said the shooting that claimed Dobson's life occurred after two other shootings had taken place earlier that day, and that Bassett's aunt and the mother of a Knoxville man named Brandon Perry were shot earlier. Morton added that more gunfire occurred later in the night that resulted in Perry's death.
According to Morton, Bassett later told police that he and Perry had been angry about his aunt being shot and that they'd gone to the neighborhood where Dobson was killed. Morton also said that a handgun found under Williams' seat during a January 2016 traffic stop fired the bullet that killed Dobson, though he wasn't the one driving the car.
Morton cited a rap video that included the three defendants among others as evidence they participated in gang-related activity.
Rhonda Lee, the lawyer representing Colbert, said there was "no connection whatsoever" between those videos and Dobson's shooting.
"They wanted to be rappers," Lee said. "They'd get together and they'd make a rap video. They're not even singing. They're lip-syncing."
Jones also said the incidents weren't gang-related and instead stemmed from a dispute between Perry and the father of his girlfriend's baby. Perry and Bassett were cousins.
Separately, Rodgers said the evidence connecting Williams to the crime was all circumstantial and that his client's biggest mistake was in his choice of friends.
"I think that's what the evidence is going to show, that Richard Williams made bad choices about the company that he kept," Rodgers said. "He was in the wrong place at the wrong time. That does not make him a murderer. That does not make him criminally responsible."
Thanks for reading CBS NEWS.
Create your free account or log in
for more features.