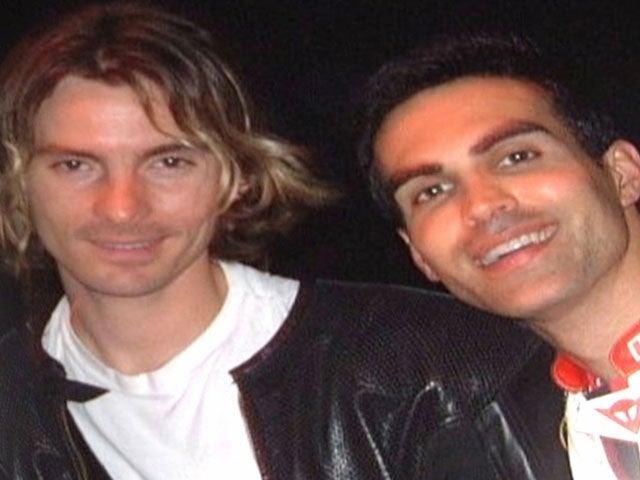 A Playmate, a Ponzi scheme, jewels and murder
Produced by Chris O'Connell, Ira Sutow and Greg Fisher

[This story originally aired on Feb. 19, 2011.]
HOLLYWOOD, Calif - Retired Los Angeles homicide Detective Bill Cox says he is haunted by the unsolved murders of Michael Tardio and Chris Monson, two handsome young men who had come to Hollywood to chase their dreams.
"I think about it quite a bit more than I should," Cox says. "In all my 20 years of working homicide, I have never run across a case like this one!"
It's a case that has frustrated police in Hollywood since 2002. Which is why this week, "48 Hours" brings you a very different mystery. There's no trial to see, not even an arrest. But Det. Bill Cox and other investigators remain convinced this double homicide can be solved - perhaps with your help.
The story begins with what "48 Hours" has learned about this crime and its two victims: Michael Tardio, 35, a part-time model and doorman at the Garden of Eden - at the time, Hollywood's hottest nightclub - and his friend, Christopher Monson, 31.
"Both young men came from successful families," according to Los Angeles Times crime reporter Andrew Blankstein. "Michael Tardio ... He's kinda living the fast life."
"You know, just a clean-cut looking guy," Det. Cox tells "48 Hours Mystery" correspondent Peter Van Sant. "He was well liked... Maybe he just hadn't found his way, yet..."
"Chris Monson comes from a pretty tight-knit family," Cox continues. "They had some storage facilities that they owned."
"...Chris Monson is in Los Angeles running the family's business, here," Blankstein explains. "By all accounts Tardio and Monson were close friends and hadn't been in trouble with the law."
This made the events on the morning of Sept. 2, 2002, so shocking. The bodies of Michael Tardio and Christopher Monson were found in a luxury SUV. They had been shot at close range. The killer or killers tried to burn the vehicle.
Cox says it appeared they had been executed.
"There was no identifiable fingerprints found on there - there was no really useable evidence," he says.
Detective Cox took "48 Hours" to the upscale North Hollywood neighborhood where the SUV was discovered.
"None of the people that lived in the neighborhood had heard any shots at all," he tells Van Sant.
"It's not the kind of place that you're gonna find two people murdered on the street," Blankstein points out. "And so the theory is that the two men were shot somewhere else and then brought to that street where the car was later lit on fire."
As investigators dug into the victim's backgrounds, they discovered that Michael Tardio had a girlfriend that most men could only dream of - someone millions of men had seen naked: Sandy Bentley, a Playboy cover girl and former live-in lover of the world's most famous bachelor, Hugh Hefner.
"She's one of the kind of first wave of post-divorce Hugh Hefner women who are living at the mansion....while he's single and sowing his oats," says Blankstein.
Sandy, and her identical twin sister, Mandy, had their 15 minutes of fame back in 2000 as "The Bentley Twins." They lived with Hef at the Playboy Mansion, sharing his famous circular bed and sharing some air time as well, appearing on some of television's most popular shows, like "Sex and the City," "The Daily Show with Jon Stewart" and on "Two and a Half Men," where they played party girls.
"Hef had a thing for twins... I think Hef loved Sandy. I definitely think that he was genuine about his feelings," says Izabella St. James, another former live-in Hef girlfriend who wrote about life at the Playboy Mansion in her book, "Bunny Tales."
St. James has nothing good to say about Sandy Bentley. "From what I was told by the mansion staff, the twins, Sandy and Mandy, had caused Hef a lot of heartache and grief," she says.
Heartache, she says, like when Hef learned Sandy was cheating on him while still sharing his bed.
"You're not supposed to date other guys," she explains. "You know, Hef is very possessive ... When you're his girl, you're his girl."
Video: Izabella St. James on life in the mansion
But in the late summer of 1999, while still at the Playboy Mansion and long before Sandy Bentley began dating Michael Tardio, she quietly became involved with multimillionaire Mark Yagalla, a self described Wall Street whiz kid.
Yagalla had big dreams. And Sandy Bentley quickly became a part of them when he was introduced to her by another Playboy model.
"I was looking for the ultimate trophy," Yagalla tells Van Sant. "I stole her from Hugh Hefner, the ultimate heterosexual icon."
"The mild mannered guy who looks like he should be on "Wall Street Week" - you stole his girl?" asks Van Sant.
"Yes," Yagalla replies.
"And was Hef happy with that?"
"No, he was not... I am persona non grata at the Playboy Mansion."
Head over heels, Mark Yagalla began buying his Playboy Bunny spectacular, world-class jewelry - like an exact copy of the ruby and diamond necklace and earrings that Richard Gere gave Julia Roberts in the movie "Pretty Woman."
"It was her favorite movie," he says. Asked how much those jewels cost him, Yagalla replies, "A quarter of a million."
Adding insult to betrayal, Hef didn't know during an interview with CBS' "The Early Show," that Sandy was wearing Yagalla's diamonds - a $150,000 necklace and earrings set.
This was just the tip of the diamond iceberg. When Sandy wanted bling, Yagalla couldn't say "No."
"....two Rolexes, diamond rings. There's about a million dollars right there," Yagalla points out to Van Sant as they watch video of the contents of a home safe.
"You bought a watch worth half a million dollars? Are you nuts?" asks Van Sant.
"Yes," Yagalla replies. "I just wanted to make her happy."
"And material things made her happy?"
"Very, very happy."
Yagalla even spent about $3 million buying and redecorating a house for Sandy in Las Vegas.
Asked if he was in love or crazy, Yagalla tells Van Sant, "I think both."
"Mark Yagalla showered Sandy Bentley with millions of dollars worth of gifts... furs, cars, jewelry. And it's that jewelry that becomes key to this case," says Blankstein.
Why? Because after Yagalla and Sandy broke up, she took that jewelry into her relationship with her new boyfriend, Michael Tardio - one of the two men murdered in that SUV.
"Everyday, I feel like a fool," Yagalla says. "My greed and then, you know, her greed ... resulted in the... murders of two innocent people!"
Two dead young men, an unsolved double homicide... linked to jewelry and a Playboy model. And at the beginning of the investigative trail is a self-indulgent Wall Street millionaire.
"Playmates, porn stars, the list was endless," Mark Yagalla explains "...I just became a sex-crazed maniac!"
Eleven years ago, Mark Yagalla was living most every man's fantasy - having sex with some of the most beautiful women in the world.
"...it was exhilarating! It was a drug. It was my high!" he says.
It was no small feat, especially for this 33-year-old man who stands slightly over 5 feet tall and who considered himself a nerd growing up in rural Pennsylvania.
"I was like No. 1 in my class. The kids resented me because of that," he tells Peter Van Sant.
Asked if he had any girlfriends or ever went on a date in high school, Yagalla replies, "No."
But he did take a keen interest in the stock market.
At age 13, Yagalla says, "I started with spending a lot of time in the library... ordered the Wall Street Journal, reading S&P reports, ordering annual reports, digging into stocks."
So what was the attraction?
"I had developed sort of this fairy tale from movies that if you get money, you become successful, you get the girl. And that was my drive," he says.
Like in the movie "Wall Street," Yagalla says "I wanted to be Gordon Gecko."
Yagalla says he made $100,000 trading stocks while in high school.
"My cousin backed me when I was 16 and I started trading S & P futures and tech stocks," he says.
Yagalla made millions more just a few years later with a hedge fund he'd set up.
"It was intoxicating," Yagalla says. "I was having a great time."
He was living his dream.
"As I was making money, it started with prostitutes," he says. By his own reckoning, Yagalla paid for thousands of them. "Sometimes three, four different girls a day."
Why so many girls?
"For me, it was a way to fill the void," Yagalla tells Van Sant. "Loneliness. I was compensating for it with sex."
In fact, Mark Yagalla says he became totally addicted to sex.
"I was just out of control... in a strip club, in a bathroom, whatever I had to do to get sex," he explains.
"It was a compulsion!" says Yagalla's lawyer, Brian Bieber. "Mark Yagalla's conduct makes what Tiger Woods did now look like a junior high school student going through puberty."
Yagalla's insatiable appetite led him to Michelle Braun, a striking woman, who's known as the sex queen of L.A.
"Mark had a huge appetite for women, he would have a girl every day of the week if he could ... I was - arguably - the most successful madam in the history of the world," she says with a laugh.
"She was the first person to really use the Internet to offer prostitutes," says Yagalla.
Braun ran a website called Nici's Girls.
"I only worked with famous women - Penthouse Pets, Playboy Playmates, porn stars, actresses, models," she explains.
Braun claims she offered these most desirable women to some of world's wealthiest men, most notably Tiger Woods.
"I never discussed sex with the girls or the clients," she says. "What I was being paid for was an introduction."
Video: Michelle Braun on the life of a madam
Try telling that to Mark Yagalla, one of Braun's earliest clients.
"And what would a girl like that cost you, typically?" Van Sant asks.
"Anywhere from $5,000 a night to $50,000 a night," replies Yagalla.
"So the geek in his high school who couldn't get a date was now buying, essentially, some of the most exotic women on planet Earth?"
"Any woman I wanted, yes."
"Were you also lavishing them with gifts?"
"Yes," Yagalla says.
He couldn't help himself. Yagalla bought many of his escorts expensive cars, furs, jewelry - even houses, costing him millions. But it was only when another woman introduced Mark to Sandy Bentley - who he began dating - that his spending really went into orbit.
"All the other girls were gold diggers, but Sandy was an educated gold digger," he says.
They were together for 13 months.
"Was Mark in love with Sandy?" Van Sant asks Michelle Braun.
"Madly in love," she replies.
"Was Sandy in love with him?"
"Madly in love with his money!"
Yagalla calls Sandy Bentley "the most expensive girl I've ever met in my life."
Asked how much he spent on her, Yagalla says, "About $6 to $7 million."
So how did he manage to pay for all of this?
"I was taking client money and there was no boundaries," he tells Van Sant.
"You were scamming your clients?"
"Yes."
Instead of investing their money in stocks, he used it to pay for his incredibly expensive sex-capades.
"I was running one big Ponzi scheme," Yagalla tells Van Sant.
"And in the end, people got hurt didn't they?"
"Very hurt."
FBI Special Agent Mike Degnan says Yagalla "just was the definition of greed... He just took whatever he could get and used it for his own personal use without any remorse for the people he was stealing it from."
But Mark Yagalla's world began to crumble.
"He owed a brokerage firm over $7 million and had bounced the check to them, and they were asking for their money," says Degnan.
"I dug such a deep hole - $40 or $50 million - that I could not get myself of," says Yagalla.
Police: Millions of dollars in hot jewelry leads to murder
When Sandy Bentley got wind of it all, Yagalla says she dumped him. "...pretty much did not want to have anything to do with me. She was moving on."
Moving on, he says, but keeping most of his extravagant gifts including a fortune in jewels.
Police believe it was that jewelry that got Michael Tardio and Chris Monson murdered.
"Michael Tardio didn't have street smarts," says Cox. He and other investigators believe Sandy Bentley hatched a plan with Michael Tardio to sell some of Yagalla's gifts under the table to raise fast cash.
"Oh, I'm a sucker," Yagalla says. "Sandy Bentley was a total manipulator."
Mark Yagalla is bitter and angry. But is he capable of murder?
Just like in the Good Book, all roads in this case seem to lead to the Garden of Eden... nightclub. Almost all the players in this mystery met and partied there: Mark Yagalla, Hef and the Bentley Twins.
"It catered to celebrities and big money people in Los Angeles," says L.A. Times crime reporter Andrew Blankstein.
The nightclub was where Michael Tardio, working the door, became involved with Sandy Bentley.
"Michael Tardio and Sandy Bentley's relationship? Were they lovers?" Van Sant asks Det. Bill Cox.
"It looked like Sandy was the smitten one here much more so than Michael," he replies.
Sandy Bentley may have played the gold digger in her past affairs, but Cox says this relationship seemed different.
"Sandy did care a lot about Michael Tardio," he says. "She really did."
Michael and Sandy became a hot item, in the hottest club in Hollywood.
"You're really rubbing elbows with creme de la creme, and you're in the fast lane," says Blankstein.
And along with all of the glamour and celebrity, a seedier element was also drawn to the Garden. Detectives started focusing on that as they investigated deeper into Michael Tardio's life.
"You believe this is the club where Michael Tardio met the people ultimately responsible for his murder?" asks Van Sant asks Cox as they talk near the club.
"Yes," Cox replies. "We just don't know who that person is."
On the detective's short list of suspects is Sandy Bentley's former lover, Mark Yagalla.
"You don't rule out anyone," Cox says. "No one had ever talked to Mark Yagalla."
When they tracked him down, Yagalla had an ironclad alibi. He was in prison after pleading guilty to charges related to his massive Ponzi scheme.
"Mark took in money, handed out false statements and spent it on leggy blondes," says
Attorney Eugene Licker, who was responsible for finding out where Yagalla squandered his victims' millions so they could get some money back. A major target: the gifts Yagalla lavished on Sandy Bentley.
"The judge ordered Sandy Bentley to hand over the house, the jewelry, the cars," says Licker.
Faced with losing everything, a desperate Sandy Bentley went to her new boyfriend, Michael Tardio, for help.
"So, Sandy literally had nothing now. They were kicking her out of her house," Cox explains. "So, at this point, Michael says to her, 'Well, why don't you just take a little bit of the jewelry. Could sell it.'"
And that's just what happened according to surveillance video a private investigator shot at Sandy Bentley's Las Vegas mansion the week those two allegedly took those jewels.
"Sandy lets him in and says, 'Here's the stuff.' And then Michael looks at it and says, 'No, no, no. That's not enough. You know, take more,'" says Cox.
It's estimated that Michael Tardio and Sandy Bentley made off with nearly $1 million in jewels and furs.
"He was doing it for his girlfriend," Blankstein says. "He wanted to sell the stuff off, give her money, and obviously satisfy her."
"Now, Sandy Bentley claims this was Tardio's idea... but Tardio, of course, is dead," notes Van Sant. "Do we really know the ultimate truth there?"
"No, we don't know the ultimate truth," says Cox.
Eugene Licker was videotaped taking inventory of the jewels that were left behind after Sandy was evicted.
"The 'Pretty Woman' necklace wasn't there. It was definitely worth hundreds of thousands of dollars," Licker says. The Canary diamond ring wasn't there and I know [it] was at least invoiced at a half a million dollars."
While watching that video, Yagalla comments, "Empty."
"All cleaned out," Van Sant remarks.
"Yeah... You see, there's only three bracelets there. I bought her all - a lot of bracelets. That was empty."
Fearful that she would be prosecuted for the missing jewels, Sandy Bentley told Eugene Licker the jewels were lost, or stolen by someone else.
Photos: A Playmate, a Ponzi scheme, jewels & murder
"Sandy Bentley not only lied to us about what had happened to the so called missing jewelry, but she took it. She stole it," he says.
Stole it and then tried to fence it through her boyfriend, Michael Tardio, back at the Garden of Eden. His price for the treasure: $1 million in cash.
Who had that kind of money? That's where this strange story gets even more bizarre. Meet Linda Kim, a woman who also knows scandal.
"Now, you're very famous in South Korea, is that right?" Van Sant asks.
"I got in one big trouble with Korean government, you know," Kim replies.
An international weapons broker, in 2000, Kim was the central figure in a sex and bribery scandal that nearly toppled the South Korean government.
Two years after that scandal, Michael Tardio came to her at the hotel she owned in L.A. with what seemed like a deal of a lifetime.
"I was so surprised... very special jewelry," she says. "Very high-quality jewelry."
But the deal seemed fishy and Kim sent Tardio on his way.
By this time, too many people knew about the jewelry - including a lot of the wrong people, leaving a lot of questions about who murdered Michael Tardio and Christopher Monson.
With few leads...no arrests...and the investigation going nowhere, the families of Michael Tardio and Christopher Monson made a public plea for help.
"I spent four years on this case, I've put thousands of hours in to it," Det. Bill Cox says. "I know that there are witnesses out there..."
From the very beginning, Det. Cox, now retired, had little to go on from the burned SUV at the crime scene.
"When the investigators looked through the vehicle, there was no DNA. There were no fingerprints," he says.
And the million in jewels? Gone. But investigators did find Michael Tardio's cell phone. The records show Tardio's girlfriend, Sandy Bentley, had talked with him just moments before he was murdered.
And after questioning regulars at the Garden of Eden nightclub, investigators learned about those high-end jewels.
"They found out that Michael and Chris were selling this jewelry," says Cox.
But Sandy Bentley, the woman who bared it all on the pages of Playboy, suddenly had something to hide.
"When the investigators brought her in a day or so after the murder, she denied the fact that they were out selling jewelry," Cox explains. "Sandy wasn't real cooperative... Sandy was out to protect herself."
Sandy Bentley turned down "48 Hours'" request for an interview. But Peter Van Sant and crew set out to find her. Van Sant explains, "We feel as though there are some questions that have to be asked and need to be answered."
"48 Hours" locates Bentley in a shopping center parking lot:
"Sandy Bentley, I'm Peter Van Sant with "48 Hours." We are doing a story about Michael Tardio and I wanted to ask you what responsibility you think do you bare for Michael Tardio's death and Christopher Monson's death. Can you answer that question? Did you love Michael Tardio? Why won't you talk to us? Why didn't you help the police investigate this case?"
Bentley didn't answer Van Sant's questions.
But she finally did open up to the cops when months after the murders they turned up the heat.
"I just told her that, 'Hey, you may end up going to jail. And I don't know if you want to go to the 77th jail. It doesn't look like you'd fit in down there,'" Cox recalls.
Sandy Bentley eventually agreed to cooperate in the murder investigation. In exchange, she would not be prosecuted for making off with the jewelry.
"So she decided that day she was gonna just tell us the truth and, I have to believe that she told me the truth."
Bentley admitted to cops that she and Michael Tardio planned to cash in the jewels and that he had finally found a buyer at the Garden of Eden.
"Michael Tardio had been talking to a guy at the nightclub and the person said he knew someone was interested in the jewelry. So Michael Tardio asked to set up a meeting," says Cox.
It was with a mysterious man known as "Mr. Big."
"He's got a lotta money. He drives fancy cars," Cox explains. "Michael found out that this deal was set up for the Labor Day weekend."
September 1, 2002, would be Michael Tardio's last day alive.
"Michael just started preparing to set this deal up, rented the car," Cox explains.
Looking to play the part for his meeting with Mr. Big, Tardio rents a black Mercedes SUV. He also tries to find a cash counter in anticipation of his million-dollar deal.
"Like, the guy you're gonna sell this stuff to is gonna sit in the car while you feed money through the cash machine to count it?" Cox quips. "I think Michael just either was a victim of too much television or too much reading."
But was Michael Tardio getting nervous about the deal? Linda Kim says that he visited her a second time; this time, just hours before the murder, hoping she would reconsider buying the jewels.
"Did Michael Tardio seem desperate to you?" Van Sant asks Kim.
"Desperate, yeah," she replies, "and I feel very uncomfortable."
Kim said no, telling Van Sant she sensed the jewelry had "bad energy."
Kim wasn't the only one who sensed bad energy. Tardio asked a Hollywood stuntman to serve as muscle for the deal. The stuntman declined.
"Once this guy said 'No,' that he wouldn't go, then, Michael had to rely on his best friend at the time, Chris Monson," explains Cox.
And Chris Monson did what best friends do.
"Christopher Monson is really the tragedy in this case in the sense that he was a loyal friend," Blankstein says. "He wanted to be there to make sure nothing happened to his friend."
Finally, at around 9:30 p.m., Tardio and Monson and set out on their fatal rendezvous.
"All the jewelry had been cleaned, all set in the box, all ready to go," says Cox.
Their first stop was a restaurant on Sunset Blvd, where cops believe they met "Mr. Big."
"Do you have a sense of who this 'Mr. Big' is based on your own investigation?" Van Sant asks Cox.
"No, not a clue," he replies.
After meeting the prospective buyer, "Mr. Big," they head up into the Hollywood Hills.
"Not knowing who you're meeting... following them to a location where you don't know where you are going..." says Cox.
At around 11:30 p.m., Sandy Bentley made that last call to Michael Tardio.
"He says, 'Hey we're driving through the Mount Olympus area,'" Cox says. "And that was the last conversation she had with them."
Less than two hours later, police believe Tardio and Monson were shot somewhere in the Hollywood Hills.
"I think it was a surprise attack. These guys were caught completely off guard," says Cox. "And then the car is driven down to the North Hollywood area where it's set afire."
"Let there be no mistake this was really a brutal crime, and somebody knows what happened," says L.A. Times crime reporter Andrew Blankstein.
It was Sandy Bentley, who would provide police with the most significant clue: a phone number Michael Tardio gave her right before he left for the meeting.
"And that's when he told Sandy, 'If anything happens, call this number,'" says Cox.
And that phone number links to the man who may hold the key to solving these murders.
In 2002, the strongest lead cops had was that telephone number Michael Tardio had left with his girlfriend, Sandy Bentley. It linked to a person who would play a central role in the investigation.
"This person has been interviewed a number of times. He's been surveilled a number of times. There's been a lot of pressure put on this person of interest," says Det. Bill Cox.
"48 Hours" has learned he's talking about Michael Jacobs, a convicted felon. People from the Garden of Eden nightclub told "48 Hours" Jacobs and Michael Tardio discussed selling the jewels. Police believe Jacobs brought Tardio and "Mr. Big" together for the million-dollar jewelry deal.
"Surely Michael Jacobs knows who the guy is that he set Michael Tardio up with, 'cause he's the middle man," says Det. Cox.
Police say evidence shows that in the hours before the killings, calls were made between the cell phones of Michael Tardio and Jacobs multiple times during the day and into the night.
In fact, Jacob's cell phone showed activity in the area where Tardio and Monson met "Mr. Big," before they headed up into the Hollywood Hills. Jacobs cell phone also shows activity in area where the bodies were found in a burning car.
"There's no doubt in our mind, Michael Jacobs is key to the case," says Cox.
After a two-month search, investigative producer Chris O'Connell finally got Michael Jacobs on the phone from our office in New York.
"Hey Mike, it's Chris O'Connell from '48 Hours.'
You knew Michael Tardio. You knew Christopher Monson. You hung out at the Garden of Eden. You are one of the last people seen talking to them."
By law, we're prohibited from recording Jacob's voice.
"Is it your sense that Michael Jacobs knows much more about this case than what he told you in this conversation?" Van Sant asks O'Connell.
"He knows that this is about jewels, but he won't say anything," he replies.
O'Connell flies to L.A. He doesn't have an address for Jacobs, just a phone number. When they finally connect, Jacobs gets cold feet.
"I don't think you want to meet, I think you want to find out what I know," O'Connell tells Jacobs over the phone.
Jacobs confirmed that Sandy Bentley called him that night looking for Tardio,
but refused an on camera interview. He also refused to answer any questions about the jewelry deal, except to say he had nothing to do with the murders and that he "sleeps well at night."
"He's the one who can actually, I feel, blow this case open," Cox says. "But he just doesn't wanna be cooperative."
At the time of the murders, Jacobs was questioned extensively by police, but they never had evidence to charge him. For now, this investigation has hit a wall.
It's been more than nine years since the murders. The woman at the center of it all, who once wore those millions in jewels - Playboy cover girl Sandy Bentley - is a little less glamorous today. She is married and a mother.
Mark Yagalla, her former sugar daddy, who bought her those baubles, is broke and still owes millions to the people he scammed.
"I went from living every man's fantasy to having nothing," Yagalla tells Van Sant.
"[And] no women... In my case, people lost money [and] two people, now, have lost their lives."
The other mystery is where did all those jewels go?
"They may cut it up - cut up the jewels, get rid of them," Cox says. "It's long gone. You can't even trace it."
"I'm very lucky I didn't buy that jewelry, I didn't get involved in that deal," Linda Kim says. "If I buy that one, what's gonna happen? They gonna kill me?"
We end this story the same way it began: on the streets and in the hills of Hollywood - a crime unsolved and two promising young men dead.
Asked if the case if solvable, Det. Cox says, "The case is definitely solvable."
Authorities believe, that with your help, they can solve this mystery and find the killer or killers of Michael Tardio and Christopher Monson.
"So as we sit here talking today, there's a killer out there - a killer in your town who's a free man," Van Sant remarks to Cox.
"Yeah," he replies. "I would love more than anything to just have one little lead. It's amazing what we can do with one little lead."
The Los Angeles City Council has renewed a $75,000 reward for information leading to a conviction in this case.
Anyone with information about this crime is urged to contact the Los Angeles Police Department.
Call: 1-877-LAPD-24-7 | 1-877-527-3247
Thanks for reading CBS NEWS.
Create your free account or log in
for more features.