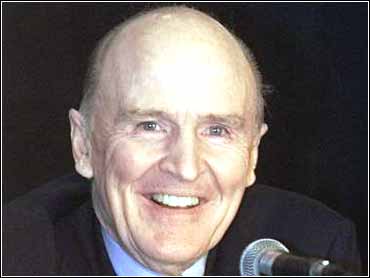 A New Day For U.S. Economy?
U.S. stocks may take a heavy hit this week but three well-known business leaders expect the downturn to be temporary.
Warren Buffett, CEO of Berkshire Hathaway and one of the nation's premier investors, told CBS 60 Minutes Correspondent Lesley Stahl it's not a different country economically than it was a week ago.
"I mean, if you owned a farm, and you thought it was a good investment a week ago, you certainly wouldn't be selling it at 9:30 tomorrow morning," he said. "If you owned an apartment house that you felt good about a week ago, you wouldn't be selling it at 9:30 tomorrow morning. And certainly if you owned a piece of an American business that you felt good about a week ago, it would be crazy, in my view, to be selling it at 9:30 tomorrow morning. The country will go on."
And as Jack Welch, recently retired CEO of General Electric, added, "Where else would you go with your money?"
Both Welch and Buffett said the World Trade Center terrorism will have a significant impact on third–quarter earnings, but over time , the economy will rebound.
'The income stream of the American people, 280 million of them, is huge," said Welch. "And in the short term, they can make a determination to save a little more, or pay down a little debt, or consume heavily. They make those individual choices daily. But over time, they spend. And it'll come back."
Robert Rubin, Treasury Secretary in the Clinton administration, said the single most important thing that the administration can do right now is to be very visible.
"I think that visibility, discussing issues in public in a serious and thoughtful way, provides reassurance, and it provides comfort," he said. "And I think it provides confidence."
Rubin also said the administration is facing some very difficult decisions with respect to the airline industry.
Welch and Buffet disagree over whether some bailout is needed. "There's no question that that industry has been impacted uniquely and that some sort of unique situation has to treated here," Welch said.
"There have been a lot of airlines that have gone bankrupt without having the sort of events you've had in the last week," Buffett said. "So we have to be very careful about any mass subsidization.
The insurance industry – and both Berkshire and GE are in the re-insurance business - also will be affected.
"We will pay out, at Berkshire, a great deal of money, more money than we've ever paid out in respect to any catastrophe before this," Buffett said. "But we're well equipped to do it."
None of the three thinks the attack has sounded the death knell of New York as a financial center. "New York is the heart of the financial world. And this attack did not hit the heart," Buffett said.
All three also agree that this attack may have changed he way we do business.
"Coping with the threat of terrorism is going to become an integral part of how our society - and our economy – works," Rubin said.
©MMI, CBS Worldwide Inc. All Rights Reserved
Thanks for reading CBS NEWS.
Create your free account or log in
for more features.