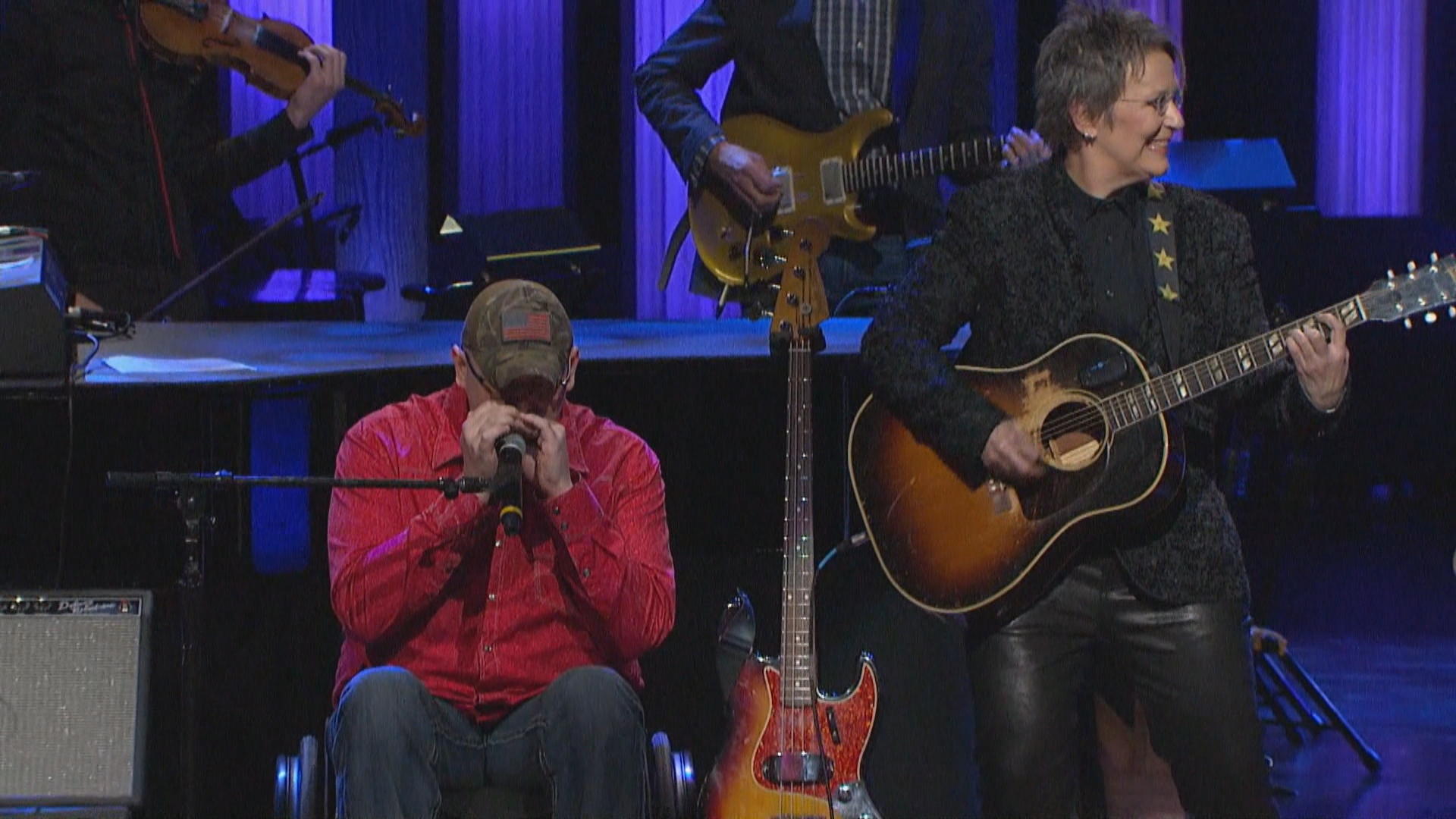 Healing the emotional wounds of war through song
This piece originally aired March 21, 2018.
Our series, A More Perfect Union, aims to show that what unites us as Americans is far greater than what divides us. Although there are a lot of therapy programs for veterans suffering from PTSD, only a few use professional musicians to achieve dramatic results. One group is turning wounded warriors into songwriters and helping them heal – one song at a time.
---
Backstage at Nashville's Grand Ole Opry it's always a night to remember. But for retired Army Sgt. Joshua Geartz, it's also a night he never thought he'd live to see. His long road to country music's hallowed halls started back in September of 2003 when he was finishing up his tour of duty in Iraq.
"It was my last night in country. ... A roadside bomb went off right next to my truck," Geartz told CBS News' Jan Crawford.
He suffered a traumatic brain and spinal cord injury. But back home with his wife and two children in upstate New York, the psychological injuries became far worse.
"I just felt like a burden," he said. "It was like I walked in the room, and it sucked the life out of that room. Everyone got quiet."
He tried to take his own life.
"I knew when I was gonna do it again," he said. "November 7th…. That's the day my friend was killed."
That friend, Army Pfc. Thomas Faulk, died in a car accident a few years before the bombing. The two met in basic training and were like brothers.
His two lifelines: His love of the harmonica, and his wife Lisa, who enrolled him in a music program for veterans. Darden Smith and Mary Judd co-founded Songwriting with Soldiers just over five years ago. They bring together vets and professional musicians at retreats.
"It's not songwriting for soldiers, not songwriting about soldiers, songwriting with. The collaboration that is the key," Smith said.
The events are equal parts group therapy, writing workshop and jam sessions. The vets share their feelings and experiences. The musicians help craft them into a song.
"The song is gigantic. It's so powerful. And they have it forever," Judd said. "And they see other people hear their song. And they see the other people tearing up, or singing, or laughing…. They feel like their song is actually other people."
At his first retreat in 2015, Geartz connected with folk singer-songwriter Mary Gauthier.
"I looked out the window as the veterans were starting to arrive. And I just saw Josh and Lisa pull up…and I just see the pain. And I'm looking out my window. And I -- my first thought was, 'He's mine'…. I have to write with that guy!" she recalled. "It's almost like a red hot fireball was inside of him. And I knew that the song could take that red hot fireball and make it tangible and we could toss it out into the group, and it would not only take some of the infection out of him, but it would give courage to the group and be useful for other people."
Geartz had never looked at his suffering like that. Like medicine for others.
"Whatever it is, if it can help one other person, it's worth it," he said.
The newly-formed duo talked until the song became clear.
"There was one preeminent thing that really was bringing him to his knees…. And that was the one of the death of his best friend," Gauthier said.
"I think the first line is kinda where you earned my trust, you know," Geartz told Gauthier. "She's trying to get the story, and, like, I don't know, looking back on what comes to mind, I was like 'Who the hell knows?' And she goes, 'Good.' And you wrote down that first line."

From there, everything Geartz had been holding in just poured out -- and into the song "Still On The Ride." It's now one of 11 songs on Gauthier's new album, all co-written by Songwriting with Soldiers vets. That album brought Geartz to the stage of the Grand Ole Opry where he played along with Gauthier on harmonica.
"The power of Songwriting with Soldiers to me is mirrored in the fact that Josh Geartz is with us," Darden Smith said. "It's the proof right there, that it works, because it's civilian and military communities changing."

Now, when Geartz is reminded of his friend he thinks about playing at the Grand Ole Opry – and his new family.
Two major academic institutions are preparing to launch scientific studies on the power of music to heal traumatic brain injuries. As for Geartz, he's still a part of Songwriting with Soldiers, but now as a volunteer.
Thanks for reading CBS NEWS.
Create your free account or log in
for more features.