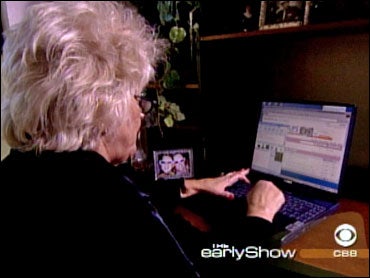 More seniors who are looking for love are doing it the new-fashioned way: online. On The Early Show Tuesday, correspondent Melinda Murphy met some seniors who are clicking their way to love.
A grandmother of eight, Marilyn Rogers may very well be a poster girl for online dating.
"Guys like my profile, what I say about myself," she tells Murphy. "I say I'm a 1950s model. Body has a few dents and dings, but the motor still runs."
She's 62 but shaves a few years off in the virtual world. Despite that, she is still a very sexy woman and men are clamoring to meet this groovy granny.
On the day Murphy visited her, she had 153 messages. That's a lot of guys who think she's hot.
"Oh, but I erase a lot," she says. "I've had over 500."
Is one of them Mr. Right? Rogers says she'll know when she meets him. She says she's looking for lots of humor, compassion and nice forearms, something she considers very sexy.
Rogers dove into on-line dating after her 34-year marriage ended.
"The Internet has given me a lot of confidence," she says "I've always had confidence, but now I'm just better than ever."
Steven Slon, editor of AARP magazine, has been tracking the online dating scene.
"We don't have exact numbers," he says, "but we hear from the biggest Web sites that this is their biggest growth area, 50-plus."
Why are people over 50 finding these sites suddenly?
"Well, there are a number of reasons," Slon says. "First of all, the old stigma of it being something like a personal ad where you have kind of that sleazy association is fading. Secondly, their adult children are leading them to it."
That's exactly how 60-year-old Vina Dugan first got into online dating. After her divorce, her daughter talked her into it.
"She says, 'Mom, I've got E-Harmony all ready for you' and I thought 'Oh, my God, what am I doing?' " Dugan says.
Within a few days, she met Gary Dugan, a widower.
"I was married for 45 years to my next door neighbor, one I grew up with," he says. "Sally had cancer for about 17 months. She definitely wanted me to remarry."
Before she died, Sally had heard about E-Harmony, an online dating site.
"One time she said, 'That's how you're going to find your new wife,' " Dugan says, "and I said, 'Yeah, I am.' "
So, after Sally died, 63-year-old Gary Dugan signed up. Within a few months, he and Vina were married. Now, they travel the country in an RV with a license plate named after the site where they met.
"It was very special," Vina says of the online site. "We wouldn't have met if it wasn't for this."
On the day Murphy visited, Rogers had a first date with Pier Delfrate, who has been dating online for about a year. He's 56, but online he says he's 54.
"I'm excited," Delfrate says. "I've talked to her ( Marilyn) on the phone several times and she seems like a kick."
Marilyn and Pier are still seeing each other. There are no wedding bells yet, but if there's a ceremony, they say Murphy will be invited and she has promised to bring along the cameras.

Thanks for reading CBS NEWS.
Create your free account or log in
for more features.