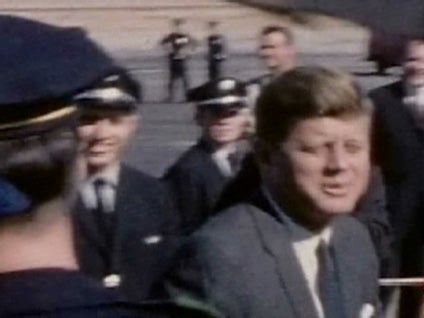 This poll was originally written in 1989 by Martin Plissner, Executive Political Director, CBS News. It was updated by CBS News in June, 2004
GOING OUT POPULAR
Ronald Reagan's presidency ended at a high level of public approval, matched only by that of Bill Clinton and Franklin Roosevelt among modern presidents, and at about the highest level during his own unusually popular terms of office. Asked if they approved or disapproved of the way Ronald Reagan handled his job as President since 1981, a CBS News/New York Times Poll conducted in January 1989 showed 68 percent of Americans approved. Just 26 percent disapproved.
HOW REAGAN HANDLED PRESIDENCY (1/1989)
Approve
68%
Disapprove
26%
REAGAN AND OTHER PRESIDENTS: FINAL APPROVAL RATINGS FOR U.S. PRESIDENTS. 1943-2001
REAGAN 1/89
Approve
68%
Disapprove
26%
Don't Know/NA
6%
G.H.W. BUSH 1/93
Approve
54%
Disapprove
40%
Don't Know/NA
6%
CLINTON 2/01
Approve
68%
Disapprove
30%
Don't Know/NA
2%
GALLUP POLLS:
ROOSEVELT 12/43
Approve
66%
Disapprove
24%
Don't Know/NA
10%
TRUMAN 12/52
Approve
31%
Disapprove
56%
Don't Know/NA
13%
EISENHOWER 12/60
Approve
59%
Disapprove
27%
Don't Know/NA
14%
KENNEDY 11/63
Approve
58%
Disapprove
30%
Don't Know/NA
12%
JOHNSON 1/69
Approve
49%
Disapprove
37%
Don't Know/NA
14%
NIXON 8/74
Approve
24%
Disapprove
66
Don't Know/NA
10%
FORD 12/76
Approve
53%
Disapprove
32%
Don't Know/NA
15%
CARTER 12/80
Approve
34%
Disapprove
55%
Don't Know/NA
11%
In achieving this exceptionally high approval rate at the close of his second term in office, Reagan once again recovered from a deep mid-term slump. From a 67 percent to 18 percent margin of approval in April 1981, soon after he survived an assassination attempt, Reagan went through a period from March, 1982 through April, 1983, when his approval and disapproval were just about even. That, of course, was during the steep depression which preceded the long period of economic expansion that occurred during much of the 1980s.
By Election Day, 1984, Reagan's popularity had rebounded to 58 percent, enough to carry 49 states, but by March of 1987, Iran-Contra had reduced it once again to a virtually even split between approval and disapproval. As late as November 1987, only 45 percent of Americans approved of Reagan's handling of his job, while 44 percent disapproved. It was at this time polls showed more Americans, given a choice between a Republican and Democratic President, picked the Democrat.
The completion of an arms control treaty with the Soviet Union and other signs of a warming trend in East-West relations during 1988 combined with continued prosperity to restore Reagan's popularity to almost its peak level during 1988 and undoubtedly contributed to the election of his chosen successor, George H. W. Bush.
As he left office in 1989, Americans who approved of his job performance gave domestic, not foreign policy reasons why felt that way. The most often-cited reasons credited Reagan for boosting the economy, creating more jobs, or the general sense that "things had gotten better" since he came into office.
HIGHLIGHTS OF REAGAN'S PRESIDENTIAL APPROVAL 1981-1989
Start of Reagan Administration 4/81
Approve
67%
Disapprove
18%
Don't Know/NA
15%
Lowest approval 1/83
Approve
41%
Disapprove
47%
Don't Know/NA
12%
1984 Election 10/84
Approve
58%
Disapprove
35%
Don't Know/NA
7%
Start of second term 1/85
Approve
62%
Disapprove
29%
Don't Know/NA
9%
Highest mid-term approval 6/86
Approve
67%
Disapprove
23%
Don't Know/NA
10%
Highest mid-term approval 10/86
Approve
67%
Disapprove
25%
Don't Know/NA
8%
Initial Iran-Contra disclosures 11/86
Approve
46%
Disapprove
45%
Don't Know/NA
9%
1988 Election 10/88
Approve
61%
Disapprove
33%
Don't Know/NA
7%
End of Reagan Administration 1/89
Approve
68%
Disapprove
26%
Don't Know/NA
6%
RETROSPECTIVE EVALUATIONS
President Reagan left office with very high approval ratings, and those ratings stayed high as Americans looked back on his Oval Office tenure long after he had left it. Looking back on the Reagan years in August of 1996, two years after Reagan had told the world of his battle with Alzheimer's, nearly two-thirds of Americans approved of the job he had done over his two terms.
LOOKING BACK ON REAGAN'S JOB PERFORMANCE IN AUGUST, 1996:
Approve
62%
Disapprove
30%
While Americans in 1996 were very approving of the way President Reagan handled his job, they were less complimentary four years after he left office. Looking back in 1992, as the Democrat Bill Clinton defeated an unpopular George H.W. Bush, 37 percent of voters held a favorable view of Reagan, and more -- 45 percent -- held an unfavorable one.
FOREIGN POLICY
Although foreign policy might not have been at the top of people's minds in 1989, the January 1989 CBS News/New York Times report card on public opinion on Ronald Reagan produced high specific findings with respect to his handling of foreign and Soviet relations. 71 percent of Americans approved of Reagan's handling of foreign policy, and only 17 percent disapproved.
88 percent approved of Reagan's handling of relations with the Soviet Union; only 7 percent disapproved. These were extraordinary margins of approval for any President's handling of anything. Large margins of Democrats as well as Republicans were found cheering the retiring President's performance in these areas.
Although, as Reagan had once famously urged, Mr. Gorbachev himself did not tear it down, the Berlin Wall did indeed tumble within a year after Reagan left the White House. When the Soviet Union's collapse followed shortly thereafter, many observers credited Reagan's policies toward the U.S.S.R. with aiding in that demise.
REAGAN'S HANDLING OF US-USSR RELATIONS (1/1989)
Approve
88%
Disapprove
7%
This measure fluctuated somewhat over Reagan's two terms, but it vaulted high in October 1986 and generally remained high during then-General Secretary Gorbachev's time heading the Soviet Union, as the two leaders made strides toward arms reductions and Reagan pressed hard for his Strategic Defense Initiative back home.
REAGAN'S HANDLING OF US-USSR RELATIONS
Approve
5/88
60%
11/87
63%
10/86
72%
1/85
60%
9/84
48%
1/83
45%
1/82
54%
9/81
62%
Disapprove
5/88
25%
11/87
26%
10/86
20%
1/85
26%
9/84
37%
1/83
32%
1/82
31%
9/81
19%
DOMESTIC ISSUES
With respect to the economy, on which the American people tend to be especially tough critics, Reagan received the highest marks of his eight years in office just as he left it. 62 percent approved of his handling of the economy; just 32 percent disapproved.
REAGAN'S HANDLING OF THE ECONOMY (1/1989)
Approve
62%
Disapprove
32%
Not all the final grades on Reagan were passing. Only 38 percent said he had done a good job of handling the drug problem. 54 percent said he hadn't. 48 percent said he bore all or most of the responsibility for the federal deficit. The same percent said he bore little or none. Asked if the Reagan administration had done all that it could about the homeless or if it hadn't shown enough concern, 7 percent said not enough concern. 21 percent said the administration had done what it could.
By just about the same margin as at the peak of the Iran/Contra scandal (5 to 3), Americans believed Reagan lied when he claimed he didn't know that profits from arms sales to Iran were given to the Contras. Even among those Americans who did believe this, however, a solid majority approved of the way Reagan handled his eight years in office, and a huge majority approved of his handling of foreign affairs.
CBS News and the New York Times asked respondents to compare the country in 1989 and eight years earlier with respect to a variety of matters: the environment, the economy, education, military strength, crime, ethical standards in the federal government and the prevalence of poverty. With respect to the overall economy and military strength, Americans clearly recognized improvement. On all of the other counts, the verdict was negative.
IN PAST EIGHT YEARS… (1/1989)
Military
Gotten better
43%
Gotten worse
9%
Economy
Gotten better
40%
Gotten worse
23%
Education
Gotten better
21%
Gotten worse
39%
Poverty
Gotten better
14%
Gotten worse
48%
Environment
Gotten better
13%
Gotten worse
43%
Ethics in Government
Gotten better
8%
Gotten worse
33%
Crime
Gotten better
4%
Gotten worse
71%
VIEWS OF GOVERNMENT
In 1989, after eight years of a very different kind of administration from Jimmy Carter's preceding term, CBS News and the New York Times asked Americans to indicate the degree they trusted the government to do what is right. The responses showed only slight improvement from those of eight years earlier, right after Reagan's election. More recent data suggest that Americans cynicism about government has grown even larger, to 63 percemt in 2003.
TRUST IN GOVERNMENT
All/most of the time
11/1980
39%
1/1989
44%
7/2003
36%
Hardly ever/never
11/1980
58%
1/1989
54%
7/2003
63%
One question asked toward the close of the Carter administration got a significant difference in response when asked at the close of Reagan's: "Would you rather have a smaller government providing fewer services, or a bigger government providing more services?" In March 1980, Americans chose a smaller government by a margin of nearly 2 to 1, a strong hint of their eventual choice of Ronald Reagan for President later in the year. After eight years of government by Reagan, the balance had turned the other way. In 1989, Americans chose bigger government by 48 percent to 41 percent. Now, nearly fifteen years later, Americans remain divided on their preferred size of government.
SIZE OF GOVERNMENT: PREFER…
Smaller govt., fewer services
3/1980
54%
1/1989
41%
11/2003
45%
Bigger govt., more services
3/1980
32%
1/1989
48%
11/2003
42%
On the whole, however, there is no doubt that Americans liked Ronald Reagan and his performance as President a lot. Many of them, it should be noted, were even a bit surprised. Asked if Reagan had been a better or a worse President than they expected him to be, 40 percent said better, only 6 percent said worse, and about half said he had turned out to be pretty much the kind of President they thought he would.
NANCY REAGAN
By the time her husband left office, more than half of Americans had a favorable opinion of outgoing First Lady Nancy Reagan. Fewer than one in five had a negative opinion of her. Opinion of her grew more positive as more Americans learned about her during the course of her husband's presidency.
VIEWS OF NANCY REAGAN
Favorable
1/1989
56%
1/1981
28%
Unfavorable
1/1989
18%
1/1981
10%
Don't know
1/1989
24%
1/1981
62%
While views of Mrs. Reagan were never as positive as those of her successor, Barbara Bush (who was viewed favorably by 81 percent of voters in early 1992), they were more favorable than views of Hillary Rodham Clinton and Rosalyn Carter as their husbands left office.
VIEWS OF OUTGOING FIRST LADIES
Hillary Clinton (1/2001)
Favorable
47%
Unfavorable
28%
Don't know
23%
Barbara Bush (1/1993)
Favorable
71%
Unfavorable
6%
Don't know
23%
Nancy Reagan (1/1989)
Favorable
56%
Unfavorable
18%
Don't know
24%
Rosalyn Carter (10/1980)
Favorable
46%
Unfavorable
9%
Don't know
45%
---
The January 1989 CBS News/New York Times Poll was conducted among a nation-wide random sample of 1,533 adults, interviewed by telephone January 12-15, 1989. The error due to sampling could be plus or minus three percentage points for results based on the entire sample.
For detailed information on how CBS News conducts public opinion surveys, click here.
Thanks for reading CBS NEWS.
Create your free account or log in
for more features.