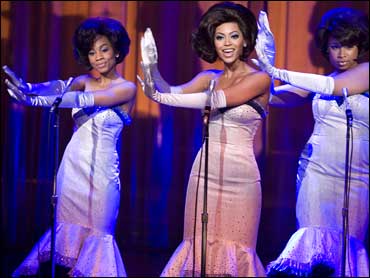 A 'Dreamgirl' Behind The Scenes
It's a costume designer's dream: outfitting A-listers for one of the year's most anticipated movies.
For Sharen Davis, it came true twice.
Davis created the dazzling dresses in "Dreamgirls" and the drab, down-and-out suits in "The Pursuit of Happyness" - at the same time. Both films opened this month with Golden Globe and Oscar buzz behind them.
But Davis, who earned an Oscar nod two years ago for her work in "Ray," isn't thinking about awards. Her mind's still buzzing about a year's work that included her most beloved - and most difficult - projects yet.
For "Dreamgirls," she built 120 dresses from the ground up. She envisioned the colors, styles, fabric, hair and makeup for the ever-changing looks of the Dreamettes, a singing trio played by Beyonce Knowles, Jennifer Hudson and Anika Noni Rose. Davis also designed dozens of flashy suits for Jamie Foxx and Eddie Murphy, taking the characters through the swinging '60s and into the disco-drenched '70s.
In "The Pursuit of Happyness," Will Smith plays an often-homeless aspiring stockbroker whose entire wardrobe dangles from a hanger he carries with him everywhere. For this film, set in the early 1980s, Davis had to limit Smith's costumes to "four suits, eight shirts, six ties," she said.
When she wasn't searching for "the dullest Members Only jacket I could find," she was sketching the colorful dresses in "Dreamgirls."
"It actually expanded me," said Davis, 49. "I got to do the balance of both worlds, this high-glam world to this very low-end world. It was inspiring to do both at once."
What Davis calls inspiring would be enough to drive most designers crazy, said Kevin Jones, costume historian for L.A.'s Fashion Institute of Design and Merchandising.
The two movies call for opposite wardrobe techniques: from dreary and spare to colorful and over-the-top, from limited costume changes to new looks for each scene.
"In either situation, your creativity is working on all cylinders," Jones said. "You either have too much to deal with or too little. To do them simultaneously and compartmentalize, you have to be an incredibly organized individual and have a great team working behind you."
Where costumes define the characters in "Dreamgirls," they're little more than background in "The Pursuit of Happyness," Davis said.
She designed each of Smith's four suits for the film. As for Jaden Smith, Smith's real-life son who plays alongside him in the movie, Davis had his puffy jacket custom made, but she stuck to the dullest color palette she could.
"To underplay the '80s is a real task," she said, adding that she had to fight her natural attraction to fabulous fashions.
That instinct was indulged in high style when it came to "Dreamgirls." Davis called on a team of illustrators, seamstresses, makeup artists, hairstylists and wigmakers to help her realize each show-stopping "Dreamgirls" look.
Costumes are crucial to the story, said director Bill Condon, and Davis didn't disappoint.
"Sharen is as much a storyteller in this movie as anyone else," he said. Through clothing, "She tracks the period and tells the story of what's happening with each character."
To keep herself organized through hundreds of costume changes, Davis memorized the script. ("I had to," she said.) Then she plotted the arc of each character on posterboard, pinning sketches and fabric swatches by each one's name.
"I had to make little Garanimal boards or I'd be lost," Davis said.
It was easy to find inspiration for the stars' styles, though. A former backup singer who grew up listening to Motown, Davis spent months researching girl groups to outfit the Raylettes in "Ray." She drew on memory and imagination for "Dreamgirls."
"I didn't have to go far for reference. It's all in my head," she said. "It was like this was my opportunity to pay homage to everyone that I ever loved."
So she channeled Cher to create Beyonce's wardrobe and looked to Aretha Franklin for Hudson's styles. Murphy's outfits were modeled on clothes worn by Prince and Marvin Gaye.
Davis also recruited one of her favorite couture designers to create a key look for the film. Neeam Kahn made the titanium chain-mail dresses the trio wears in the closing number. Each dress weighs about 12 pounds and would sell for more than $10,000, Davis said.
The "Dreamgirls" gig was so dreamy that Davis thought she'd never get it. But to Condon, she was the only person for the job. "Sharen Davis was destined to design this movie," he said. "She knows it in her bones. She lived it."
Now she just has to get through the next few weeks of year-end Hollywood hype without letting her thoughts wander to Oscar.
"You never really know what's going to happen and you don't want your heart broken," she said. "I'm just glad that everyone's excited about the film. That's the reward."

Thanks for reading CBS NEWS.
Create your free account or log in
for more features.