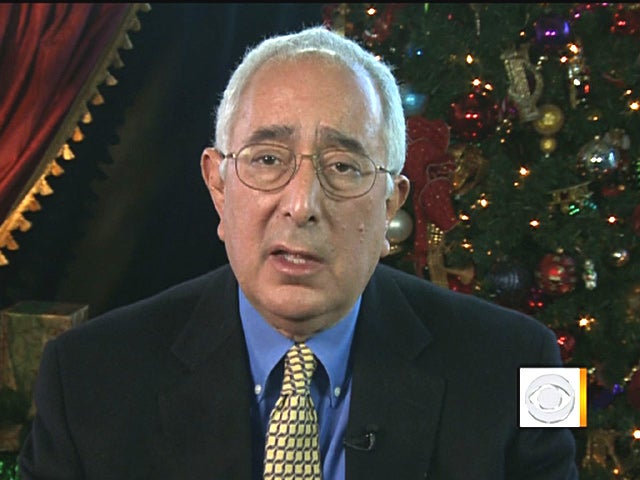 Every year when Christmas comes along, people celebrate with Christmas lights and shopping sprees cookies and carols. But that doesn't always get to the heart of this very special holiday. Ben Stein -- actor, writer, economist, and occasional philosopher, has a unique perspective on Christmas, which he shared with "Early Show" viewers Friday. In a nutshell, Ben says Christmas is for everyone, regardless of religion, and that this season, we should honor the spirit of forgiveness and love:
My wife and I celebrate Christmas, big-time. I am sure we have more decorations than anyone within miles of here has.
Why?
On a superficial level, it's because the lights and tree and fire are festive. That's innate. Man loves colored lights and fires. When I was a child in Maryland, the Gentiles had festive lights and we Jews didn't. I didn't like that. I saw no reason why the Gentiles should have all the fun and I still don't. Having those lights and a tree -- that's what I always wanted -- to have colored lights and to be a part of the dominant culture.
But I love Christmas for much more basic reasons. Christmas is about something huge. You can be saved if you simply make a contract to believe in God and (some add) if you act right. It has nothing to do with how you were born or into what tribe.
This is a revolutionary, stupendous freeing of the human spirit. This is why Christmas is such a joyous time for people, whether Jews or Christians, or anyone else, who want to believe that we humans can be forgiven and go on to lead lives of triumph no matter what has happened in our past.
That, and not shopping at all, not the retail numbers, is why Christmas is such a great time.
The lights are nice and the tree is nice and the shopping is nice. But a dominant culture that says that love and peace are the highest values -- that's what I want to honor.
We don't honor retail sales numbers. We honor the spirit of forgiveness and love. That's Christmas for me.
Merry Christmas.
Thanks for reading CBS NEWS.
Create your free account or log in
for more features.