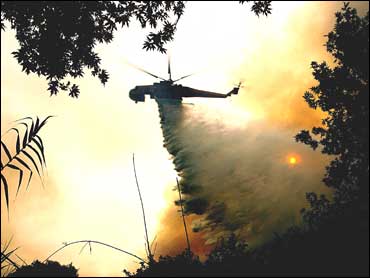 7 Detained For Arson In Greek Fires
Wind-whipped flames consumed villages and parched forests Sunday, bearing down on the site of the ancient Olympics as massive forest fires that have killed 51 people raged across Greece, where the government declared a state of emergency.
Most of the country's southern Peloponnese region was burning for a third day, and people fled in panic from villages just a few miles from Ancient Olympia.
A series of new fires broke out Sunday in central Greece's region of Fthiotida — one of the few areas that had not been affected by what has become the country's worst wildfire disaster, fire department spokesman Nikos Diamandis said.
Although a temporary drop in the ferocity of high winds early in the morning provided brief respite, they intensified later in the day.
"Unfortunately the improvement that we were looking for is not there," Diamandis said. "Our target is for the fire not to enter Ancient Olympia, not to destroy antiquities."
He said three firefighting planes and two helicopters were focusing their efforts on the area, although one helicopter had to be diverted south earlier in the day after authorities received reports of people trapped by flames in a village near the town of Zaharo, where the vast majority of deaths have occurred since Friday.
Culture Minister George Voulgarakis was heading to the ancient site to coordinate efforts to save the antiquities, the ministry said.
"There is a huge mobilization in the area of Ancient Olympia," the ministry said in a statement. "All means are being used, and all necessary measures have been taken."
The army was called in to create a fire break, and the site's automatic sprinkling system had been activated, it said.
Before dawn, church bells rang out in the village of Kolyri near Ancient Olympia as residents gathered their belongings and fled. Villagers returned to find at least seven houses gutted.
"It's hell everywhere," Kolyri resident Costas Ladas said. "I've never seen anything like it."
Ladas, 47, said the blaze covered three kilometers (less than two miles) in three minutes.
Resident Fotis Hadzopoulos, 39, said the evacuation was chaotic. "Children were crying, and their mothers were trying to comfort them," he said.
Six firefighting planes were dropping water in the area.
The fire blazed into the nearby village of Varvasaina, destroying several houses. As residents rushed to battle the flames, others, stunned, walked the streets holding their heads in their hands.
Across the country, churchgoers prayed for the blazes to abate.
"Fires are burning in more than half the country," Diamandis said. "This is definitely an unprecedented disaster for Greece."
The worst blazes — 42 major fronts — were concentrated in the southern mountains of the Peloponnese and on the island of Evia, north of Athens. Arson has been blamed in several cases, and seven people have been detained on suspicion of causing fires.
Another ancient site was under threat, with flames approaching the Temple of Apollo Epikourios, a 2,500-year-old monument near the town of Andritsaina in the southwestern Peloponnese, said the town's mayor, Tryphon Athanassopoulos. The blaze was less than 2 miles away.
"We are trying to save the Temple of Apollo, as well as Andritsaina itself," he told Greek television.
A separate blaze had abated Sunday in Kalyvia, an area between Athens and the ancient site of Sounion to the south, while 42 fires in various parts of the country had been brought under control.
Nearly 1,000 soldiers, backed by military helicopters, reinforced firefighters stretched to the limit by Greece's worst summer of wildfires.
In the ravaged mountain villages in the Peloponnese, rescue crews on Saturday picked through a grim aftermath that spoke of last-minute desperation as the fires closed in.
Dozens of charred bodies have been found across fields, homes, along roads and in cars, including the remains of a mother hugging her four children.
The fire department confirmed 51 deaths, but the search of burned areas could raise the numbers.
By sea and by land, authorities evacuated hundreds of people trapped by flames in villages, hotels and resorts.
At least 12 countries were sending reinforcements, and six water-dropping planes from France and Italy joined operations Sunday.
Foreign Minister Dora Bakoyannis said the EU and some countries would send a total 31 firefighting aircraft, while the U.S. and Russia also promised help.
Prime Minister Costas Karamanlis implied arson was the cause of the blazes, and vowed that authorities would do all they could to find and punish those responsible.
A 65-year-old man was charged with arson and multiple counts of homicide in a fire that killed six people in Areopolis, in the southern Peloponnese, Diamandis said. Separately, two youths were arrested on suspicion of arson in the northern city of Kavala, and four people were detained on suspicion of unintentionally causing fires on the island of Evia.
The worst-affected region was around the town of Zaharo, south of Ancient Olympia. Thick smoke, which blocked out the summer sun, could be seen more than 60 miles away. The blaze broke out Friday and quickly engulfed villages, trapping dozens of people and killing at least 37. Scores of people were treated in hospitals for burns and breathing problems.
The government, which has declared a nationwide state of emergency, announced Sunday it would offer up to $13,615 to people who lost relatives or property.
Thanks for reading CBS NEWS.
Create your free account or log in
for more features.