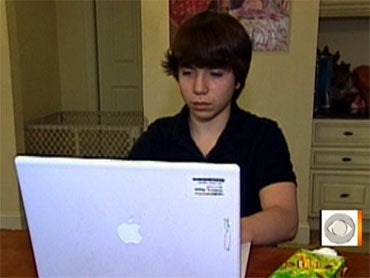 $610K Settlement in School Webcam Spy Case
Last February, the Lower Merion School District outside Philadelphia came under fire for using laptop webcams to look in on students at home. Last week, the school district settled legal action stemming from those actions.
As CBS News correspondent Michelle Miller reports, Blake Robbins was a sophomore when he got to take home a school-issued laptop. Little did he know, officials at Harriton High School were watching him via a webcam.
Did School Spy on Kid at Home via Webcam?
Holly Robbins, Blake's mother, told CBS News, "I don't feel this school has the right to put cameras inside the kids' home, inside their bedrooms and spy on them."
The Robbins family claims they learned of the breach after the assistant principal showed Blake pictures of himself and confronted him for engaging in "improper behavior in his home."
Blake said, "She thought I was selling drugs, which is completely false."
That's when Holly and her husband, Michael Robbins, filed a federal lawsuit against the Lower Merion School District, claiming officials had "spied" on their son.
School officials admitted they'd captured thousands of webcam photographs and screen shots from student laptops in a misguided effort to locate missing computers.
Privacy advocates were appalled.
Lillie Coney, of the Electronic Privacy Information Center, said, "This was not a safe or secure or even rational thing for the school to be engaged in."
While the school district has settled the case, for $610,000, the Robbins want to make sure this doesn't happen to anyone else's children.
From this point, Michael Robbins, Blake's father, said they want to do something positive with their experience.
He said, "We'd like to lobby Congress to change the federal laws about spying and webcam spying and privacy rights. Our U.S. senator in Pennsylvania, Arlen Specter, has introduced legislation to make it a federal crime to prevent this type of thing to go on."
On "The Early Show" Blake and his parents discussed their case further.
Blake said he feels better now that it's all over.
He explained, "At first, I couldn't really say anything because my assistant principal was beating me up for supposedly selling drugs. At first, it didn't occur to me then eventually I thought it was shocking they would do this."
When did Blake learn something was wrong?
Blake said the green camera light would sporadically turn on and off.
"I would turn all applications to see if there was anything open that was using the camera so it wasn't," he said. "I thought it was probably a technical difficulty and thought nothing of it. Didn't think anyone was spying on me, but ends up they were."
Michael Robbins said a photo of him on his son's computer actually ended up on the local news in Philadelphia.
Michael recalled, "They said I looked like Gene Simmons without makeup."
"Early Show" co-anchor Chris Wragge remarked, "Which I'm sure probably really offended you."
For Holly, Blake's mom, the toughest part for her was the initial shock of learning her son was being watched in his bedroom.
"I didn't know who else they captured. I have small little children, a 7-year-old son and 8-year-old son and my daughter, also, was being spied on. They were watching her. She's also, was a high school student at the time and they watched her for a week."
Holly says she's concerned when she opens a computer now.
"I'm even concerned when I walk into a dressing room," she added. "I just always feel the fear of being watched."
Wragge asked the family about the pictures taken from Blake's laptop, which number in the thousands. Could they surface?
Holly said they could.
She said, "We haven't even seen all the pictures that our lawyer has seen so, you know, we're not even -- we want to see those at this point."
As for Blake, he says his computer behaviors haven't changed much -- but he is keeping an eye on the green camera light on his computer.
He said, "If I see the green light on when I'm not using the camera, I get a little worried, but it hasn't happened yet."
"Kind of always got to be on the lookout?" Wragge asked.
"Yeah, just a little bit," Blake responded.
As for the $610,000 settlement, a significant portion goes to legal fees. Another student who sued will receive $10,000. But Blake will receive $175,000 in a trust. He will receive $25,000 up front.
Blake plans to get a car, and when he is 18, plans to invest the trust money.
--------------
The Lower Merion School District issued a statement that said in part:
We believe this settlement enables us to move forward in a way that is most sensitive to our students, taxpayers and the entire school district community. The agreement is comprehensive, and effectively resolves all components of the laptop litigation, including the Robbins and Hasan cases and the Graphic Arts insurance case. It is the product of a lengthy, court-ordered mediation involving the active participation of Judge DuBois and Chief Magistrate Judge Reuter. The terms of the agreement have been thoroughly reviewed in a number of executive sessions over the past few weeks. Throughout the entire process, the Board has aggressively sought to protect the interests of our taxpayers.
Earlier this summer, the U.S. Attorney's Office, the FBI and the Montgomery County District Attorney cleared the District, and its employees - current and former -- of any criminal wrongdoing. That was an important moment for us -- it confirmed the results of an independent investigation and the District's own initial findings. The District acknowledged and apologized for any mistakes and addressed them immediately. We revised our policies and procedures, reaffirmed our commitment to technology and put safeguards into place to ensure the privacy of our students, staff and school families.
A major impetus behind settling this matter now is the recent agreement by our insurance carrier, Graphic Arts, to cover more than $1.2M of the fees and costs associated with this litigation to date. The proposed settlement costs include $175,000 to be placed in a trust for Blake Robbins, $10,000 for Jalil Hassan and $425,000 for plaintiff's counsel. This settlement is not under seal because as a public entity, we have a responsibility to report all terms of the agreement.
Although we would have valued the opportunity to finally share an important, untold story in the courtroom, we recognize that in this case, a lengthy, costly trial would benefit no one. It would have been an unfair distraction for our students and staff and it would have cost taxpayers additional dollars that are better devoted to education. We also wanted to be sensitive to the welfare of the student involved in the case, given the possible ramifications of what would have been a highly-publicized trial.
Bottom line, it is time to resolve this matter and ensure that the District's resources are focused squarely on educating our children.
Thanks for reading CBS NEWS.
Create your free account or log in
for more features.