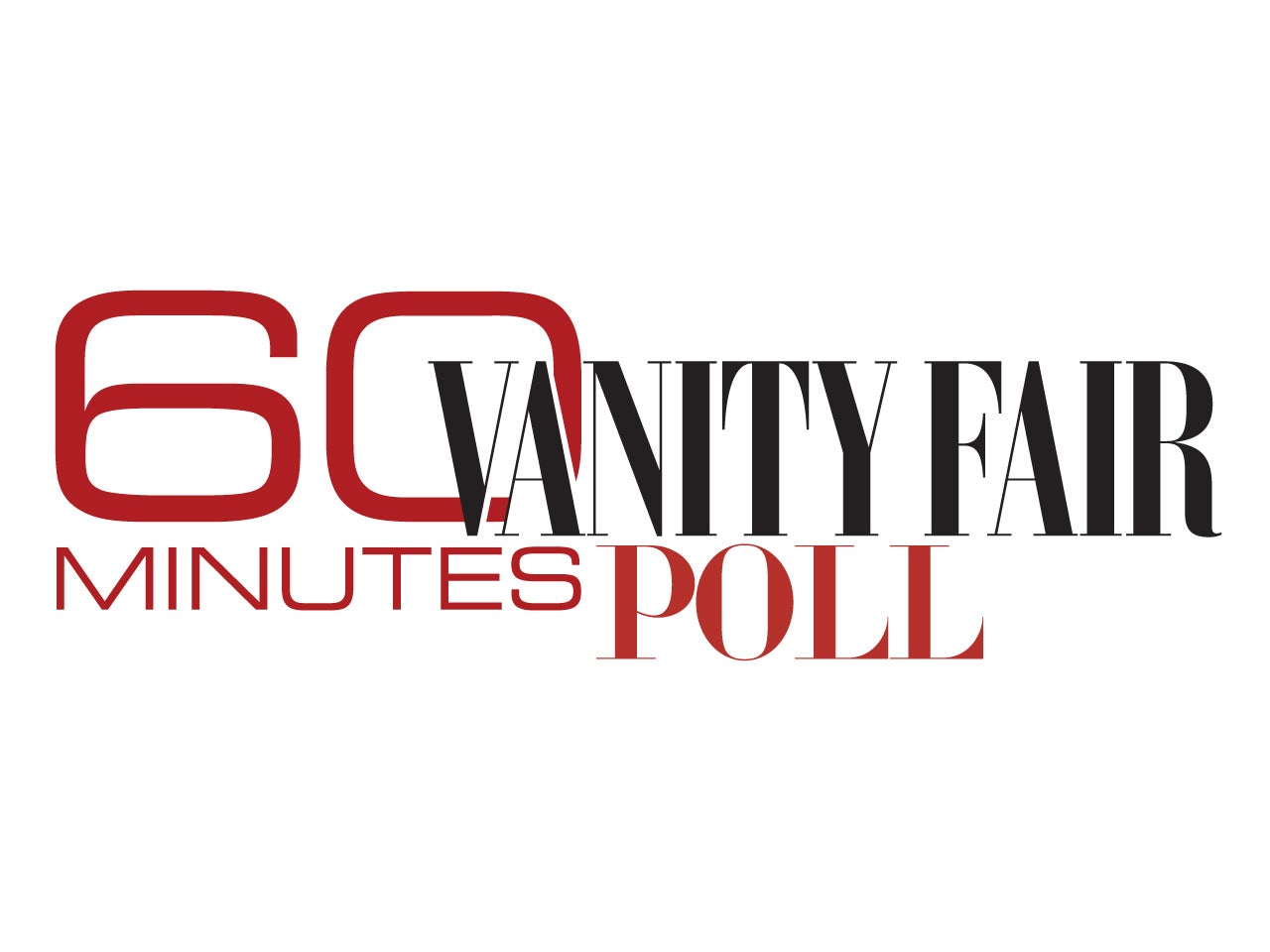 60 Minutes/Vanity Fair poll: Greed
Welcome to the 60 Minutes/Vanity Fair poll for November 2014. How do you define "greed"? This month's poll looks at greed, the intense desire for wealth or power far in excess of one's needs. From ancient wars to the latest excesses of Wall Street that led to the financial meltdown in 2008, human greed has caused untold damage. Gandhi said, "The world has enough for everyone's need, but not enough for everyone's greed." Most of the great spiritual leaders in history have pointed to greed, one of the seven deadly sins, as one of the main roots of evil in the world. One of the reasons congressional approval ratings are near an all-time low is the perception that many of them have abandoned the average American worker in favor of big business. In his famous speech from the movie "Wall Street," Gordon Gekko (played by Michael Douglas) says, "Greed is good." Do you agree or disagree? We look forward to your answer to this and many more questions like it, and now the results...
Career choices
One in four Americans associate lobbyists the most with greed followed by lawyers 22 percent, Hollywood or sports agents 21 percent, bankers 15 percent and paparazzi nine percent. It confirms how cynically Americans view Washington these days that the influence peddlers that dominate life inside the beltway are held in lower esteem than lawyers, agents and bankers. That they make the paparazzi look good by comparison just about says it all.
What fuels Washington
Eight out of 10 Americans feel that politicians are mostly driven by greed and have their own best interests in mind, while only 17 percent feel they are mostly driven by good and have their constituent's best interests in mind. When eight out of 10 Americans can agree on anything it's news, in this case it's sad news for the country.
Selfishness vs. selflessness
Americans are evenly divided on this one with half thinking that someone who is greedy is more likely to be successful versus 46 percent who chose someone who is selfless as most likely to find success. Success has more than one definition and beyond the financial kind, selfless people have a leg up especially if they can find a way to do well while doing good.
"Greed is good"
Seventy-eight percent of Americans disagree with Gordon Gekko (as played by Michael Douglas) that "greed is good" and 19 percent agree with him. When the movie "Wall Street" came out in 1987 people were fascinated by the lavish lifestyles of the Wall Street winners. Flash forward to 2008 and the financial carnage that America experienced and it is not surprising that nearly eight out of 10 Americans disagree with the statement, although it may be a little surprising that a large majority of Americans earning over $100,000 a year (68 percent) also disagree and believe that greed is bad.
Cashing in
Nearly six out of 10 Americans think that celebrities who sell their wedding photos are being mostly greedy and 35 percent think they are being mostly smart. Whether it is done for money, fame or vanity, most Americans think the celebrities are in it for themselves. However, more than a third of the people think they are smart and don't mind it when the rich get richer, or better yet maybe donate the proceeds to charity like George Clooney, Brad Pitt and Angelina Jolie were said to have done.
Who is the greediest of them all?
Thirty-one percent picked Jordan Belfort, "The Wolf of Wall Street" as the greediest movie character followed by Ebenezer Scrooge 20 percent, Cruella de Vil 19 percent, The Grinch 11 percent and Richie Rich six percent. While many infamous Wall Street bandits were probably greedier than Jordan Belfort, his notoriety is helped by Leonardo DiCaprio's indelible and over-the-top performance in Martin Scorsese's recent film. Although the name Scrooge has become synonymous with greed, it should not be forgotten that he reformed in the end to become a very generous and well loved benefactor. To all of you Wolves out there, it's never too late to repent.
Family heirloom
A whopping 87 percent of Americans say they would keep Grandma's necklace safe and pass it on to a family member and only 12 percent said show me the money. People under 30 were even more sentimental with 92 percent saying they would safeguard it for future generations. Most people like having heirlooms to enjoy and pass on to the next generation. These keepsakes represent a direct connection to past loved ones and a chance to pay homage to their family legacies.
Judging the age-gap
More than half of Americans (53 percent) are not in the business of judging people if they see an attractive young woman with a less attractive and much older man. Thirty-eight percent admit to thinking that she's with him for the money and eight percent are generous in their assumptions and give them the benefit of the doubt that they are father and daughter. May-December romances have been around forever and many Americans are increasingly tolerant of people and the choices they make.
Quit while you're ahead?
Three out of four Americans would take the money and run if they were up over $5,000 after their first hour at the casino. Twenty-one percent would save half the loaf and keep gambling with the rest of the bread and only three percent would trust Lady Luck and put it all on the line. Gambling is a huge and successful industry precisely because some people are unable to stop or know when to say "when."
All-you-can-eat cuisine
Four out of ten Americans say going up for seconds is enough and the third time around is not a charm when it comes to buffet lines. Another 40 percent disagree and think there should be no limit, that's why they call it a buffet. Eleven percent said four times and six percent said five times is one too many. It's probably a pretty accurate reflection of America's struggle with expanding waist lines and food consumption. Nearly half the men that were asked said there should be no limit. Food for thought...
Someone else's expense
Even if they knew that someone else was buying, two out of three Americans say they would not change what they would normally order at a restaurant. Three out of ten said they would order a less expensive meal than usual and only three percent said they would throw caution to the wind and order the whole left side of the menu.
---
This poll was conducted by telephone from September 10-14, 2014 among 1,000 adults nationwide. Data collection was conducted on behalf of CBS News by SSRS of Media, PA. Phone numbers were dialed from samples of both standard land-line and cell phones. The error due to sampling for results based on the entire sample could be plus or minus 3 percentage points. The error for other subgroups may be higher. Interviews were conducted in English and Spanish. This poll release conforms to the Standards of Disclosure of the National Council on Public Poll.
Thanks for reading CBS NEWS.
Create your free account or log in
for more features.