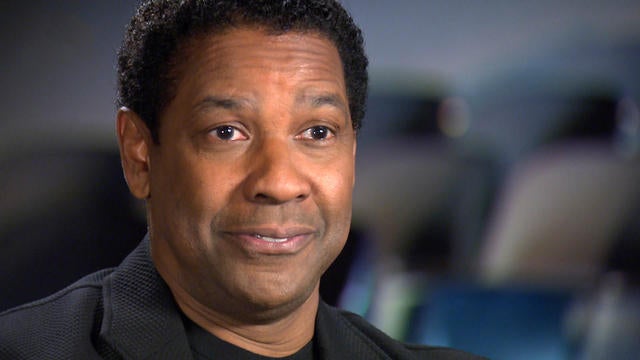 Denzel Washington on diversity and the Oscars
Yes, the Oscars are unfair, says Denzel Washington, who says he knows from experience, but "just do the best you can do," he tells Bill Whitaker. The 61-year-old African-American actor has gone two for six in the Academy Awards over a career whose latest chapter puts the A-lister in the roles of director, producer and star actor in "Fences," the film adaptation of August Wilson's hit play. Washington's interview will be broadcast on 60 Minutes, Sunday, Dec. 18 at 7:30 p.m. ET and 7 p.m. PT.
Asked about the criticism of the Oscars' lack of diversity, Washington says, "I've lived it. I've been the guy at the Oscars without my name being called......when my name is called...when everybody thought they was going to call my name and they didn't."
To those who think the Academy's process is unfair, he says, "Yeah, and so what? You going to give up? If you're looking for an excuse, you'll find one." Is race the excuse? "You can find it wherever you like," says Washington. "Can't live like that. Just do the best you can do."
For the past two years the Academy of Motion Picture Arts and Sciences has nominated only white actors in the acting categories. This year many predict that will change with several actors of color in films that are getting attention, including "Fences."
Washington's interests could help put more black actors up for other awards going forward. He has committed to HBO to film all of the Pulitzer-winning Wilson's 10 plays. The highly acclaimed plays all describe the black experience over the 20th Century.
Whitaker visits the set of "Fences" in the Hill District of Pittsburg where the author Wilson grew up. In the house of the main characters, the Maxson family, Whitaker, an African-American who also grew up in Pennsylvania, sees a bit of his own life. "I swear I know this house," he tells Washington. "My aunt lived in this house." It was familiar and accurate down to the three pictures on the wall: Jesus, Martin Luther King, Jr., and John F. Kennedy, which Whitaker reports, "was in every African-American house."
Thanks for reading CBS NEWS.
Create your free account or log in
for more features.