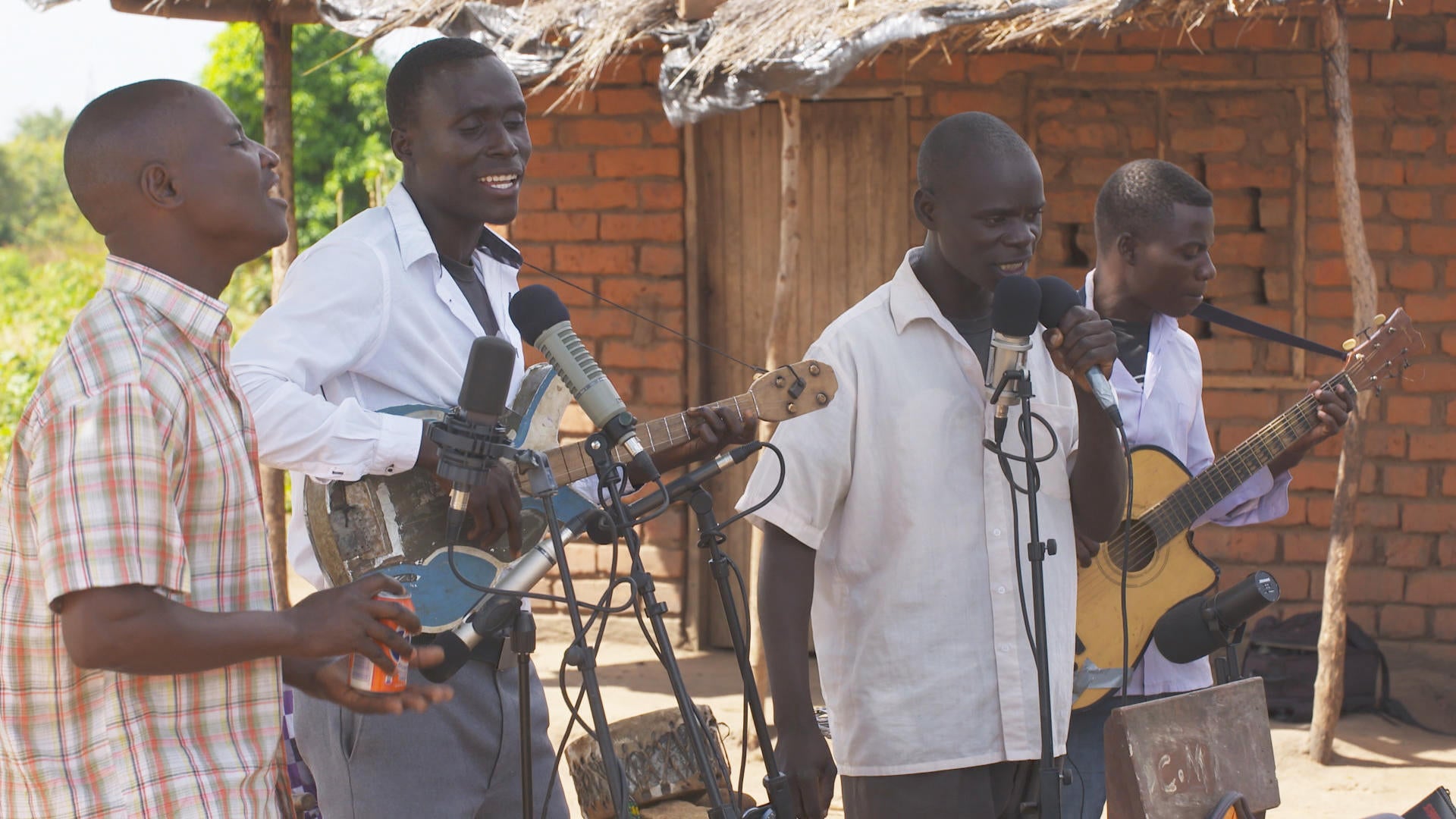 The Malawi Mouse Boys live in a tiny hamlet in the South of the Malawi, near the town of Balaka. They don't have running water or electricity, but their music flows freely.
They've constructed a four-string guitar from tree limbs and sheet metal. A clothes hanger forms the pedal on the bass drum, which they fashioned from cowhide. Their cymbal is an old tin sheet, and a bicycle crank beats like a snare drum.
Thousands of listeners from England, Australia, New Zealand and the United States have now heard their songs.
"Their sound is really, it's just beautiful," 60 Minutes correspondent Anderson Cooper tells Overtime. "And it's so evocative of the place and the people who are singing it."
Cooper and his team of producers came across the Malawi Mouse Boys while reporting their piece this week about inmates and guards inside a maximum-security prison called Zomba. Ian Brennan, an American producer who travels the world looking for new music in unlikely places, recorded an album in Zomba that was nominated for a Grammy in 2015.
The Mouse Boys were a group of musicians Brennan had stumbled upon by accident. Years ago, Brennan and his wife Marilena Delli were driving through Malawi when they drove past a man sitting alongside the road, strumming a homemade guitar. Brennan and Marilena stopped the car, and asked the man -- named Alfred -- to play. Reluctant at first, eventually Alfred agreed. As soon as he started singing his chorus, a group of nearby children began singing along. Alfred's song, it turned out, was something of a local hit. Brennan was blown away.
Alfred introduced Brennan to his friends, and Brennan knew he'd stumbled upon something special. He asked them if he could record their music, and when the time came to settle on a name for their band, they picked one that seemed only natural: The Malawi Mouse Boys.
The name comes from their day jobs: Three of them sell barbecued mice on kebabs along the roadside, providing a traditional snack for passersby.
"Malawi is, by most measures, the poorest, if not one of the poorest countries in the world," says 60 Minutes producer Michael Gavshon in the clip above. "It's blighted by floods one year, droughts the next. And the people in these villages are extremely, extremely impoverished. They are so poor that they literally subsist on 50 cents a day. And they sell mice."
The group wakes up before dawn every morning to scour the dirt for underground mouse holes. They dig deep into the burrows, catching each mouse with their hands, careful to avoid any venomous black mamba snakes that might be hiding nearby. They grill the mice and spend the rest of the day hawking their product by the side of the road. "It's a really difficult way to make a living," Cooper says.
Playing music doesn't pay much better, although Brennan is trying to change that. Brennan has recorded three albums with the Mouse Boys and in 2013, secured a gig for them to perform at WOMAD, an international arts festival in England. It was the first time The Mouse Boys had travelled outside of Malawi, and they sang in their native Chichewa language in front of an audience of more than 10,000. Since then, the Mouse Boys have travelled the world, playing for audiences in Australia, New Zealand, New York, Los Angeles and San Francisco.
"Their performances are electric," Gavshon says. "They are really quite something. They move wonderfully, and they're incredibly expressive."
When 60 Minutes went to visit the band, it was clear that even after their records and their travels, daily life hasn't changed much for the group. "It might have changed their lives in some way, in the sense that they've got to spend some time abroad," Gavshon says. "They've traveled on airplanes. They've been to faraway places. But they came home, and they still have to go back to waking up at dawn, catching mice to sell on the side of the road."
The band – made up of guitarists Alfred and Nelson, lead singer Zondiwe, and percussionist Joseph – write all their own music. They draw inspiration, they say, from church songs, and religious themes are a fixture of their lyrics.
In the clip above, Nelson sings "Ndatopa Nawe," which translates to "I'm Tired Of You." The song laments hard times, which Nelson blames on the devil.
"Satan," Nelson sings, "has taken my mother and my brother to the graveyard. I had a friend that was taken by Satan. And my father, who went to church with me, has also gone to the grave. And my relatives have left too. Satan, you've betrayed me."
Pain, grief, and misfortune are themes in the music Ian Brennan recorded at Zomba Prison as well. In the clip above, Officer Thomas Binamo performs "I Will Never Stop Grieving For You, My Wife." He wrote the song one morning when the 60 Minutes team was visiting Zomba. It is an autobiographical ballad about the sudden death of his wife, which left him to raise his four kids by himself.
One of the lead vocalists in Zomba's prison band is an inmate named Elias Chimenya. In the above clip, Chimenya sings a song called "Jealous Neighbor," which appears on the album Ian Brennan recorded inside Zomba.
Chimenya, who's been in Zomba since 1998 and is serving a life sentence for murder, sang in a church choir before prison. He says "Jealous Neighbor" is a cautionary tale – admonishing people to focus on their own lives rather than coveting what the people around them have.
"I certainly hope that as this story airs, as people hear not only the prisoners and the guards at Zomba, but also the Malawi Mouse Boys," Cooper says, "that people learn about them and do want to hear their music and want to kind of spread their music."
For more information about the Malawi Mouse Boys, visit: http://omnivorerecordings.com/artist/malawi-mouse-boys/
Ian Brennan has set up this GoFundMe page for the Malawi Mouse Boys to raise money for their homes and schooling for their kids: https://www.gofundme.com/2dtq679c
To donate to the Zomba Prison Project, visit: http://www.sixdegreesrecords.com/zomba-prison-project-donations/
---
The video above was originally published on Oct. 30, 2016, and produced and edited by Lisa Orlando, Will Croxton, and Sarah Shafer Prediger.
Photos of the Malawi Mouse Boys at WOMAD 2013 courtesy of Mark A. Bennett of Obscured Planet
Video of the Malawi Mouse Boys at Hardly Strictly Bluegrass courtesy of Jon Luini/Hardly Strictly Bluegrass
Thanks for reading CBS NEWS.
Create your free account or log in
for more features.