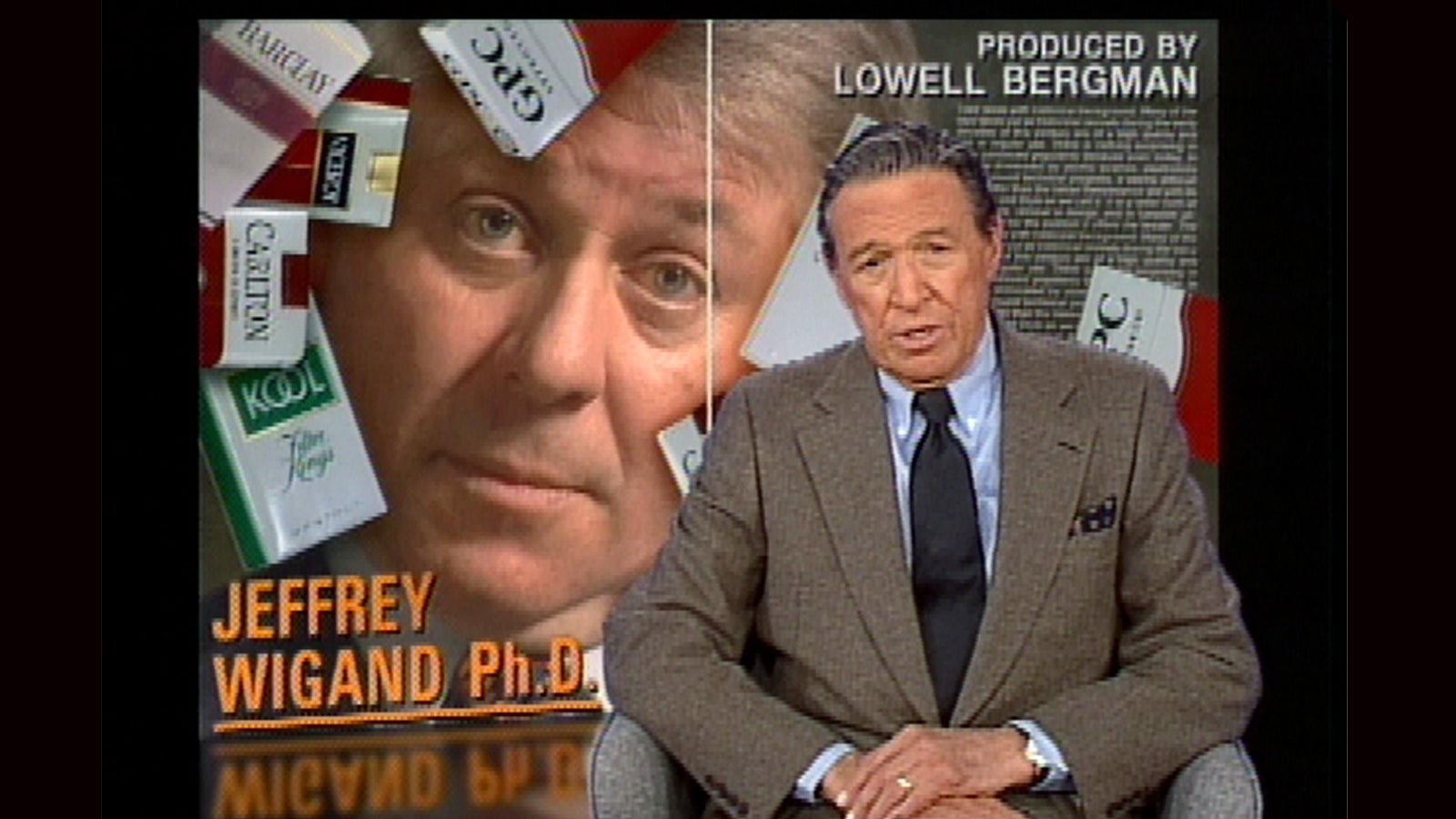 60 Minutes' most famous whistleblower
"We're a nicotine delivery business." That's what Jeffrey Wigand, former director of research for Brown & Williamson, the country's third largest tobacco company at the time, told Mike Wallace in 1995. It was an explosive statement from a high-ranking tobacco insider. But 60 Minutes viewers wouldn't hear Wigand utter those words until the following year, when the interview, temporarily quashed by CBS corporate executives, finally aired -- 20 years ago today.
"The story itself was one of the most -- probably the most important story that was ever reported by 60 Minutes," recalls 60 Minutes Executive Producer Jeff Fager, who was then executive producer of the CBS Evening News. "It was just mishandled."
Wigand said his company had long known it was selling an addictive product, despite its CEO's testimony before Congress to the contrary. Originally hired to help Brown & Williamson develop a safer cigarette, Wigand said he was ultimately fired after clashing with his bosses.
"This was a watershed moment in understanding what cigarette smoke does and the company's complicity in trying to get people addicted," says Fager.
But Wigand's interview with Wallace, which 60 Minutes was preparing to air, created a rift at CBS. The company's legal department said it feared a multibillion dollar lawsuit for interfering with Wigand's confidentiality agreement with Brown & Williamson, and CBS ordered 60 Minutes not to run the story.
"It was a low point in our history and it wasn't, I think, anybody's fault at the broadcast," Fager says. "60 Minutes was under incredible pressure from the corporation."
On Jan. 26, 1996, The Wall Street Journal published a front-page story on Wigand. The CBS Evening News aired part of the Wigand interview that night, and 60 Minutes finally aired its full two-part interview with Wigand on Feb. 4. (Watch that story in full in the video player above.)
"The story itself was one of the most -- probably the most important story that was ever reported by 60 Minutes," Fager recalls. "It was just mishandled."
In 1999, "The Insider," a movie starring Russell Crowe as Wigand, hit the theaters. It chronicled both the in-fighting at CBS and the extraordinary efforts of Brown & Williamson to silence its former employee.
Ten years after the first Wigand interview, Mike Wallace spoke to him again for 60 Minutes. Wigand was still an anti-smoking crusader, but now he was spearheading laws to ban smoking in public places and warning school kids about the dangers of tobacco.
He told Wallace he was disappointed that 60 Minutes had wavered on getting his message out.
"I was disappointed that the industry had succeeded again in intimidation, particularly at freedom of press," he said.
But Wigand was pleased with where his own advocacy had taken him. "I don't think I've been this happy in a long time, Mike," he said. "I got a little fatter, a little grayer, but every day I know I've done something that makes a difference for another human being."
Fager says that times are very different today at CBS. The company was sold soon after the tobacco incident, and he says the people who run CBS now do not try to influence the stories on 60 Minutes. "There's still plenty to learn from what happened 20 years ago," says Fager. "Taking on powerful institutions is the hardest part of journalism, and often the most important. Reporting stories that someone doesn't want covered is what journalism is all about."
Thanks for reading CBS NEWS.
Create your free account or log in
for more features.