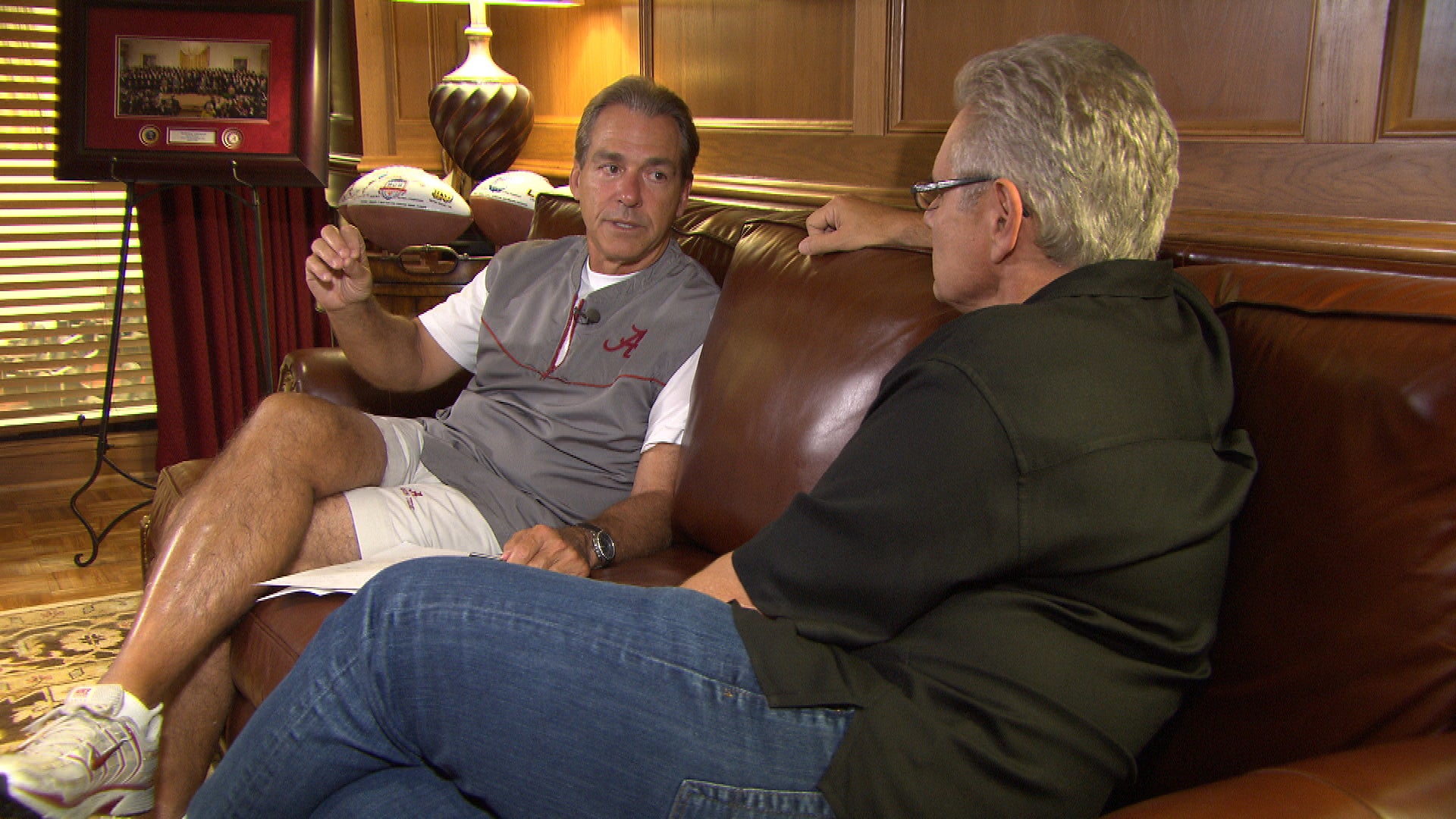 60 Minutes, behind-the-scenes with Nick Saban
This week, 60 Minutes viewers got to see why University of Alabama football coach Nick Saban is known as a perfectionist.
Correspondent Armen Keteyian and producer Draggan Mihailovich were granted eight months of rare access to Saban's Crimson Tide program and saw up close what it means to be the most dominant head coach in college football. It doesn't always look pretty.
60 Minutes cameras captured Saban on the field screaming at players, throwing his trademark straw hat in frustration, demanding perfection on every single play--all the while, yelling himself hoarse.
Because Saban appears to be so demanding of his players, what tends to get lost is the love his players have for him, says Keteyian.
"Deep down they understand that he's not just trying to turn them into the next great NFL player, he's trying to turn them into a great person," Keteyian said.
Saban delivers life lessons no matter where he goes, says the 60 Minutes team. When he isn't coaching college football, he spends his extra time coaching at the football camp he started for kids ages 8 to 14 years old.
The 60 Minutes cameras happened to be there when Coach Saban gave a nearly 20-minute lecture to the young players, a speech filled with tough love and lessons for a successful life. Mihailovich found himself drawn in-- and couldn't help but make notes for his own kids.
"I was learning life lessons from Nick Saban and trying to apply them to my kids," says Mihailovich. The producer says he thought to himself, "You've been in Alabama too long."
Keteyian had a similar feeling as he worked on the story. "You can't spend time around Nick Saban, without feeling that you're not measuring up in some way," Keteyian said with a laugh. "I spent a lot of time preparing [for the interview]. I always do, but with Nick, I spent even more because I did not want to disappoint him. I didn't wanna get "Sabaned." I've seen the look. Trust me, I did not want that look."
A focus on hard work and high standards is something Saban picked up from his father, Nick Sr., growing up in his hometown of Carolina, West Virginia.
When Keteyian asked Saban how his late father would react to his son's success, Saban said he envisioned a discussion on the need for even greater improvement: "No matter what the success level was, there would always be lessons to learn, things that you could do better and he would point those things out and it wouldn't be about the accomplishments," Saban said. "It would be more about how you could do it better, which I would appreciate by the way. I wouldn't take that the wrong way."
Editor's Note: This segment was originally published Nov. 3, 2013.
Thanks for reading CBS NEWS.
Create your free account or log in
for more features.