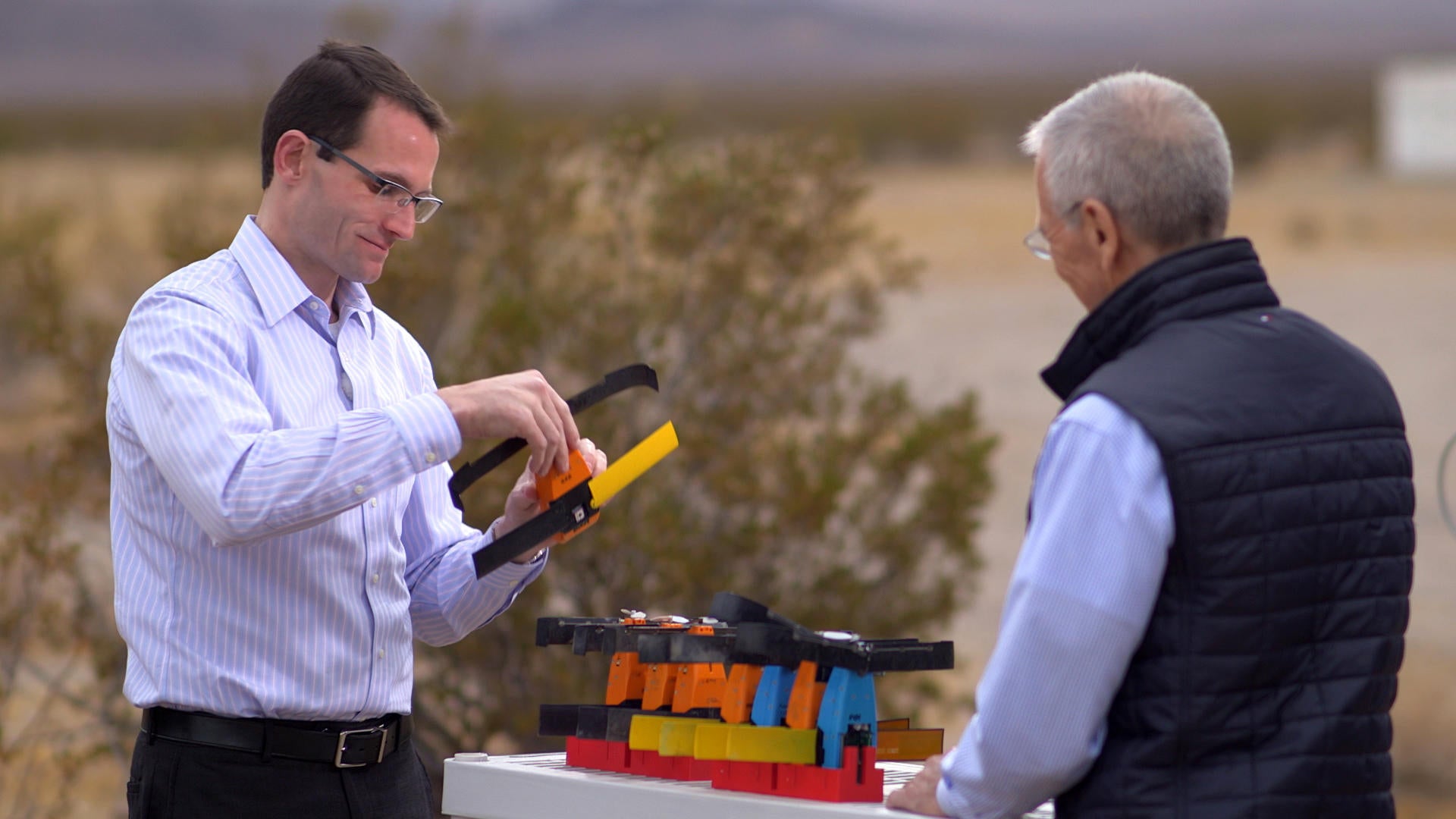 New generation of drones set to revolutionize warfare
The following is a script from "The Coming Swarm," which aired on Jan. 8, 2017. David Martin is the correspondent. Mary Walsh, producer.
One of the biggest revolutions over the past 15 years of war has been the rise of the drones -- remotely piloted vehicles that do everything from conduct air strikes to dismantle roadside bombs. Now, a new generation of drones is coming. Only this time they are autonomous -- able to operate on their own without humans controlling them from somewhere with a joy stick. Some autonomous machines are run by artificial intelligence which allows them to learn, getting better each time. It's early in the revolution and no one knows exactly where it is headed, but the potential exists for all missions considered too dangerous or complex for humans to be turned over to autonomous machines that can make decisions faster and go in harm's way without any fear. Think of it as the coming swarm, and if that sounds like the title of a sci-fi mini-series, well, stay tuned. As we're about to show you, it's already a military reality.
This swarm over the California desert is like nothing the U.S. military has ever fielded before. Each of those tiny drones is flying itself. Humans on the ground have given them a mission to patrol a three-square mile area, but the drones are figuring out for themselves how to do it. They are operating autonomously and the Pentagon's Dr. Will Roper says what you're seeing is a glimpse into the future of combat.
Will Roper: It opens up a completely different level of warfare, a completely different level of maneuver.
The drone is called Perdix. An unlikely name for an unlikely engine of revolution. Roper, head of a once-secret Pentagon organization called the Strategic Capabilities Office, remembers the first time he saw Perdix, which is named after a bird found in Greek mythology.
Will Roper: I held it up in my hands, it's about as big as my hand. And I looked at it and said, "Really? This is, this is what you want me to, to get excited about?" You know, it looks like a toy.
Perdix flies too fast and too high to follow, so 60 Minutes brought specialized high-speed cameras to the China Lake Weapons Station in California to capture it in flight.
Developed by 20 and 30-somethings from MIT's Lincoln Labs, Perdix, is designed to operate as a team, which you can see when you follow this group of eight on a computer screen.
Will Roper: We've given them a mission at this point, and that mission is as a team go fly down the road and so they allocate that amongst all the individual Perdix.
David Martin: And they're talking to each other.
Will Roper: They are.
David Martin: By what?
Will Roper: So they've got radios on and they're each telling each other not just what they're doing but where they are in space.
David Martin: How frequently are they talking back and forth to each other?
Will Roper: Many, many times a second when they're first sorting out.
David Martin: I mean, it looks helter skelter.
Will Roper: You want them to converge to a good enough solution and go ahead and get on with it. . . It's faster than a human would sort it out.
Cheap and expendable, Perdix tries to make a soft landing but it's no great loss if it crashes into the ground.
Perdix can be used as decoys to confuse enemy air defenses or equipped with electronic transmitters to jam their radars.
David Martin: This one looks like it has a camera.
As a swarm of miniature spy planes fitted with cellphone cameras they could hunt down fleeing terrorists.
Will Roper: There's several different roads they could have gone down. And you don't know which one to search. You can tell them, "Go search all the roads," and tell them what to search for and let them sort out the best way to do it.
The Pentagon is spending $3 billion a year on autonomous systems, many of them much more sophisticated than a swarm of Perdix.
This pair of air and ground robots runs on artificial intelligence.
Jim Pineiro: I'm going to say "start the reconnaissance."
They are searching a mock village for a suspected terrorist, reporting back to Marine Captain Jim Pineiro and his tablet.
Jim Pineiro: The ground robot's continuing on its mission while the air robot is searching on its own.
The robots are slow and cumbersome but they're just test beds for cutting edge computer software which could power more agile machines -- ones that could act as advance scouts for a foot patrol.
Jim Pineiro: I would want to use a system like this to move maybe in front of me or in advance of me to give me early warning of, of enemy in the area.
David Martin (standup): This time I'm the target. The computer already knows what I look like, so now we'll see if it can match what's stored in its memory with the real thing as I move around this make-believe village.
The robots' artificial intelligence had done its homework the night before, Tim Faltemier says, learning what I look like.
Tim Faltemier: We were able to get every picture of every story that you've ever been in.
David Martin: How many pictures of me are there out there?
Tim Faltemier: When we ran this through, we have about 50,000 different pictures of you that we were able to get. Had we had more time we probably could've done a better job.
David Martin: So because you've got 50,000 pictures of me, how certain would you be?
Tim Faltemier: Very.
David Martin: Now it's looking at me.
Tim Faltemier: It recognized you instantly.
Tim Faltemier: So, what we reported today on our scores we're about a one in 10,000 chance of being wrong.
While the robot was searching for me inside an auditorium at the Marine Corps base in Quantico, Virginia, Lt. Cdr. Rollie Wicks was watching from a missile boat in the Potomac River.
Rollie Wicks: What I was doing was, I was turning over control of the weapon system to the autonomous systems that you've seen on the floor today.
Had Wicks given permission to shoot, the missile would have struck my location using a set of coordinates given to it by the robots.
Rollie Wicks: They were controlling a remote weapons system. They were controlling where that weapons system was pointing, with me supervising.
It will be about three years before these robots will be ready for the battlefield. By then, Captain Pineiro says, they will look considerably different.
David Martin: Will those robots when they reach the battlefield will they be able to defend themselves?
Jim Pineiro: We are looking into that. We are looking into defensive capability for a robot – armed robots.
David Martin: Shoot back?
Jim Pineiro: Correct.
This Pentagon directive states "autonomous . . . Systems shall be designed to allow commanders and operators to exercise appropriate levels of human judgment over the use of force."
What that means, says General Paul Selva, vice chairman of the Joint Chiefs of Staff, and the military's man in charge of autonomy, is that life or death decisions will be made only by humans -- even though machines can do it faster and, in some cases, better.
David Martin: Are machines better at facial recognition than humans?
Paul Selva: All the research I've seen says about five years ago machines actually got better at image recognition than humans.
David Martin: Can a disguise defeat machine recognition?
Paul Selva: If you think about the proportions of the human body there are several that are discrete and difficult to hide. The example that I will use, as I look at you, is the distance between your pupils. It is very likely unique to you and a handful of other humans. A disguise cannot move your eyes.
David Martin: So if I have a ski mask on that doesn't help?
Paul Selva: Not if your eyes are visible. If you have to see, you can't change that proportion.
David Martin: So, if the machine's better, why not let it make the decision?
Paul Selva: This goes to the ethics of the question of whether or not you allow a machine to take a human life without the intervention of a human.
David Martin: Do you know where this is headed?
Paul Selva: I don't.
Virtually any military vehicle has the potential to become autonomous. The Navy has begun testing Sea Hunter, an autonomous ship to track submarines. Program manager Scott Littlefield says that when you no longer have to make room for a crew, you can afford to buy a lot of them.
Scott Littlefield: You could buy somewhere between 50 and 100 of these for the price of one warship.
David Martin: I've heard somebody describe this ship as looking like an overgrown Polynesian war canoe. Why does it look like it does?
Scott Littlefield: To be able to go across the Pacific Ocean without refueling, this hull form, the, the trimaran, was, was the best thing we could come up with.
David Martin: What is its range?
Scott Littlefield: We can go about 10,000 nautical miles on, on, on a tank of gas – 14,000 gallons.
Sea hunter is at least two years away from being ready to steam across the Pacific on its own. Among other things, it has to learn how to follow the rules of the road to avoid collisions with other ships. When we went aboard it had only been operating autonomously for a few weeks and there was still a human crew – just in case.
When testing is done, this pilot house will come off and the crew will be standing on the pier waving goodbye. From then on this will be a ghost ship commanded by 36 computers running 50 million lines of software code. And, these life lines will have to come off too since there's no need for them with no humans on board.
It has a top speed of 26 knots and a tight turning radius which should enable it to use its sonar to track diesel-powered submarines for weeks at a time.
Scott Littlefield: Many countries have diesel submarines. That's the most common kind of submarine that's out there.
David Martin: China?
Scott Littlefield: China has them.
David Martin: Russia?
Scott Littlefield: Russia has them.
David Martin: Iran?
Scott Littlefield: Iran has them.
David Martin: North Korea?
Scott Littlefield: Yes.
David Martin: I think I get the picture.
Scott Littlefield: Yes.
But of everything we saw, tiny Perdix is closest to being ready to go operational – if it passes its final exam. Will Roper and his team of desert rats are about to attempt to fly the largest autonomous swarm ever: 100 Perdix drones.
Will Roper: This is one of the riskiest, most exciting things that's going on right now in the Pentagon.
Risky not only because the swarm would be more than three times larger than anything Roper's ever done before but also because 60 Minutes is here to record the outcome for all to see.
David Martin: Why are you letting us watch?
Will Roper: Couple of reasons, David, I, I, when this first came up, I have, I have to be honest with you, my first response was, "That sound, sounds like a horrible idea." Right? I mean, it's just human nature. I, I don't want this to fail on camera. But I did not like the fear of failure being my only reason for not letting you be here. And we also wanted the world to see that we're doing some new things.
This time, the Perdix will be launched from three F-18 jet fighters, just as they would on a real battlefield.
Will Roper: There they are.
David Martin: Yup.
Will Roper: All right. A little piece, a little piece of the future.
The F-18s are traveling at almost the speed of sound, so the first test for Perdix is whether they will survive their violent ejection into the atmosphere.
[Radio: Complete…104 alive.]
Will Roper: That's 104 in the swarm, David.
David Martin: 104 alive.
Will Roper: That's 100 swarm. There they are. You see them?
David Martin: Yeah, yeah.
Will Roper: Look at them, Look at them.
Will Roper: They flash in the sun as the come into view.
David Martin: There's a – oh yeah.
As the Perdix descend in front of our cameras, they organize themselves into a tighter swarm. Imagine the split-second calculations a human would have to make to keep them from crashing into each other.
Will Roper: Look at that! It's just everywhere you look it's coming into view. It does feel like a plague of locusts.
Will Roper: So they're running out of battery.
There are reams of data that still have to be analyzed but roper is confident Perdix passed its final exam.
[Radio: One vehicle down.]
And could become operational as early as this year.
David Martin: I've heard people say that autonomy is the biggest thing in military technology since nuclear weapons. Really?
Will Roper: I think I might agree with that, David. I mean, if what we mean is biggest thing is something that's going to change everything, I think autonomy is going to change everything.
Thanks for reading CBS NEWS.
Create your free account or log in
for more features.