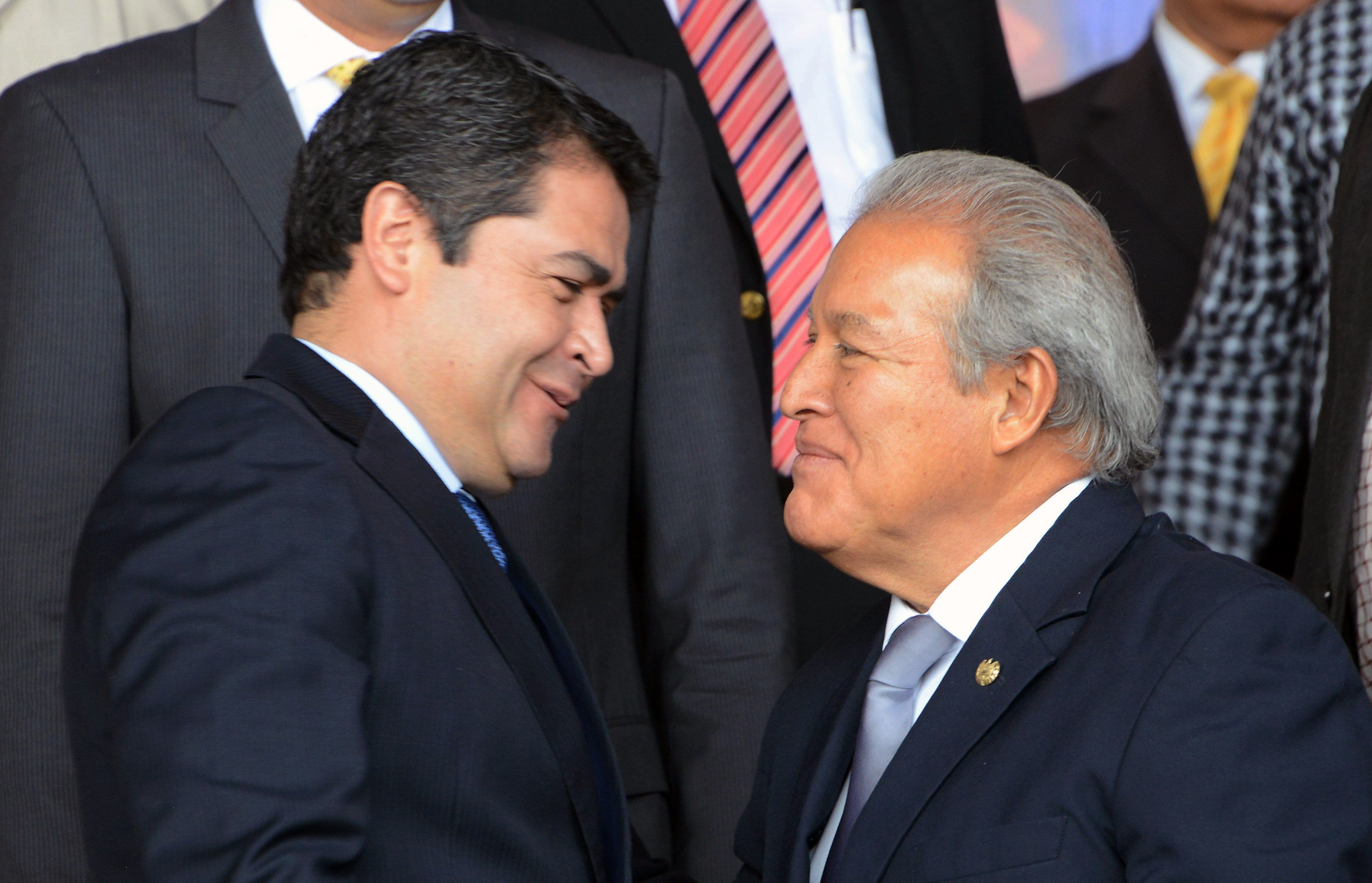 5 immigration issues Central American leaders will raise with Obama
President Obama will sit down Friday with the presidents of Honduras, El Salvador and Guatemala - the three countries that have been the greatest source of children illegally crossing the U.S.-Mexico border.
In addition to their meeting with Mr. Obama, the leaders are visiting Capitol Hill and are taking part in a panel discussion - and they're armed with a laundry list of issues to discuss with U.S. leaders.
Deportations
The U.S. is already sending planeloads of apprehended Central Americans back to their home countries, and children who have arrived with their parents are starting to make the trip back as well.
The administration has spoken about the need to speed up the removal of unaccompanied children who have no valid claim to stay in the U.S., and though Congress is still grappling with the question of whether to change the laws to speed up deportations, the administration insists that most of the children who have been apprehended will not be allowed to stay.
"I would like to ask congressmen and senators and those who make political decisions in the United States that they think first in the interest of the child, because the child as well being a human being, is more vulnerable than the adult. But also they [children] go with the very human, very natural desire to be with their parents," Honduran President Juan Orlando Hernandez said in recent interview with Time Magazine.
Family reunification is a common theme with the three presidents. Salvadoran President Salvador Sanchez Ceren told reporters after a meeting with Vice President Joe Biden last month that it should be easier for immigrant parents in the U.S. to legally reunite with the children who are trying to join them, according to the Associated Press.
Hernandez also asked that unaccompanied children being deported from the U.S. not be sent alongside with immigrants who were removed from the U.S. for committing crimes.
U.S. Immigration Policy
The wave of unaccompanied children at the border seemed to be the final nail in the coffin for a broad overhaul of the U.S. immigration system, which already seemed extremely unlikely as the crisis came to a head earlier this summer. But the Central American leaders haven't given up on the idea just yet.
"As Guatemalans, we support the efforts that have been made by the U.S. government. President Obama and Vice President Biden have been pushing immigration reform which we know depends on the Republican Congress," Guatemalan President Otto Perez Molina told reporters in Spanish when he met with Biden in June.
It ties into the desire the leaders have expressed for family reunification. And there's also an economic reason some leaders to let their citizens remain in the U.S.
"There's an economic incentive for the government of El Salvador to have Salvadorans in the United States working," Charles Glazer, the U.S. ambassador to El Salvador under President George W. Bush, told CBS News. He explained that the many of the more than 2 million Salvadorans who live in the U.S. send money back to their home countries. That cash has "a major impact on their economy," he said, noting it was estimated at 17 or 18 percent a few years ago.
Molina, the Guatemalan president, has also floated the idea of a temporary legal status for certain Guatemalans. He noted that some Hondurans and Salvadorans have this special status, which is granted when a country's nationals cannot return home safely after events like wars or natural disasters (both of those countries' statuses were related to natural disasters).
"I would be surprised if they didn't talk about immigration and immigration reform and the need to deal with that issue," Carl Meacham, the director of the Americas Program at the Center for Strategic and International Studies, told CBS News.
While there is some support for U.S. immigration reform - particularly if it will make family reunification easier - Hernandez also told Time that it is time for the U.S. to define its immigration rules "with clarity." When U.S. policy lacks clarity, smugglers convince parents to pay to have their children sent north, Hernandez said - making a similar argument to many Republicans in Congress.
Security Cooperation
Experts say that the key to stopping the flow in the long run is to improve safety and economic opportunity in Central America - the "root causes" that push people to leave. Part of that will involve combating the many gangs and other organized criminal elements that terrorize civilians in these countries.
The U.S. created a program called the Central America Regional Security Initiative (CARSI) aimed at helping create stronger governments and safer communities, but Meacham said that studies have shown less than half the program's funds have been committed or paid out because there isn't a sufficient way to track resources or impact. However, Central American governments will still look to the U.S. for help creating a safer environment, as the U.S. has done before with initiatives in Mexico and Colombia.
"You really haven't had the effective implementation or oversight of that investment," Meacham said.
Economic Development
The other half of the equation to improve life in Central American countries is providing economic opportunity. Honduran Foreign Minister Mireya Aguero suggested last week that the U.S. create a "mini-Marshall plan," according to Reuters, in the style of the U.S. plan to help rebuild Europe after World War II.
Molina, the Guatemalan president, also told Biden last month that the U.S. should think about ways to have temporary work programs for Central Americans so they don't have to leave their families permanently - an idea that is part of larger immigration reform. Meacham said that would be high on the list for many residents of those countries.
"A lot of them don't want to stay [in the U.S.] because they're leaving their families so they want arrangements that basically allow for them to...work here so they can send money home," he said.
The Drug Trade
In his Time interview, Hernandez, the Honduran president, said the U.S. shares responsibility to combat violence in Central America fueled by organizations that move drugs to consumers in the U.S.
"In the United States, many officials see the drug problem as basically one of health, as how much it costs to treat an addict and stop them getting involved. But for us it is life and death. That is the difference," he said. "This is a problem they generate, I repeat, because of the connection between the drugs they consume in enormous quantities in the United States that are produced in the south and pass through Central America, generating violence, generating this migratory flow."
It could put Obama in a difficult spot, Meacham noted, since he will have to defend federal drug policy even as some states are taking steps to legalize marijuana.
"But I also think that its tough for them just to blame it on us," he said. "I think there's some issues there about what kind of commitment the presidents in Central America have demonstrated towards this fight."
Thanks for reading CBS NEWS.
Create your free account or log in
for more features.