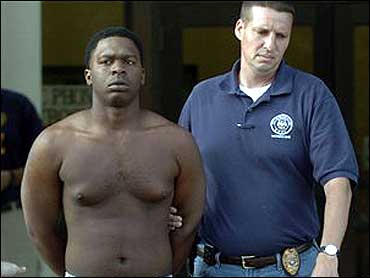 5 Dead In Louisiana Church Shooting
A man opened fire Sunday morning at a church hitting five people, four of them fatally before abducting his wife, whom he later shot to death at another location, authorities said.
Church members wept as they watched investigators examine evidence and search for clues.
The suspect, Anthony Bell, 25, of Baton Rouge, was captured at an apartment complex near the church. Three children abducted with the woman were all found safe.
"This is going to be one of the worst days in the history of our city," Police Chief Jeff Leduff said after Bell was captured and his wife's body was found at the apartment complex. Her name and those of the other victims were not immediately released.
Bell is accused of shooting five people at the church before fleeing, Sgt. Charles Armstrong said.
CBS affiliate WAFB reports that one of the shooting victims died after being transported to the hospital and the surviving victim is listed in critical condition. Police say two of those killed are females and one man, all older in age.
It was unclear whether Erica Bell, 24, was killed at the complex, police said. Her three children, including an infant, also taken from The Ministry of Jesus Christ church were found safe, officials said.
Erica Bell's mother, church pastor Claudia Brown, was wounded and was in serious condition at a hospital, police said, but would not provide further details.
Jeffrey Howard said his mother had been shot in the back of the head.
Anthony Bell faces charges of murder, attempted murder and kidnapping.
Investigators did not know the motive for the shooting at The Ministry of Jesus Christ church.
"This is senseless. This is a total waste of human life," Leduff said.
The small church shares space in an old warehouse with a guitar shop in a nonresidential area of Baton Rouge. Bell is believed to have entered and opened fire shortly before services were to end around 10 a.m.
After shooting five people, Bell fled with his wife and with three children, including an infant, police said. The two older children were found safely at a residence.
Hours later, police responding to a 911 call about a shooting cordoned off the apartment complex. Officers found the woman dead and Bell holding the baby, Leduff said. Bell was arrested without incident.
At first police said the three children belonged to the couple. They later said it was unclear whether Bell was the father of all three.
Thanks for reading CBS NEWS.
Create your free account or log in
for more features.