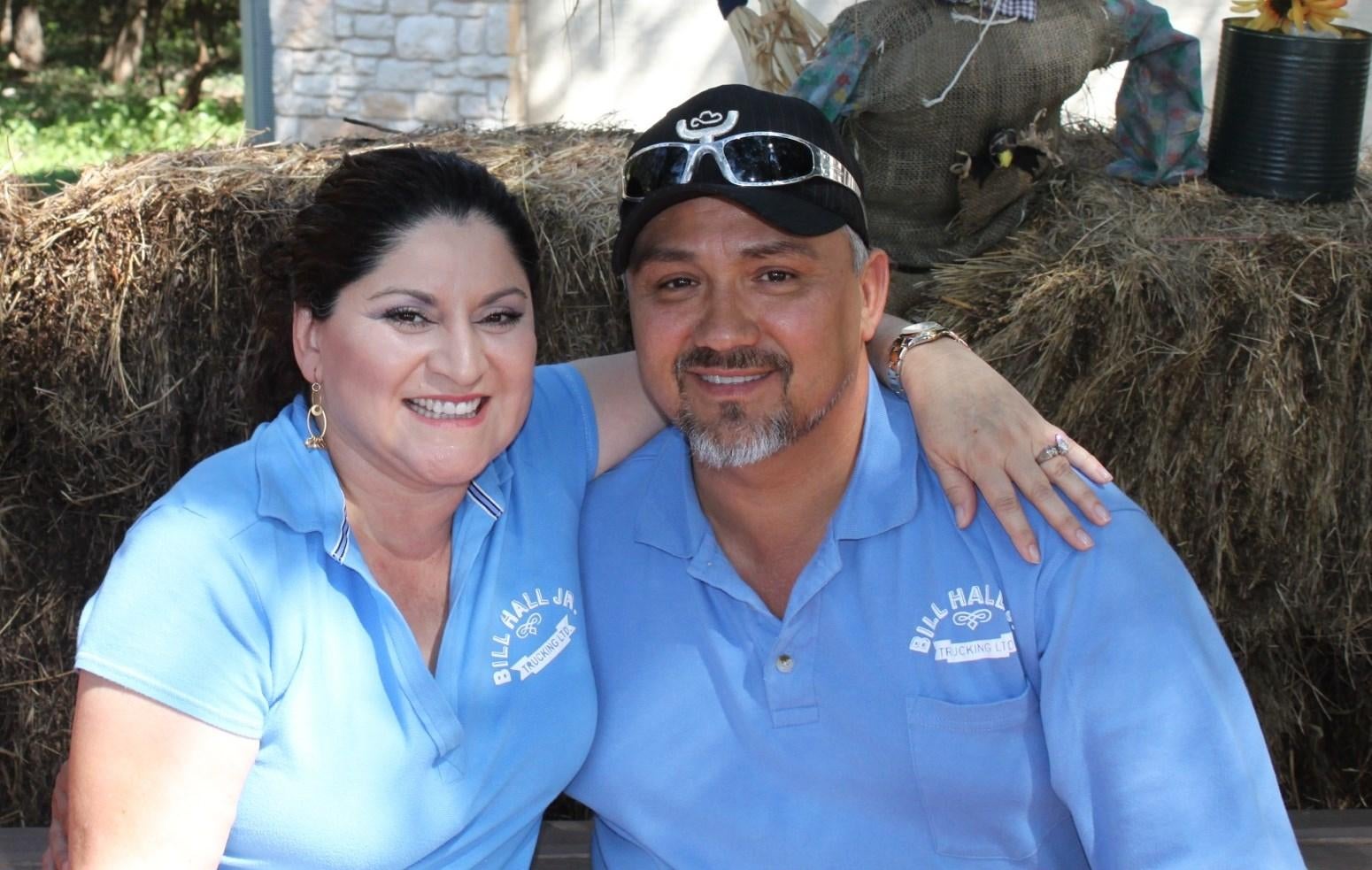 Produced by Paul LaRosa, Ryan Smith, Claire St. Amant, Jonathan Leach, Josh Gelman and Jamie Stolz

[This story first aired on Oct. 15, 2016. It was updated on June 10, 2017.]
Nikki Hall and her brother, Justin, had great times at their family home during the 32-year marriage of their parents, Bill and Frances Hall.
"We spent Christmases, Thanksgivings -- almost every holiday was spent here -- in this room.
During Christmas my mom loved watching everyone open their gifts," Nikki Hall told "48 Hours" correspondent of the family's living room. "This is the home that they built together."
Nikki says being a member of the Hall family meant having loads of fun.
"Give me a sense of what kind of a mother Frances was and what kind of a person she is," Van Sant asked Nikki.
"Just a loving, kindhearted, honest individual. She is always willing to lend a hand … especially when it came to my brother and I," she replied.
"She was more of the disciplinary [sic]. My dad was the one that said, 'Let's just spoil them. Let's give 'em, you know, whatever they want,'" said Nikki.
And Bill Hall could spoil his children because he and Frances, who got married when they were just 18, had built an empire on wheels.
Bill and Francis Hall bought their first truck in the early 1980s. And then, they grew Bill Hall Jr. Trucking into a multimillion-dollar business -- at its height, worth $15 million.
"As a child growing up, I saw a lot of love in my home. My parents worked together, so at times, it wasn't all love, but at the end of the day, they came home together. Mom cooked dinner, Dad was there," said Nikki.
After Nikki and her brother became adults and moved out of the family home, Bill began to indulge his own whims. He bought a Harley Davidson Street Glide bike that he customized and painted powder blue, his company color.
"He's a daredevil. He liked to drive crazy fast cars, bikes, 18-wheelers," Nikki explained. "He loved life in the fast lane."
Fast cars and lots of women. Bill had cheated on his wife for years and Frances knew it, but forgave him, as Bill confided to his best friend and cousin, Hank Hall, a fellow trucking millionaire.
"Do you think Bill still loved Frances or was he ready to move on?" Van Sant asked Hank Hall.
"Bill adored Frances," he replied. "Bill loved Frances so much that it was unbelievable. But what happened is – and -- and tell me if I'm wrong or right. When … you cheated in the past and she stuck with you, right, it kinda makes it seem like it's OK, right? … So if he gets caught again, you know, he might getting another pass."
The new someone in Bill's life was Bonnie Contreras, then a 28-year-old former exotic dancer. And when she met the aging playboy with the well-stuffed wallet at a spinach festival, it was a match made in Texas heaven.
"Her story is that she was helping her aunt or someone sell chicken on a stick," attorney Leigh Cutter explained. "And she just happened to see these five guys and he was dressed really nice … I mean, he met her supposedly for two minutes. …I think she said, 'We locked eyes and I knew … I knew right then.'"
Bonnie and Bill's relationship lasted for three years, and she told a local CBS station all about it.
"I loved this man with everything I have. I still do," she said.
Bonnie knew that Bill was married, with children and grandchildren, but she claims Bill told her he was getting a divorce.
"I wanted to have a family with him. My plans were to get married, to have a home, and to live the rest of my life with this man," said Bonnie.
In many ways, Bill treated Bonnie as a true love. He showered her with money, paying her rent, buying her two cars -- a BMW and a Mercedes -- and even paying for her breast enhancement surgery.
"He was excited by her in the beginning. You know, she was an attractive … younger woman that, you know, wanted to do everything she could to be the center of his attention," said Cutter.
But by 2013, Bill Hall's friends say he was losing interest and trying to avoid Bonnie. That strategy backfired in a big way on one Friday the 13th.
"She kept calling Bill and Bill would decline her calls," Cutter said. "And all the while, Bonnie's texting Bill, saying, 'I'm gonna tell your wife. I'm gonna tell her about us,' and ultimately calls Frances."
Bill now had to contend with two angry women -- his wife, Frances, and his girlfriend, Bonnie.
"After she makes the call … she … really takes it up a notch and she starts going to Frances and Bill's house. She'll take pictures of the outside of the house and then she'll text it to Bill," Cutter continued. "And then she'll text it to the wife and say, you know, ugly, ugly nasty things to the wife."
The two women engaged in a vicious texting war, exchanging hundreds of nasty messages.
"I was just defending myself. And never once did I threaten her. I never once threatened that woman," said Bonnie.
But that's not how it seemed to Frances' daughter.
"Was it a little frightening on this end to be getting these kinds of communications and photos and anger expressed?" Van Sant asked Nikki. "Even pictures taken outside of this house of the family vehicles letting you know, 'I'm here'?"
"It was very scary," she replied. "…she had over 4,000 pictures of him and her. And she was gonna just put those out on Facebook. She had our addresses –"
"To humiliate him? Destroy his reputation?" Van Sant asked.
"Yes. Yes," Nikki affirmed.
"I'm a good person. I never mean no harm on anybody and never once confronted his kids," Bonnie said. "I would never threaten anybody in that way."
Bill and Frances decided to get away for a long weekend to try and patch things up, but Hank Hall says Bonnie Contreras ruined the trip with her relentless texting.
"She went 100 miles an hour, man. In other words, 'I'm not gonna lose this guy,'" he told Van Sant. "Because he was going back to his family and trying to get away from her."
Hank Hall says Bonnie unleashed a torrent of angry and inappropriate texts, including naked photos of her having sex with Bill. Frances lost it. She physically assaulted Bill and kicked him out of the house.
"She just got up and whooped him. And said, 'You're not – you -- you need to get out. Get outta my house," he explained.
Bill spent the night at Bonnie's place. The next day was Oct. 10, 2013. Frances and Bonnie were about to unexpectedly meet on a two-lane Texas highway called Loop 1604.
"Frances sees her husband drive by on that big blue motorcycle," Cutter said. "…a few seconds later … for the first time ever, she lays eyes on Bonnie Contreras, this woman who is ruining her life."
Frances had finally had enough and was about to take a turn that led to an accusation of murder.
"…and she grabs the steering wheel and she just goes … 'I'm gonna go confront her,'" said Cutter.
TOXIC LOVE TRIANGLE
On Oct. 10, 2013, a stretch of Texas Highway 1604 became a crime scene where jealousy and rage would intersect, and someone would soon be in handcuffs. The day began innocently enough. Frances Hall was driving home after watching a volleyball game when she spotted her husband's mistress.
"At this point in time, 28 days have passed since she's found out about the affair," said Leigh Cutter, a defense attorney representing Frances Hall.
Cutter says that, by this time, Frances was sick of Bonnie interfering in her marriage.
"I think at one point Bill and Frances go to the movies and she knows about it and literally sits three rows back behind them, watching them the entire time, texting Bill and just going crazy," Cutter explained. "It's pretty insane."
So when Frances noticed Bonnie on the road that October day, her motor was revving. What made it worse, Bonnie was driving the Hall family Range Rover -- a vehicle Frances often drove. Frances makes a U-turn and floors it.
"They're coming this way. They're still going 85, 90 miles an hour," Cutter told Van Sant as they stood at the shoulder of the highway.
"So Frances is getting behind Bonnie and every time she gets close to her … Bonnie will brake check her over and over again," Cutter said. "…it's this … cat-and-mouse game."
"Francis Hall gave chase at a high rate of speed. Different witnesses called 911 and indicated that two black SUV's are racing. And it probably appeared that that was the case," said attorney Adam Cortez, who also represents Francis Hall.
"No one knows exactly what happened, not Frances Hall. Bonnie Contreras definitely does not," said Cortez.
Actually, Bonnie says she knows exactly what happened. And she told her version of events to attorney Leigh Cutter in a video deposition. Bonnie says she was driving down the highway when, out of the blue, something hits her back bumper:
Bonnie Contreras deposition: At first I thought it was an accident; maybe somebody had hit me from behind by accident. But then when I looked back through the rearview mirror, I saw that it was Ms. Hall, Frances.
Frances was driving a Cadillac Escalade, a giant SUV.
Bonnie Contreras deposition: Then she hit me more times. I then got thrown onto oncoming traffic. After I got thrown into oncoming traffic, I was fighting cars coming at me.
Bill was riding on his Harley motorcycle, also speeding down the highway. Bonnie says he somehow got in between the two women's SUV's. Bonnie was in the lead vehicle.
Bonnie Contreras deposition: I see her clearly behind Bill and I'm thinking to myself, "She's not going to hit Bill," like, I don't think she had the heart to do that. So then I was just driving and then I was -- I started screaming because I saw the Escalade [was] getting closer and closer to him.
Cutter asks Bonnie to demonstrate with toy cars what she says happened on the road.
Bonnie Contreras deposition: Now Bill's over here and I'm speeding up and I see Bill and I'm wanting to stop but I don't stop because I'm fearing for my life. I don't know what she's thinking, what she has in the vehicle, if she has any weapons. I don't know what she's thinking in her head. And I see the Escalade coming and then she just -- boom, she hits him, he flies off, the bike flies off.
Bill was not wearing a helmet and suffered major blunt-force injuries.
Bonnie Contreras deposition: She doesn't stop in her tracks at all.
Neither woman called 911.
Bonnie Contreras deposition: …and then she starts to hit me from behind again.

Bonnie Contreras deposition: I … do a really, really fast U-turn right there. I almost hit a pole … and she did the U-turn really quickly behind me. Then I started speeding back up towards where the accident had happened and then was speeding up behind me. She then continuously was hitting me. I sped up the Range Rover up to like 100.
Bonnie claims Frances rear ended her up to 15 times. Eventually, both women pulled over at the spot where Bill had been knocked off his Harley. The police were called as dusk turned to night. Hank Hall and other family members -- alerted by phone calls from Bonnie and Frances -- were at the scene, just a few miles from the Bill's trucking company.
"Bill was laying on the ground, he was breathing like, you know, real hard," Hank Hall told Van Sant. "I screamed out, and said, 'What the hell is going on?' You know, like mad."
"There was a police officer trying to tell me, 'Hey, calm down.' 'Cause, when he heard my voice, Bill started breathing faster. And he was trying to, kinda say something, but he was breathing hard, you know," he continued.
"Did he look at you?" Van Sant asked Hank Hall.
"Yeah, he knew I was there," he replied. "I know that he knew that Frances was there. …He knew that I was there."
Nikki Hall and other family head to the hospital, where hours pass before they are told the devastating news.
"…they told us, you know, 'He has passed away,'" she explained. "So we were just completely in shock. I though maybe he'll have a couple of injuries, you know, a broken arm, broken leg, something like that. But never -- never death. I never expected that."
In shock, Nikki goes to find her mother, only to be shocked again.
"'Where is my mom? How do I get a hold of my mom?' Well, I learned that she's arrested … in jail," she said.
Frances is being interrogated by police. After Bill dies, she is read her rights and she requests at attorney. But she cannot help blurting out what's racing through her mind:
Frances Hall to detective: I've been with him since I was 16. I'm just in shock.
There is nothing more to say. Frances Hall was charged with felony murder and aggravated assault on Bonnie Contreras.
"I was without both of my parents," Nikki said. "We finally get a call around 5:00 in the morning."
It was her mom.
"And she was like, 'I know what happened to your dad. And I can't believe this happened … I just can't believe it,'" said Nikki.
The tragic turn of events tore the close-knit Hall family apart. Hank Hall, Bill's closest friend, blamed Frances for his death.
"I was upset at her. I was really, really mad at the point that … she took my best friend," Hank Hall told Van Sant.
Bill Hall was gone, but Frances swears his death did not happen the way Bonnie described to police. And positively did not hit Bill's motorcycle with her front bumper.
"It was -- an accident. I would have never in a million years have hurt my husband," she told Van Sant in tears.
But will anyone believe her? If not, she could spend the rest of her life behind bars.
A WIFE'S STORY
During their 32-year-long marriage, life for Bill and Frances Hall was filled with family, wealth and happiness.
Frances had everything money could buy, except her husband's fidelity.
After Bill Hall Jr. died on Oct. 10, 2013, Frances Hall hadn't spoken with any reporter until she met with "48 Hours" to tell her version of what happened on that stretch of highway.
"Hey Francis. I'm Peter Van Sant."
"Hi," she replied from behind a glass window at jail. "I know who you are."
"From your perspective, this was what?" Van Sant asked.
"An accident that I didn't -- I don't even know how," Frances said in tears. "But it was -- an accident. I would have never in a million years have hurt my husband."
"You did not murder him," Van Sant asked.
"No," she cried. "I – no -- never would I have hurt him."
Remember, in the weeks leading up to the confrontation, Frances had received dozens of insulting, taunting text messages from her husband's mistress, Bonnie Contreras -- including photos of the two of them having sex. On that October day, Frances is driving home from her niece's volleyball game.
"…And I -- and I see him in his bike," Frances continued.
"His motorcycle," Van Sant clarified.
"On his motorcycle. And I see her a few car lengths in back," Frances said. "I pulled over and I stopped."
"I get a phone call from my mom," Nikki Hall said. "…and she said, 'I just saw your dad. And I just saw Bonnie. I'm turning around. I'm gonna confront her.' I said, 'Go ahead, you do what you gotta do.'"
"What were you planning to do when you made that U-turn?" Van Sant asked Frances.
"I wanted her to pull over. I wanted her to pull over. I wanted to confront this woman. I wanted to tell her, 'Leave me the freak alone already. That's enough. I can't take you. If you want him, you can have him. Just leave me and my family out of this,'" she replied.
"Immediately after we got off the phone I called Bonnie. And I told her -- I left her a message," Nikki said. "And I told her, 'I -- told you to watch your back, you f-----g bitch slut."
Frances floors it, quickly catching up to her husband and his mistress. It's at this moment that Frances' and Bonnie's stories part ways.
"He was in front. She was in the back. And I was -- in the back. I would come up to her, pull off to the side and tell her to pull over. She'd say, 'No,'" said Frances.
"Are you gesturing … or was your window down, 'Pull over,'" Van Sant asked.
"No. I was just -- I'd go to -- on the yellow line and tell her to pull over. She went, 'No. No.' I could see her. She kept breaking on me. As soon as I'd come up next to her she'd break and I'd break," said Frances.
"And you bumped the back of her car?" Van Sant pressed.
"Never did I touch the car," Frances replied.
Again, Bonnie Contreras claims Frances hit her back bumper multiple times.
"She's lying," Frances told Van Sant.
"While this is going on," Cutter explained, "Bill actually comes to this unfinished shoulder right here and pulls to the side of the cars, lets both cars pass him."
"I saw him from my passenger window. I passed Bill. I saw him as I'm driving," Francis continued. "And as soon as I looked to the front, she braked."
"They're coming 80 miles-an-hour down here. Bonnie brakes. And it creates this chain reaction. And Bill has to react," Van Sant noted to Cutter.
"Bill has to react. And while he's reacting, remember, Frances is reacting in that Escalade," she replied.
Bonnie swears that at that moment she saw -- in her rear view mirror -- Frances hit Bill head-on, knocking him off the highway. Frances says that's a lie.
"I had already seen him pass me. So it so false the way they said that I hit him and that I knew what I was doing. I never hit him head on," she told Van Sant.
Cutter has studied every inch of the accident scene and the three vehicles involved. She is certain of what unfolded from Francis' perspective.
"And so her car is fishtailing a little bit while she's doing it as Bill's coming to the side in that big, old Harley. And they -- they make contact … And Bill ultimately ends up, actually, right behind you in this big, tall grass down here," Cutter pointed out to Van Sant.
And yet, according to Frances, in the chaos of the moment, she never saw, felt or heard Bill's crash.
"You didn't look in your rearview mirror? You didn't see a scene behind you as you drove on --" Van Sant asked Frances Hall.
"No. No. I didn't see anything. I -- my focus was in the front 'cause she kept braking on me. And braking and braking," she replied.
"So based on what you are telling me right now, was this an accident? Or was this some form of murder that occurred out on this highway?" Van Sant asked Leigh Cutter.
"You know, Peter, if anyone is guilty of anything, I would say it's Bonnie Contreras of reckless driving. Because everyone else had to react to her actions. But … It was just a tragic accident," she replied.
"Not murder," Van Sant queried.
"Absolutely not murder," Cutter replied.
And Cutter is ready for battle. She's a former Marine ROTC with a history of winning on the big stage; she was once a teen beauty queen.
"Nothing is harder than defending someone that you know and believe in your heart is innocent," she said.
Attorney Adam Cortez, a former boxer, will also represent Frances. He brings a brawler's attitude into the courtroom.
"Frances Hall is -- a nurturer. She's everyone's mother. She's everyone's rock," he told "48 Hours." "To say that she was intentionally trying to hurt Bill Hall, a man she's loved and still loves and always will love, I mean that's just a ludicrous idea."
"Frances, what do you want people to know about you?" Van Sant asked.
"That I am not the person they portrayed me to be. I'm a very compassionate and a sincere woman," she replied tearfully. "He is the love of my life and will always be the love of my life."
"Who do you believe is ultimately responsible? The most responsible for your husband's death?" Van Sant asked.
"I would say it was her," she replied.
ACCIDENT OR MURDER?
Police Dispatch: I got a black Escalade and a black Range Rover driving on the … wrong side of the road. …They're traveling at a high rate of speed … 90, 100 miles per hour. …acting like idiots.
At the heart of this case is one simple question: is what happened on a rural highway in Texas an accident or an act of murder?
"I sympathize wanting to confront your husband's mistress, but engaging in road rage? No. That's unacceptable," said Prosecutor Stephanie Paulissen.
For Paulissen, the deadly confrontation that occurred along the dusty stretch of highway was nothing short of murder. And her co-counsel, Scott Simpson, knows they will have to convince jurors that this was not a justifiable killing.
"Oh, we knew it was gonna be a difficult case, but not because of the facts. All of my female friends kept telling me throughout trial, they would keep saying, 'He had it coming,'" he said.
"I don't think that he had death coming. He had a divorce coming," Paulissen added. "If everybody were sentenced to death for being a philanderer … what would the population look like?"
On Aug. 30, 2016, nearly three years after Bill Hall's tragic death, the murder trial of his wife, Frances, got under way. And for the first time since that deadly chase, Frances came face to face with the woman she blames for all of this: her husband's mistress, Bonnie Contreras.
Right away, Bonnie tells the jury she and Bill were targeted that day.
"I see her hit Bill with the truck and I see him fly off the motorcycle and then I see the bike fly," she testified, becoming emotional.
In her video deposition, Bonnie, using toy cars, demonstrated what she says she saw in her rearview mirror:
Bonnie deposition: I see the Escalade coming … and then, she just boom! She hits him. He flies off the bike. …She kept hitting me and hitting me and going faster and faster.
And Bonnie says Frances continued her attack, ramming her SUV as many as 15 times.
"I started screaming and crying. I said, 'Oh my God. Frances is hitting me from behind. What do I do?'" Bonnie testified.
To disprove Bonnie's story, the defense calls collision reconstruction expert Charles Ruble, who also uses toy cars to demonstrate what he says happened.
"This is the black Range Rover operated by Bonnie Contreras," Ruble told Van Sant, setting up the toy cars on a table. "Bill Hall was following his wife. They're traveling at 70, 80 miles an hour."
Ruble believes that when Bill maneuvered around the Escalade to avoid colliding, he veered right, hit the shoulder and then tried to correct himself by veering left. That is when he accidently struck Frances' rear window. Bill lost control and was thrown off the highway.
"So based on your analysis, there was absolutely no evidence that Bonnie's claim that Frances rear-ended her husband is true?" Van Sant asked Ruble.
"No evidence whatsoever," he replied. "There's no evidence on the rear of the motorcycle of any contact. There's no evidence on the hood of the Escalade."
The prosecution concedes that Bonnie's recollection of events is not supported by the evidence.
"I wouldn't characterize her testimony as untruthful. I would just characterize it as mistaken," said Paulissen.
Prosecution collision expert Timothy Lovett.
"I don't think Bonnie Contreras is intentionally lying about this collision," he explained. "She's excitable. …She's got somebody that's just like a raging bull behind her."
Lovett says the evidence clearly shows that Frances rammed Bonnie's car multiple times.
"I have damage on this side of the bumper and I have damage on this side of the front bumper as well," he said. "That's two. That's at least one more than just an accidental bump."
As for why the damage on the bumpers appears so minor, the prosecution has an answer.
"When two vehicles are moving at a high rate of speed … and they're going at the same speed, you're not gonna see huge damage when they collide," said Simpson.
And as for how Bill Hall died? Prosecutors believe Frances sideswiped Bill's motorcycle, knocking him off the road as she pursued Bonnie.
"It doesn't make sense to say this was an accident when you look at the surrounding circumstances," said Simpson.
Prosecutors point to the day before the crash when Frances physically assaulted Bill. And furthermore, they play the phone message that Frances's daughter, Nikki, left on Bonnie's cell phone during the chase: "Told you to watch your back you f-----g stupid slut."
"To me, and I wanna think to any woman, that would speak very much to Frances' … intent to hurt Bonnie. She was out for blood," said Paulissen.
The prosecution calls Bill's cousin, Hank Hall, who they believe is about to cap off their case by telling jurors Frances murdered Bill. But after hearing all of the evidence and seeing Frances in court, Hank has a change of heart.
"But you end up saying something on the stand that the prosecution doesn't want you to say in front of this jury," Van Sant commented to Hank Hall.
"They asked me -- if I thought that Frances had killed Bill," he replied. "And -- and I took a moment, and I told 'em, 'No.' And the D.A. looked at me – like --"
"An 'are you kidding me' kind of look?" Van Sant asked. "Yes," Hank Hall replied.
"And did you look over at Frances after you said that?" Van Sant asked.
"She grabbed herself and started crying," Hank Hall replied.
"And, in a way, at that moment, that's when the whole family comes back together?" Van Sant asked.
"Got back together. Kinda got everybody close again," Hank Hall replied.
After nearly a three-week trial, Frances Hall chooses not to testify, leaving her fate in the hands of a Texas jury.
"As a result of her rage, a man is dead," Prosecutor Paulissen addressed the court. "Justice is holding this woman responsible for that man's death."
"She's been living in hell for three years. Let her go home. Let her be with her family. Let her mourn her husband," defense attorney Cutter addressed jurors.
"SUDDEN PASSION"
For all his 50 years, Bill Hall lived to the max -- building and taking everything and anything he wanted -- right until the end.
"A multimillionaire, two women fighting for him," said Hank Hall told Peter Van Sant.
"I miss him tremendously. I just wish he was here," said Bonnie Contreras.
"The only man I've ever been with, the father of my children," Frances told Van Sant.
Bill's hunger for life grew into an appetite for destruction. And then, out on a rural Texas highway, everything good was gone.
"This is a story of loss," Nikki Hall said. "I miss my family."
For Nikki, who believes this was an accident, not a murder--- it comes down to this:
"Why would Mrs. Hall ram her $100,000 Escalade into her own vehicle?" defense attorney Leigh Cutter asked jurors.
Her father dead, would she now lose her mother too? Would Frances Hall be put away by a jury sworn to justice?
"She's a strong, strong woman," Cutter told "48 Hours." "That being said, she wasn't gonna go murder her husband and say, 'if I can't have him, no one can have him.' That's just not Frances."
But the State of Texas argued hard. Bill Hall may not have been Frances's intended target, but her actions that day resulted in his death and now she had to pay the price.
"This dangerous intersection of emotion and betrayal and humiliation, it occurred because you made that U-turn," Van Sant commented to Frances.
"Yes, yes and with that I will live for the rest of my life," she said.
Testimony lasted seven days. Then, in a San Antonio courtroom, it was in the jury's hands. And on Sept. 8, 2016, they spoke as one.
"Guilty of felony murder. What was that moment like for you?" Van Sant asked Frances.
"I could not believe," she said through tears.
Convicted of both aggravated assault and murder, Frances Hall faced a possible life sentence.
"I didn't do it. I would never in a million years hurt Bill. Never," she cried.
"I'm very happy on the convictions she got, on both counts. That gave me peace," said Bonnie Contreras.
But along with the guilty verdict came one last step – a separate sentencing trial. Frances Hall had a final opportunity and her legal team conjured a bold, defense, "sudden passion."
"If ever there was -- a person that the sudden passion provision was written for, it's Frances Hall, absolutely," said Cutter.
"Sudden passion," a legal term for a profoundly human moment: a wife chasing down her cheating husband and his unrepentant mistress.
"'Sudden passion,'" Cutter explained, "that you were so … entrenched or stuck in the heat of the moment that you are unable to think clearly."
"Now, if you cause a death, it's murder. But at punishment, you can get a lower punishment. You can basically get manslaughter punishment," Cortez explained.
"That lowers it from two to 20. Huge, huge difference," Cutter added.
Leigh Cutter and Adam Cortez made their passionate case for "sudden passion." And this time, Frances Hall took the stand in her own defense.
"I am not this evil person that they said I am. Show mercy on me please," she testified.
The prosecution fought back, saying Frances slammed her car into Bill Hall's powder blue Harley in a mad, mindless, attempt to confront Bonnie Contreras.
"You can't get up and give a big middle finger to the jury," Prosecutor Scott Simpson addressed jurors.
"Mercy is for someone who says, 'I did wrong, give me mercy.' Not for someone who said, 'You got it wrong, but give me mercy anyway," he continued.
Four days after her conviction, Frances Hall learns her fate.
Judge: Her punishment and confinement in the Texas Department of Criminal Justice for a term of two years.
"I felt like, 'Wow, yes. Only two years.' But there goes my mom. Off she goes," Nikki Hall said as her mother was led out of the courtroom.
"And I know that I could have done life for this, so for that I was grateful. But that's still two years away from my children. That's two years I won't be there for my grandkids," Frances told Van Sant.
"She didn't kill my grandpa. She would never do that," said one of her young granddaughters.
Passion is what this tale came down to. And for at least one Texas family, love for a man whose passions for life led him down the wrong road.
"Brilliant guy, smart guy. But like I say, you can be the smartest guy in the world and guess what? You make mistakes too," Hank Hall said. "So …"
Some three years after his death, his family is shattered, and Bill Hall Trucking has filed for bankruptcy.
"As you stand here in this jail talking to me, do you still love Bill Hall Jr.?" Van Sant asked Frances Hall.
"Oh, with all my heart," she cried. "I will never love another like I loved this man."
Bonnie Contreras filed a lawsuit against Frances Hall alleging infliction of bodily injury and emotional distress. She is seeking $2.5 million.
Frances Hall is expected to be released from prison in September 2018.
Thanks for reading CBS NEWS.
Create your free account or log in
for more features.