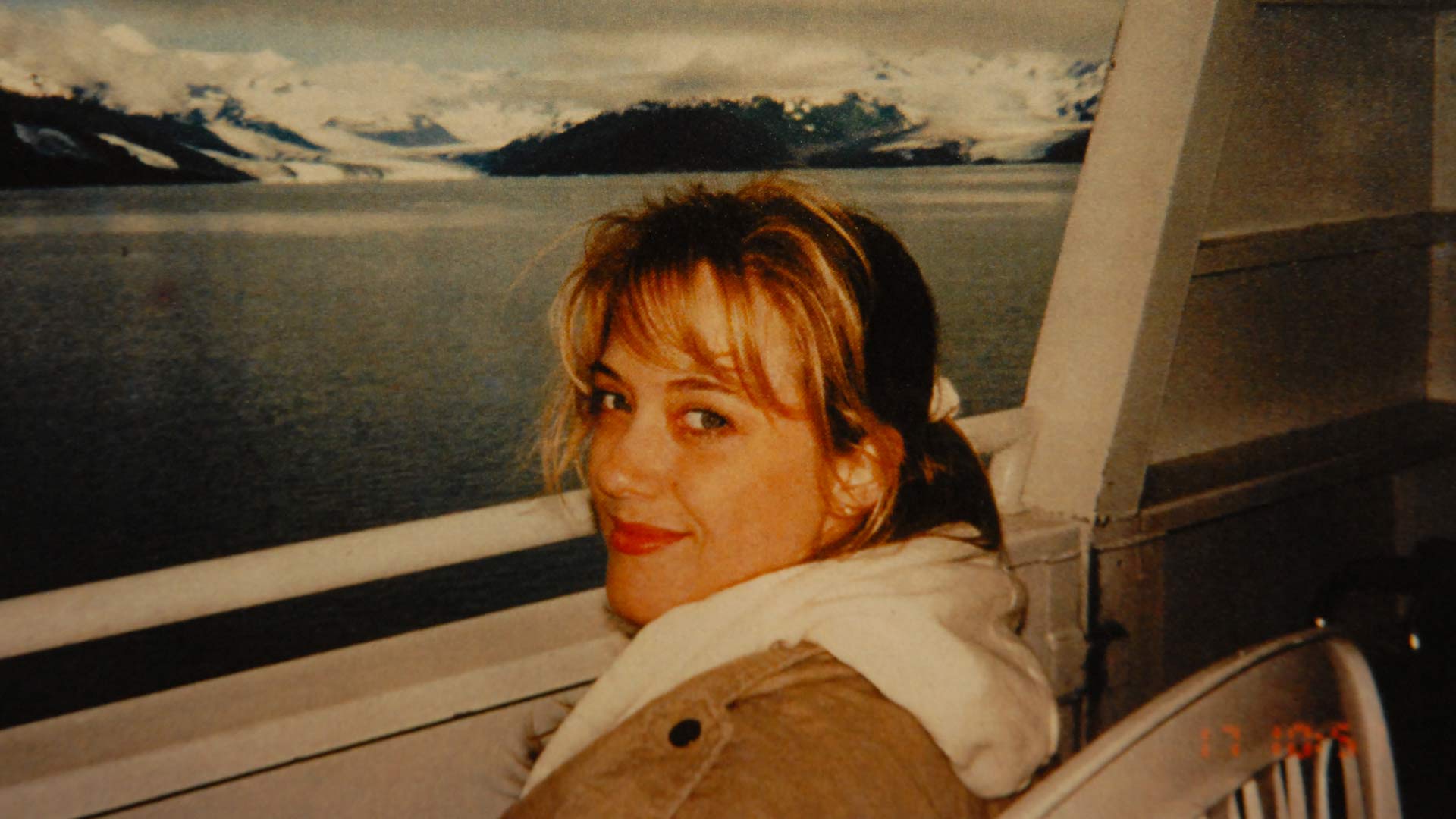 Produced by Josh Yager and Mark Smith
[This story was previously broadcast on Aug. 7, 2010. It was updated on Dec. 26, 2015.]
Since "48 Hours" first aired this story in 2008, the whole nature of this case has changed, and so has the outcome -- with stunning new developments.
---
In 2006, Mechele Linehan, a suburban Washington state wife and mother with a Master's degree, found herself charged in a decade-old Alaska murder case.
In the mid-1990s, Mechele was making ends meet as an exotic dancer at "The Great Alaskan Bush Company," where she not only made lots of money, but also attracted the attention of several men who wanted to marry her.
Prosecutors charge a million dollar life insurance policy was motive for Mechele to have one of those men killed.
Was Mechele a manipulating schemer who got men to do her bidding as prosecutors charge or is she innocent and a victim of circumstance?
In 1994, Mechele Hughes, as she was then known, headed to Alaska, after first leaving Louisiana for New York as an 18-year-old to work in a modeling agency. She'd been dancing at The Great Alaskan Bush Company only a few months when a shy 35-year-old fisherman, Kent Leppink, walked in the door.
According to his parents, Betsy and Ken, he'd always had an impulsive streak and sometimes lost his footing. He'd been caught skimming money from the family business in Michigan. They'd hoped Alaska would be a new start.
Kent also saw it as a break from his past, and when he met Mechele he thought he'd found his future. He proposed to her after just a month.
But Kent didn't tell his parents Mechele was a dancer when they met her in Anchorage. "She would kind of pull back a bit physically when he'd put his arm around her," Betsy remembers. "It's hard for a mother to be this honest, but it didn't seem like she loved him like he did her."
Betsy Leppink says she was suspicious that there were other men in Mechele's life, and her intuition was right.
When traveling salesman Scott Hilke met Mechele at the club late in 1994, he fell hard too. Hilke says he soon asked Mechele to marry him, becoming another fiancé.
And then there was John Carlin, who had just lost his wife to cancer and was raising his teenage son alone. He wandered into the club in the summer of 1995.
By the time he discovered she was seeing other men, he was in too deep to care. "I was in love with her, so I said 'What the heck?'" he tells "48 Hours" correspondent Susan Spencer.
Carlin professed his love, and around Christmas 1995, says he popped the question, becoming yet another fiancé.
It is mind boggling, but prosecutors say that over an 18-month period Mechele had three fiancés, or at least three guys who seemed to think they were her fiancés. Even more confusing is that for part of that time she lived in the same house with two of them, though not always the same two.
"They became entangled in this bizarre - it wasn't even a love triangle. It was like a love hexagon," says Megan Holland, formerly of the Anchorage Daily News, who has been covering this case.
What is it about this woman?
"I think she outsmarts most people that she gets involved with. I think she reads the situation figures out how to recreate her personality in such a way that she will profit from that," Scott Hilke says.
And profit she did, from every boyfriend. "She got lots of jewelry, she got lots of furs," Hilke says.
Not to mention car payments, house repairs, diamonds, furs. All went on the tab.
"But a lot of regulars buy you gifts," says Tina Brady, an exotic dancer who knew Mechele.
Tina reminded us that Mechele's fiancés also were her customers, and they were all at least 10 years older than she was. "I don't think that she had any intent on marrying anyone," Tina says.
She says Mechele was just playing the game.
Hilke finally got the message. By late 1995, he had had it. Though he and Mechele would still see one another on and off, he left Alaska, which only made John Carlin turn up the heat. "Our relationship started to go into full bloom when she broke up with Scott," he says.
Meanwhile, Kent Lippink's mother says he was telling his family to get ready for a wedding. On a trip to Anchorage in the spring of 1996, his dad says he was expecting to see his future daughter-in-law. But, he says, by the time he got there, Mechele was mysteriously missing; Kent was mortified.
Upset, Kent's dad says he went back to Michigan, not realizing that within hours of his departure, Kent had mailed his parents a letter - a letter so alarming that when they got it, they immediately called. But they failed to reach him.
"Actually, it was a letter inside a letter, and the first letter asked us not to read the second letter unless something happened to him," Kent's mom explains.
Something already had happened. Kent's body was found on May 2, 1996, off a deserted road 90 miles south of Anchorage - the same day the letter arrived. He had been shot three times. There were shell casings near his body, but no murder weapon to be found.
And in that same awful moment, the Leppinks remembered that second letter.
---
---
Detective Branchflower says it was pure chance that an electrical crew happened to be in the woods that day and discovered Kent's body after spotting his red jacket.
It was impossible to determine an exact time of death, only that it had been within day or two.
Steve Dehart was among the first investigators to get to the crime scene. Aside from the shell casings found at the crime scene, he never imagined for a second that the victim himself would provide even more critical clues through that letter to his parents.
While they say they agonized over opening the second letter, they honored Kent's wishes and only opened it after getting the news that something had happened.
"It's the most painful thing that ever happened to us. The first thing we did was open the second letter," Betsy remembers. "It was really terrible."
It was terrible, because in that second letter Kent seems to solve his own murder.
"Mechele, John or Scott were probably the people or persons that probably killed me. Do me another favor, make sure Mechele goes to jail for a long time," Betsy read from the letter.
The letters gave police at the time three ready-made suspects: Mechele, and her two remaining romantic interests -- John Carlin and Scott Hilke.
Hilke says he was surprised that he was a suspect, because he was not in Alaska at the time of the crime.
Right up until the eve of Kent's disappearance, he'd been in Lake Tahoe with Mechele. Though they had broken up, she had asked him to meet her there for a few quiet days together.
He now thinks the timing was no accident. "Her intent was to be out of the state when anything bad that was going to happen, happened," Hilke says. "I believe now I was used as an alibi."
Hilke says he didn't shoot Kent, but failed a polygraph when asked about it.
But Det. Branchflower says while polygraphs are sometimes helpful, they are sometimes "absolutely wrong."
Investigators came to believe this one was wrong. Although they never checked all the airline and phone records, they nonetheless decided Hilke had in fact not been in Alaska. Mechele, however, had flown back the night before Kent was found.
A day later, police interviewed her. In the interview, she began to sob when told Kent had met a violent death. Later, through tears, she told them that Kent did own a gun.
She also told investigators something else, which in their minds was the most incriminating fact of all: there was a $1 million insurance policy on Kent's life.
Investigators say Mechele had actually paid for Kent's policy herself, and had named herself as the main beneficiary.
But even Kent had second thoughts, and a clue at the crime scene proved it: a change of beneficiary forms. After days of indecision, Kent had taken Mechele off the policy completely. But if she didn't know that, then the million dollars could be a million motives, authorities reasoned.
"Kent had no more money. His only value would be a life insurance policy and they were going to squeeze that out of him. That was going to be the last drop of value that he was going to be able to provide Mechele," Branchflower says.
If Mechele had a motive, did she perhaps also have help? To police, a mysterious note found days later in Kent's car hinted at a conspiracy with John Carlin.
The note, which investigators called the "Hope note," indicated Carlin had purchased a cabin in Hope, Alaska and was inviting Mechele to use it. But Branchflower says there was no cabin, and that they'd made it up.
But the cabin sounds very real in the typed note - a hoax made to look like a genuine exchange between Carlin and Mechele, and meant for Kent to find.
Carlin writes he's fixed the roof and cleaned the fireplace. "You guys enjoy your stay," he says, making it sound like Mechele wouldn't be alone that weekend.
She scrawls back, "Great! Please don't let anyone know where we're at.... Love you and thanks again."
Prosecutors say the note was meant to lure Kent to Hope in search of Mechele, who was actually in Lake Tahoe with Hilke.
The note worked. At least once, a few days before his murder, a distraught Kent drove to Hope.
Frustrated, he returned to Anchorage, only to be found dead back in Hope a few days later. There was no proof how he got there or who killed him.
Investigators had no witnesses, no murder weapon, and no direct evidence. Over time, officers were transferred out of the area and the investigation stalled.
Though police at the time had the insurance policy and Kent's letters home, Det. Branchflower says there were no charges.
Hilke was already living in California, and Carlin and Mechele were free to leave Alaska. Months after the murder, each separately soon did.
Mechele finally settled in Washington State, neatly shedding her past. And for eight long years, Alaska seemed forgotten, until one day detectives knocked on the door of her suburban home.
"They asked for clarification of certain statements I had made in the past. I tried to help them as much as I could," she remembers. "I was shocked by it...I was just really shaken up."
---
---
"I think that it's a normal profession of life that you-- you have a job, you go to school. You get married, you might have a family and I-- I think that`s where-- where my life went," says Mechele Linehan, formerly exotic dancing star Mechele Hughes.
At The Great Alaskan Bush Company, Mechele caught on fast. But she insists she always saw stripping just as a means to an end.
"I would go to work and I kept my goal in mind. My goal was to make money and leave," she says.
And leave, she did. Just months after Kent Leppink's murder, Mechele left Alaska for good, eventually, settling in Olympia, Washington.
"I went to school full time," she says. "I studied biology and psychology, and I got a master's in public administration."
In 1998, in New Orleans, she married a young doctor named Colin Linehan, just a day after he graduated medical school. A year later, they had a daughter.
"I have known this woman for 10 years. I catch myself like 'Wow. She's amazing.' Our daughter adores her," Colin says.
Their life together in Olympia, Mechele says, was the very definition of normal.
In 2004, Colin served an Army tour in Iraq. And for a year, Mechele was a single mother, but she had a strong network of friends.
But Detective Linda Branchflower says be careful and says Mechele's whole life is a façade.
"She can change herself to fit any situation and play any roles. She`s deadly," she says.
The detective came to that conclusion in 2004, soon after joining Alaska's new cold case unit. Investigators quickly made the eight-year-old Leppink murder a top priority.
"Did you really look for any other suspects when you started probing this again?" Spencer asks Branchflower.
"We went where the evidence led us and there wasn't anything in our investigation to indicate anybody else could have done it," she says.
Scott Hilke was soon ruled out, despite the failed polygraph.
"We did try to investigate if there was anything that indicated Hilke knew that the murder was going to take place. And there was nothing at all," Branchflower says.
Branchflower badly needed a break, and on a pair of old computers seized in the original investigation she found it. Many of the e-mails had been deleted back then, but investigators where able to restore them.
"They were able to pull up e-mails between Kent and Mechele, Mechele and Carlin, Mechele and Hilke that described different aspects of their relationship," Branchflower says.
"Scores of e-mails, some silly, some meaningless but very interesting to investigators. One exchange between Mechele and Kent read: "You should not be concerned about John. He is more a brother or even a father to me." But in an e-mail to John Carlin, she wrote, "You are the most important thing in my life. I need you more than you will ever know."
"They show how manipulative she is being," says special cold case prosecutor Pat Gullufsen.
But manipulation and murder are two different things. Asked if there's any specific evidence in the correspondence that connects Mechele to Kent's death," Gullufsen says, "I think you come real close with the 'Seychelles e-mail.'"
The so-called "Seychelles e-mail" was sent from Mechele to Carlin just days before the murder. It seems to suggest the tiny island chain off the African coast just might be a safe haven from the law. "Did you know that you can buy a citizenship in the Seychelles for around ten mil?" the e-mail reads. She asks, "No matter what crimes you have committed, they will not extradite?"
Investigators decided the e-mails were a very good start, but not strong enough to make a solid case in court. They needed the missing murder weapon. They knew from markings on the bullets it was an unusual gun, a .44 caliber Desert Eagle.
Carlin consistently denied ever owning one. But Branchflower shot his story full of holes with information from an unlikely source: Carlin's own son. He'd been only 17, a juvenile, at the time of the crime.
Confronted by police in 2005, Carlin's now-adult son decided to talk. He says his father bought the gun after seeing a classified ad in the newspaper.
Branchflower not only dug up the old ad, she also found the seller.
And Carlin's son kept talking about what he'd seen just days after the murder.
"I came into the house. Mechele was standing in the doorway of the bathroom, my father was there as well, and the gun was in the sink, and it was soaking in sort of chemical," he says.
At the time, Carlin's son couldn't be sure if it was a Desert Eagle, and to this day, he's unsure about the implications of what he saw.
Carlin's son thinks a "party yet to be discovered" killed Kent, but that his father was not involved.
But Branchflower had no doubts. She was sure Carlin did have a role in the murder, and just as sure he'd not done it alone.
She headed for Seattle with some tough questions for Mechele.
Mechele says from the first time police questioned her in the days after the murder she always cooperated fully. She points out that she actually told them about Kent's life insurance policy and the note she and Carlin wrote about that fictitious cabin in Hope.
Investigators dismiss all this initial cooperation as Mechele just trying to cover all the bases; Mechele says they would say that, since they've never listened.
"When they were leaving. I asked him to keep informed of what was happening and Linda Branchflower said that I would be informed that I was going to be indicted," says Mechele.
In the fall of 2006, a decade after the crime, Mechele and Carlin were indicted for Kent's murder.
Mechele posted bail and was free to return to her family in Washington. But unlike Mechele, Carlin would spend the next six months under arrest awaiting trial.
Now the state has to prove its case, first against John Carlin, who maintains he is innocent.
Carlin remains an enigma until the very day his trial begins.
Prosecutor Pat Gullufsen tells jurors this was in effect an execution. He is intentionally vague as to whether Carlin pulled the trigger, or just pulled the strings, with Mechele firing the shots. Under Alaska law, Carlin can be convicted either way.
"It's a story that's going to involve passion, greed, manipulation and deception," Gullefsen tells the court.
It's a story made all the more tragic, Betsy Leppink says, because Kent wrote the ending himself.
Even though Kent named Carlin as one of his probable killers in his letter, Carlin's lawyers ,Marcy McDannel and Sydney Billingslea, think they can win this circumstantial case.
The defense tries to cast suspicion on anyone but Carlin. They even offer up Carlin's then-teenaged son by suggesting he could have had a relationship with Mechele, and trying to discredit him before he takes the stand with his story of the gun washing.
But the defense's chief suspect is Mechele herself.
"His lawyers pointed the finger at Mechele and said that she was a manipulative seductress. They said that she was an evil woman who committed the crime herself, that John had nothing to do with it and that she just used him as a scapegoat. She pulled the trigger and killed him for the million dollar life insurance policy," reporter Megan Holland explains.
Carlin says both sides were so focused on Mechele, he felt like an after thought at his own trial.
"One day, I sat there all day long and all they do was talking about Mechele. I mean, I didn`t even have to be there that day," he says.
Mechele, meanwhile, was back home in Olympia, awaiting her trial. But Gullufsen insists none of this would have happened without her.
"John Carlin was in love with Mechele. He had spent a great deal of money on Mechele," he says.
With twin motives of love and money, all the two needed, he says, was a plan: enter that phony "Hope note."
The note would lure a jealous Kent to Hope, the prosecutor says, where Mechele or Carlin would kill him.
Wrong, says Carlin. It was just a prank, he says, to mislead Kent, nicknamed "TT," so Mechele would be free of him on her trip to see Hilke. Carlin says he didn't really want her to go, but desperately wanted to please her.
"I wrote the note. I know what I wrote the note for and it wasn't to get TT out of the house. It wasn't to get TT down to Hope," he says.
Carlin's problem, of course, is that Kent's body turned up in Hope.
Given Mechele's grip on the men in her life, Hilke isn't surprised. He says Kent never could see that Mechele was using him. "I think he followed her around like a puppy dog. I think he was certainly willing do anything for her that would ingratiate a strength in his relationship to her, no question," he says.
When she wasn't with her boyfriends in person, Hilke says Mechele was always on email.
E-mails which, according to Branchflower, prove that Carlin in particular would have done a lot more for Mechele than just write the Hope note. "The one I'd do anything in the world for - including give up my life," the detective read while on the witness stand.
Anything including murder, Branchflower says. Why else does Mechele write the Seychelles e-mail, helpfully explaining that for $10 million the islands are a safe haven from the law?
No answer from Carlin to Mechele was ever found, but for Branchflower the Seychelles e-mail helped clinch the case.
But the defense stresses that most of the e-mails are ambiguous, or even make Carlin's case for him by showing that he and Kent were close. "I value my friendships more than I value most things," Kent wrote. "Thanks for being a friend."
But the defense is about to run up against a potentially devastating witness, Carlin's son, who reluctantly drops his bombshell on the jury, and on his dad.
He describes in court seeing the pistol in the sink. "I remember coming around the corner and seeing Mechele and my father, and there was a firearm in the sink, and the sink was about half full with a clear liquid," he testifies.
"I felt like I was betraying my father. I felt like I was betraying myself," Carlin's son admits.
So much so, that he went to visit his father in jail just a few days later. "He's doing good," Carlin's son says. "Just kind of gave him a nod...it was strange. We're hoping he walks out the door and onto a plane by the end of the month."
Apparently, he didn't fully understand the impact of his testimony on his father's case.
---
---
Kent Leppink was shot to death in the Alaskan wilderness.
After a decade, the woman he'd hoped to marry, Michele Linehan - and another of her admirers, John Carlin - were charged with Leppink's murder. Carlin's trial was first. Prosecutor Pat Gullefsen singled him out as the shooter, manipulated by Linehan into killing Kent for the insurance.
"Kent`s death is what Mechele wants, and John was willingto make it happen," says Gullufsen.
With Mechele out of town, he says Carlin took Kent to Hope. "And that's when the Desert Eagle comes out ready to go and that's when Kent initially gets it in the back. Turns around, falls down, gets it in the stomach and gets it in the face," says Gullufsen .
That is not at all how the defense sees things. If Carlin later helped wash a gun, his lawyer says he was just cleaning another of Mechele's messes. But will the jury agree?
After almost four days, jurors reached a verdict, finding John Carlin guilty as charged of first degree murder. At sentencing, he gets the maximum of 99 years in prison, not even eligible for parole until 2041.
Back in Olympia, Mechele's friends are struggling to accept that the churchgoing PTA mom, entrepreneur and devoted wife they know, had such a colorful past.
Her husband Colin says he knew all about her past as a stripper. "Her goal was to save up money for college. And it was something that I could definitely respect. She had absolutely no intention of doing that the rest of her life," he says.
As for all those boyfriends, Colin says, "I didn't really ask any probing questions. I mean, I understood that she had relationships with all three of them at one point in time."
Mechele says while all three men - Kent Leppink, Carlin, and Hilke - may have thought she wanted to marry them, she says the only person she agreed to marry was Scott Hilke.
And none of this, she says, was because she casts some spell on men or somehow manipulates them. Mechele says she never asked the men in her life for more than they already wanted to give. "So you tell me how a 22, or a 21 year-old girl, can make grown men do these things?" she asks.
Her lawyers insisted on ground rules for the "48 Hours" interview - no discussion of specific trial evidence, like the e-mails, the life insurance and Kent's letters home. But fiancés were fair game.
Mechele says Carlin did ask her to get married but that she said no. And she says Kent never thought he was a fiancé.
But prosecutors say a message to Kent suggests he had every reason to think he was very much in the picture. "My Darling Kent," she writes, "If you still want to marry me, we should just go and do it. We should get married within the next month. We should just do it and start our life."
But Mechele maintains Kent wasn't her fiancé.
They were all infatuated, but she says she truly loved only Hilke. Carlin, she says, was like a big brother, and Kent became a bother. He'd been obsessively collecting information about her, including her Social Security number, credit cards, and phone bills. He was even reading her e-mails, and tracking her every move.
Asked if she was afraid of him, Mechele says, "I think I had become afraid of him toward that time."
"Did he have any reason to be afraid of you?" Spencer asks.
"No," Mechele says.
She only pretended to be "engaged" to get Kent off the hook with his parents, she says, because "TT" as Kent was called, was hiding a painful secret. "I think TT was gay. I think he wanted to have a life that was thought to be normal," she says. "He could never tell his family he was gay."
Kent's mother insisted they wouldn't have cared for a second but that, in fact, Kent was not gay.
But Mechele's lawyer, Kevin Fitzgerald, says his behavior kept everyone guessing about a lot. "Kent Leppink was an odd guy. I mean a very odd guy. And frankly, I think in the period of April 1996 I don't think he was well, mentally," he says.
Fitzgerald says Kent's mental state explains much of the evidence, including those eerie letters home. "I mean, is he gonna say 'Hey, I've been lying to you guys extensively for a year and a half about the true nature of this relationship.' Or is it easier for him to say, 'Mechele's a bad person...and she's involved with kinda bad people?' I think that's a pretty convenient out for him," he says. "If you look at the content of the letters themselves, I mean there's nothing in there to suggest that he's aware of a plan to kill him."
"So it's just a coincidence that five days later he's dead?" Spencer asks.
"Yeah, I think in this case it's just a coincidence," Fitzgerald says.
Fitzgerald dismisses the e-mails as well, even the "Seychelles e-mail."
"If you were contemplating a murder, would you have put something like that in that would be so incriminatory? I mean that would be nuts!" he says.
The same goes for the "Hope note" about that non- existent cabin. He says the setup was all John Carlin Senior's idea to get rid of a rival.
"I think what happened is he said, 'You want to find Mechele? I`ll show you where she is.' And I think he went out there with senior, and I think senior killed him in Hope. I don`t think Mechele was part of that," says Fitzgerald.
But surprisingly, Mechele herself lets Carlin off the hook. "I have a hard time thinking that John did it," she says.
Mechele insists she had nothing to do with the crime either.
"You can call her a lying bitch. You can call her a psychopath. You can call her a sociopath. But the bottom line is, that's not who she is," her husband Colin says.
Who she really is will be at the heart of her upcoming trial. Everyone at that point agreed John Carlin pulled the trigger. The question is what was her role?
---
---
If standing trial for first-degree murder has Mechele Linehan even the slightest bit worried, you'd hardly know it.
"So, I didn't feel that I had to put on a show for them. My job was to let the state present their evidence. I know I didn't mastermind this slaying," she says.
Another jury already had convicted Carlin of actually pulling the trigger. Now prosecutor Pat Gullufsen must convince this jury that Mechele was the mastermind -- the brains behind the crime.
"If it wasn't for Mechele Linehan, Kent Leppink would still be alive today. All she needed was somebody to do the dirty work, somebody to pull the trigger," Gullufsen told the court.
And if he can prove that, then, under Alaska law, Mechele will be just as guilty of murder as if she'd fired the fatal shot herself.
Gullufsen feels that this is a very strong case. It's also very similar to the case against Carlin -- so similar in fact, that prosecutors will be calling many of the same witnesses. The evidence will be much the same too: the life insurance, the Hope note, the Seychelles e-mail and the washing of the gun.
Defense attorneys Wayne Fricke and Kevin Fitzgerald worry that Mechele's past will get in the way of the jury seeing what they say is the real Mechele today - a well-educated wife of a doctor, a home and business owner, and no longer that stripper that was so good at get men to do her bidding.
But prosecutors saym "So what?"
"Underlying the whole defense was that she's a changed woman," Gullufsen says. "That doesn't mean that we forget about a murder that she was involved in and instrumental in committing 11 years ago."
To keep the focus on Mechele's past, Gullufsen calls another former exotic dancer, a friend from 11 years ago, Lora Aspiotis.
Remarkably, she produces a diary, in which she wrote down who watched what movie, and when, although her memory's a bit hazy. In court, Aspiotis can't find reference in the diary to the one movie she swears was Mechele's favorite, the 1994 thriller "The Last Seduction," starring Linda Fiorentino. Fiorentino plays a femme fatale who persuades her lover to kill her husband for money and for their future.
Asked what her reaction was to the movie, Aspiotis tells Gullfson, " She told me that that was her heroine and that she wanted to be just like her."
In the movie, the husband is murdered, the lover goes to jail, while the femme fatale coolly walks away with a pile of cash.
"There are a lot of similarities between controlling and manipulating the relationship in this case and that movie," Gullufsen tells Spencer.
And, even though Aspiotis' diary doesn't prove Mechele liked or even saw this movie, Gullufsen wants the jury to see it now.
By the time the judge rules against him, the jury knows all about the movie, and the prosecution moves on to its star witness, Carlin's son, again, with his startling story of seeing his father and Mechele washing a gun.
But the damaging story seems a little less so when the defense points out that before his grand jury testimony Carlin's son twice had told police his father was alone when washing a gun.
"I recall smelling a bleach or a similar chemical. I remember seeing Miss Hughes standing at the doorway and my father in the bathroom with a firearm in the sink in a clear liquid,"the younger Carlin testifies.
"The look on his face was communicating to you what, if anything?" Gullufsen asks Carlin Junior.
"Um, don't ask questions," he replied.
"I felt just heartbroken for him. I think he's afraid of hurting me. He saw what had happened to his dad, and I think that it put him in a really bad position," says Mechele.
But the damaging story seems a little less so when the defense points out that before his grand jury testimony, Carlin's son twice had told police his father was alone when washing the gun.
"You said Mechele wasn't present, right?" Wayne Fricke asks Linda Branchflower in court.
"That was my understanding of his -- what he was saying, that she was in the house but not necessarily in the room," she testified.
For nearly a month, the testimony drags on.
Mechele made a call to the insurance company in the days before Kent died. Was that innocent or very calculated?
"She attempted to cancel the policy," her attorney tells Spencer.
Gullufsen has another theory. "We think that call was made to check on the insurance, not to cancel the insurance."
And what about her reaction when police told her about Kent's death? Was she really as upset as it sounds on tape?
State Trooper Dallas Massie, who interviewed Mechele that day, testifies, "I've done a lot of death notification and it just seemed to me it lacked a bit of sincerity."
Certainly the jury is watching her reactions now.
"I didn't want to look at the jury. If I smiled, it made me bad, and if I cried, I was guilty or I feel like no matter what I did, it wasn't right, " Mechele explains.
She considers testifying, but her lawyers convince her she'd be eaten alive on the stand.
So the defense instead calls the one person here who might know Mechele well enough make the difference: her husband Colin.
"I thought Colin was pivotal to present Mechele, to really bring her to life," defense attorney Kevin Fitzgerald says.
Asked what it was like to testify, Colin Linehan tells Spencer, "It's horrible. Nerve shattering, anxiety-provoking, nightmare. You know, their son is dead. You can't take back that. I have nothing but sympathy for them. It kills me that in their hearts that they think Mechele had anything to do with that, because I know from the bottom of my heart and soul that she did not."
"It hurt me so bad that somebody would think that I would do something to their child,' Mechele says.
Together, Kent and Betsy Leppink have coped with the loss of their son for years. They believe Mechele was the mastermind behind his death.
"I think he was being set up. With all my heart, I felt it was a set up," says Betsy Leppink.
"I think so, yeah. That's the way I see it. Yes," adds Kent Leppink.
"This person manipulated the circumstances with her guile, with deception," Pat Gullufsen tells the court.
And Gullufsen says Hollywood couldn't have written it any better.
"If she's the one who`s going to write the ending to this, it's going to be just like the movie. Isn't it? The problem is you're going to write the ending. She isn't," he tells jurors.
"The movie? Give me a break. I mean, that is desperation," Kevin Fitzgerald tells jurors.
In closing, Fitzgerald emphasizes that there is not a shred of direct evidence against Mechele.
"Conjecture, speculation, suspicion, innuendo. That's the package that the state has presented," he tells jurors.
He tells the jury they can't convict on that, or on Mechele' Linehan's past.
"Do you remember what was going through your mind as the jury comes filing back in?" Spencer asked Mechele.
"I thought it was over," she says. "I remember thinking to myself that, one way or another, it was over."
---
---
For nearly five weeks, the jury struggled with the central question of Mechele Linehan's tangled past. Is she just a suburban mom with a heart of gold, or a conniving ex stripper with a heart of stone?
It takes the jurors just two days to decide. Their verdict: guilty of murder in the first degree, as charged in the indictment. Asked if she was able to accept the verdict, Mechele says in tears, "I don't know that I -- could really accept it. You know, I think I-- I did the best I could."
The verdict hits Kevin Fitzgerald almost as hard.
"It's a blow. It`s a huge blow. Kind of rocks my world to tell you the truth," he says.
"It amazes me that - that people actually - that she's able to pull off -- continue to pull this off with folks," says Branchflower. For Kent's family, the whole experience has been bittersweet.
"If we could have just taken our son home with us, you know? If that would have been the prize for winning but we can't ever do that. He's still gone," his mother says. "He wasn't perfect but we loved him. We love him today, we love the memory of him."
Mechele's ex-fiancé, Scott Hilke, thinks he's finally figured her out. "I think she's inherently evil," he says. "I believe to this day that I was a mark from the get-go."
"I'm the lucky one," Hilke tells Spencer. "I wasn't involved in any crimes and I'm not dead."
Hilke says he still has many unanswered questions about this case, but then so does the prosecution.
"We know there was a gun. We know it went away and we know that it belonged to John Carlin and that it was in that house," Gullufsen says.
So what happened to the murder weapon and why hasn't it been found?
"That's a good question," Gullufsen tells Spencer. "You can use your imagination. It did exist; it was used to kill Kent Leppink. It's no longer there. Were it is is I don't know."
---
---
The gun has never been found. And for years, adamantly denied knowing anything about the gun used to kill Kent Leppink, much less owning it. But now his memory has improved.
In a jailhouse interview, John Carlin III says he not only owned a .44 Desert Eagle, he thinks it probably was the murder weapon.
So why did he lie?
"It appeared to me that these people were coming after me. That looked very bad for me. It looked very bad for me," he said.
Carlin says he had lied because, at the time, he was under "intense scrutiny."
"It appeared to me that these people were coming after me. That looked very bad for me. It looked very bad for me," he said.
He claims that shortly before Kent disappeared, the gun mysteriously vanished, too, only to magically turn up in a closet after the murder.
"I found that gun -- no I didn't. I'm sorry. John found the gun in the closet," he says, referring to his son. "And I heard Mechele yelling 'Don't touch it, don't touch it!'"
Carlin Sr. says he rounded the corner and came face to face with a glaring Mechele. Worried his son's fingerprints were now on the gun, he washed it.
Carlin says he got rid of the gun by "throwing it into a dumpster."
If the tale is true, it leaves a lot unanswered about Mechele Linehan. But Carlin is sure of one thing: "She didn't pull the trigger."
Asked who did, he says, "Good question, but it wasn't me..."
And she still seems to fascinate him.
"It is indefinable. Whatever she needs to be, she is. You`ll never, ever sit down and get Mechele. You never will, not now, not 10 years from now. You will never get Mechele. You will get what she wants at that particular time to portray to you," said Carlin.
Prosecutor Gullufsen insists he does get Mechele.
"The jury's verdict was right. She aided Carlin in doing it," he tells Susan Spencer.
Gullufsen put Carlin in jail for 99 years and plans to make sure Mechele stays behind bars, too.
"48 Hours" talked with Mechele at Hiland Mountain Correctional Center, Alaska's only women's prison, as she awaited her sentence.
"I have no criminal history. I'm not a violent person. It hurt me that the family would think that I did it. I just want to go home. I'm sorry," she says when asked what factors the judge should consider.
The judge sentences her to 99 years; her first chance at parole not coming until she's 68. Her family's struggling to take it all in.
Ex-Stripper Gets 99 Years For Murder Plot
At home in Olympia, Mechele's husband, Colin, seems too stressed to worry about what people think.
"You keep your head above water and do multiple things or you can just relax and let the water enter your lungs and sink. I've got to be No. 1 dad and No. 1 husband and all the rest can just wait," he says.
He struggles to keep the family together with daily phone calls, and - as long as the money holds out - by flying back to Alaska to visit Mechele in prison, daughter in tow.
Her family is pinning all hope on an eventual appeal.
"We have not given up, and I will never give up," says Colin Linehan.
"I will fight as hard as I possibly can for as long as I possibly can until some appellate court says 'Bug us no more. Go away, Fitzgerald,'" her attorney vows.
More than two years later, Mechele's attorney finally wins the fight. In February 2010, an appeals court reverses her conviction for murder, because, it says, Kent Leppink's "letter from the grave" pointing the finger at her never should have been allowed into evidence. The same with the movie, "The Last Seduction," which the appeals judge says had nothing at all to do with Mechele's case.
She is presumed innocent. And although prosecutors said they would try Mechele Linehan again, a guilty verdict may be less likely now due to a shocking turn of events: John Carlin III, convicted for the murder of Kent Leppink, was involved in a prison fight in 2008 and beaten to death. Because Carlin's appeal was pending at the time he died, the court has thrown out his entire case.
Gunman In Alaska Murder Plot Found Dead
"My sense of the case with Miss Linehan was it was built on the foundation of John Carlin's conviction," the judge says. "That certainly is going to affect the presentation of the case. It may well effect how the jury will react to the case."
Now, prosecutors can't mention Carlin ever was convicted.
Since the case against Mechele seems weaker the second time around, the judge believes she will want her day in court. And, no longer considered a flight risk, she is released on bail.
For the first time in two-and-a-half years, Mechele is on the road to what she hopes will be the beginning of her new life.
"48 Hours" was there as she took measure of her newfound freedom, which comes with conditions.
"I have to stay within the Anchorage Bowl. My curfew is 8 p.m. to 7 a.m.," Mechele explains. She'll have to wear an ankle monitor to make sure she obeys all the rules.
But Mechele worries this freedom may be fleeting.
"I have so much like restored failth in people and in the system, but then I don't want to be naïve again. I saw what happened in the first trial. There was no way they were going to convict me and they did," she says. "So for me to sit here now and say there's no way, I know there's a way."
Ken and Betsy Leppink pray for another guilty verdict. They were devastated to learn of Mechele's release. And despite Kent's father's fragile health, they plan to travel to Alaska again for the next trial.
"When you lose a child you love so very much, it never stops hurting. We'll miss Kent as long as we live," said Betsy Leppink.
Looking back, they still marvel at those surreal days in Alaska, at Mechele's astonishing hold on Kent, and at that haunting letter predicting his own murder naming her as a likely suspect - a letter in which he wrote: "Make sure Mechele goes to jail for a long time," but couldn't help adding, "Tell her how much I really did love her. I really did want to marry her and make all her dreams come true."
EPILOGUE
Mechele Linehan had tasted freedom, and in 2011, nearly two years after the court reversed her conviction - authorities dismissed her murder indictment. They have the option to charge her again, but with a weakened case, it is highly unlikely.
With John Carlin's case thrown out after he was killed in prison, his son sued the state of Alaska for wrongful death. He got a $160,000 settlement.
Mechele tried to go back to life as she knew it in Washington state. But today, she and Colin are living apart, though they work together at a skin care clinic she runs and they jointly care for their daughter, now 16.
Kent Leppink's father died in 2014. His mother still visits Alaska. She says it's the place where she feels closest to Kent, though she struglges with the feeling that nobody ever was really held accountable for his murder.
Thanks for reading CBS NEWS.
Create your free account or log in
for more features.